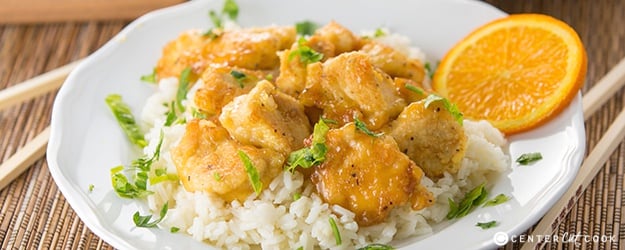 Just like my ever so popular recipe for Sweet and Sour Chicken, this Orange Chicken recipe with a slightly sweet and tangy sauce is a favorite recipe in our house. It is pretty easy to make and tastes way better than what you'd get from take-out restaurants (eh hem… Panda Express). I've tried making a version in the slow cooker but I always come back to this method. You'll start by lightly pan frying it in a bit of oil, then finish baking it in the oven.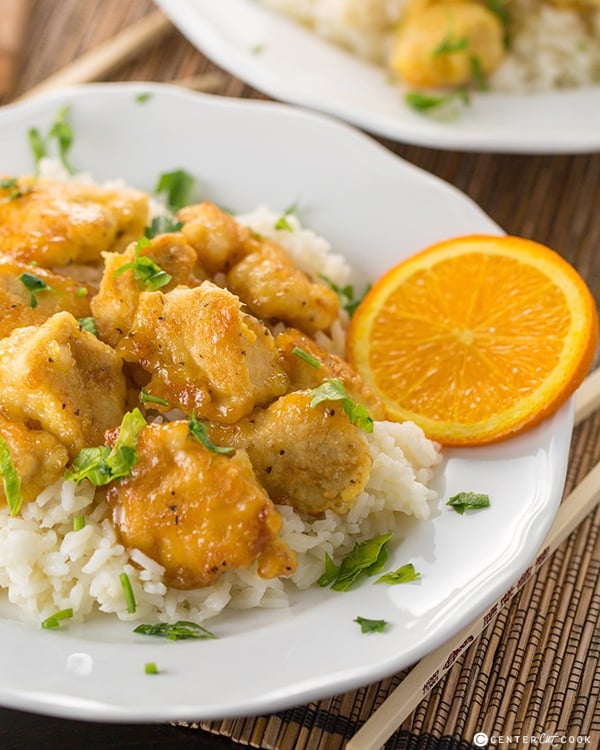 The sauce for this Orange Chicken includes both orange juice and orange zest to make it citrusy and delicious! I juiced a fresh orange, but you could also use bottled orange juice. If you've never zested fruit before, you will want a microplane grater.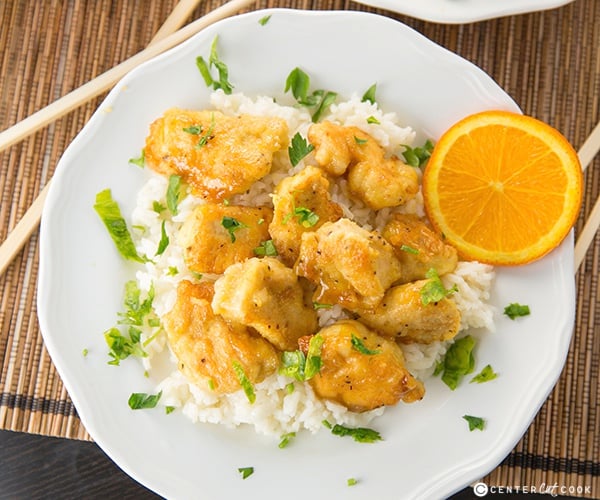 I always serve Orange Chicken over rice. One of my favorite little tips for cooking rice is to use chicken stock in place of water. It adds a boost of flavor that is subtle but noticeable enough that I continue to cook rice this way. Be sure to save some orange slices for garnish, especially if you're entertaining with this recipe. You could also serve it with my fried rice recipe (this recipe rocks our world!) in place of traditional white or brown rice.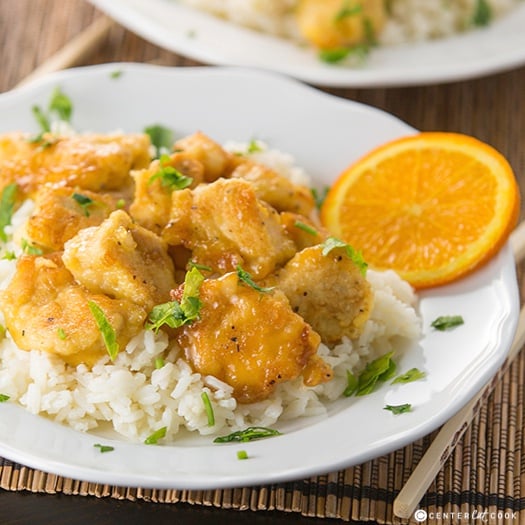 CHICKEN INGREDIENTS
3 boneless skinless chicken breasts
1 cup corn starch
2 eggs, beaten
Salt, pepper, garlic powder for seasoning the chicken
1/4 cup vegetable oil (more if needed)
Green onion for garnish
SAUCE INGREDIENTS
2 tablespoons corn starch dissolved in 2 tablespoons water
1 1/2 cups chicken broth
3/4 cup orange juice
1/3 cup white vinegar
1/2 cup sugar
2 1/2 tablespoons worcestershire sauce
1 tablespoon orange zest
1 teaspoon garlic powder
1/2 teaspoon coarse black pepper
DIRECTIONS
Pre-heat your oven to 325F.
Cut chicken into 1 inch chunks and season with salt, black pepper and garlic powder.
Dip each piece of chicken in corn starch, then in egg.
In a skillet, heat vegetable oil to medium high heat and brown each piece of chicken on both sides.
Place browned chicken in a large rimmed baking sheet.
In a small bowl dissolve 2 tablespoons corn starch in 2 tablespoons water. Set aside.
In a sauce pan add remaining sauce ingredients – 1 cup chicken broth, 3/4 cup fresh orange juice, 1/3 cup white vinegar, 1/2 cup sugar, 2 and 1/2 tablespoons worcestershire sauce, 1 tablespoon orange zest, 1 teaspoon garlic powder and 1/2 teaspoon coarse black pepper. Bring the mixture to a boil, then stir in corn starch mixture. Reduce heat and simmer for a few minutes until the sauce starts to thicken.
Pour the sauce over the chicken and bake for about 50 minutes, turning the chicken every 15 minutes. Remove the chicken from the pan and pour remaining sauce into a bowl and serve alongside the chicken if you'd like extra sauce.
Serve over rice or quinoa. Enjoy!
Recipe from
CenterCutCook