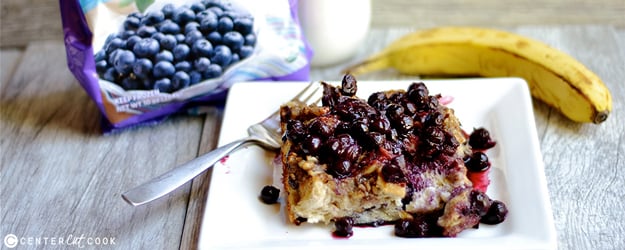 Spring is the season of brunching. I love having get togethers on the weekend with family or friends, just to welcome in the warmer weather and beginning of sunnier days. One of our favorite dishes to serve a crowd (or just our family) is a baked overnight french toast. It's so simple because you can throw it together the night before, and have a crowd pleasing dish ready to bake in the morning!
Spring is also a transition from traditional comfort foods and casseroles, to lighter and healthier dishes made with ingredients that are environmentally friendly. I always think of Spring as a "renew, refresh" period, and making small changes to our diet can help us to feel better about our bodies. Many brunch options can be quite heavy, but this particular french toast is lightened up with Organic Earthbound Farm Blueberries, a banana walnut topping, and a homemade blueberry syrup that is naturally sweetened. I love to use minimal refined sugar in my breakfasts, and this french toast is the perfect dish to ring in the berry season!
With the celebration of Earth Day in April, it's important to recognize where are food comes from to help the environment and make smart choices in our grocery carts! With over 50,000 acres of organic farmland, not only is Earthbound Farm commited to providing us with the healthiest produce, but their sustainable farming helps to keep synthetic chemicals out of our environment. Want to get involved in making your cart count for a better planet? White Wave is promoting "Every Cart Counts" where they will actually buy shoppers carts of groceries around the country when they have a qualifying product in their cart. Print out your shopping list for Overnight Blueberry Banana Bread French Toast, head to your local Jewel (if you're in the Chicagoland area), and add Earthbound Farm Frozen Organic Blueberries to your cart!!
Happy Brunch season!!
This is a sponsored conversation written by me on behalf of Albertsons Safeway. The opinions and text are all mine.
FRENCH TOAST INGREDIENTS
1 lb loaf of sourdough bread (or bread of your choice such as french or artisan bread)
2 cups milk
6 large eggs
1 tsp cinnamon
1/2 tsp salt
10 oz Earthbound Farm Organic Blueberries
STREUSEL INGREDIENTS
2 bananas, mashed
1 tbsp melted butter
1 tsp cinnamon
1/4 cup brown sugar, or palm sugar
1/4 cup chopped walnuts
For the blueberry sauce:
10 oz Earthbound Farm Organic Blueberries
1/2 cup water
1 tbsp honey
1 tbsp lemon juice
DIRECTIONS
The night before, lightly grease a 9×13 casserole dish, set aside.
Cut your loaf of bread into 1 inch chunks, place inside casserole dish.
In a separate bowl, combine milk, eggs, salt, and cinnamon. Pour on top of the bread, gently stir and mix around so that the bread is evenly coated. Toss in frozen blueberries.
Cover and refrigerate overnight.
In the morning, preheat your oven to 350 degrees.
Prepare the streusel: mix together mashed bananas, sugar, cinnamon, butter, and walnuts. Spoon streusel on top of the french toast, evenly spacing around the casserole.
Place uncovered inside the oven. Bake for 45 minutes, or until the top is nice and golden.
Meanwhile, make your sauce. Add all ingredients to a small saucepan and bring to a boil. Reduce heat to low, and let simmer for approximately 10 minutes until the sauce has thickened.
Cut the french toast into squares and drizzle with blueberry sauce.
Servings: 8-10