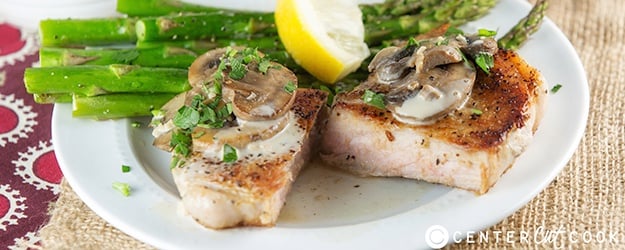 After you guys went crazy over those Slow Cooker Smothered Pork Chops I made a few months ago, I realized there are a lot of pork fans out there, just like me, who adore perfectly cooked pork! Is there anything better than a tender pork chop or a slice of pork tenderloin? You are going to just love today's recipe for Pan Seared Pork Chops with Mushroom Sauce!
Growing up, I didn't always love pork. In fact, you might even say that I tried to avoid it at all costs, simply because what I was used to eating was over-cooked tough pork that required a knife to saw through it. Can any of you relate? My relationship with pork did a complete 180 when I learned that if you cook pork right, it is tender and juicy and delicious!
Because my whole attitude surrounding pork changed once I learned how to cook it right, I was excited to be able to team up with the Ohio Pork Council and the Ohio Soybean Council to help them celebrate a HUGE accomplishment…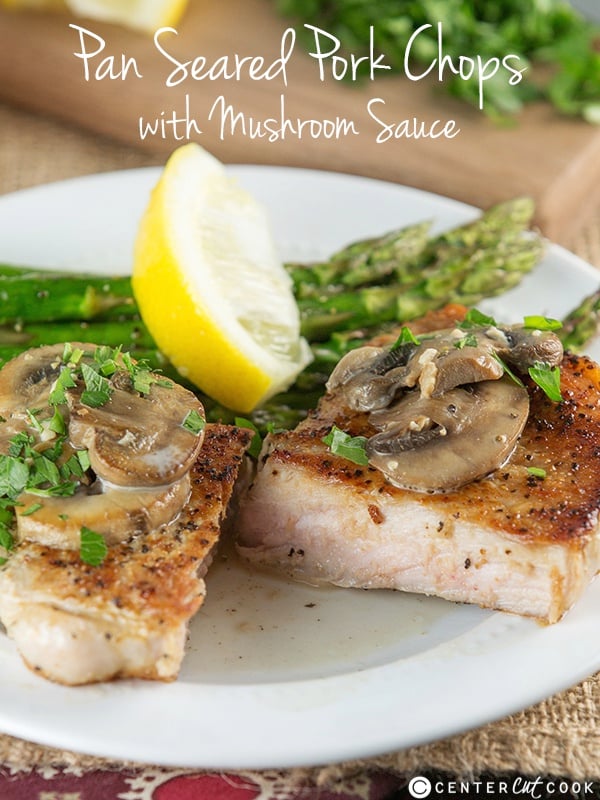 I love hearing how others find ways to give back to their communities and make a difference which is why I was blown away when I read about the Ohio Pork Farmers donating 1,000,000 meals to those is need over a five year period. Wow! That's an incredible number, and just thinking about how many people were able to benefit from their generosity is amazing.
To celebrate all of those pork meals that they donated, they're hosting a 'pint-it to win-it' contest on Pinterest, and they'll be giving away $500 in groceries. For details on how you can participate, click here. Let's help them celebrate! The contest runs until April 20th, so get pinning!
Now, time to talk about these mouth-watering pork chops. The key to tender and juicy pork is to make sure that you aren't over-cooking it. The sure-fire way to cook it just right is to use a meat thermometer. I love this instant read digital pocket thermometer. When the pork chops reach an internal temperature of about 145 (up to 160 degrees, but I found 145 to give me the perfect result), they are done! You'll remove the pork chops from the pan and let them rest for about three minutes. The result will be a perfectly cooked, tender and juicy piece of pork with just a hint of pink in the center that you'll find irresistable!
To go along with these pan seared pork chops, I decided to make a light mushroom cream pan sauce. The tender mushrooms accompany the pork just perfectly! You can serve the pork chops over rice which is what I like to do to help soak up the delicious pan sauce. This is one of those meals that the whole family will love, enjoy!
PS: Don't forget to enter to win $500 in groceries. Click here.
I'm excited to have partnered with the Ohio Pork Council and the Ohio Soybean Council to bring you this post. As always, all opinions are my own. Thank you for supporting the companies and brands that make CenterCutCook possible!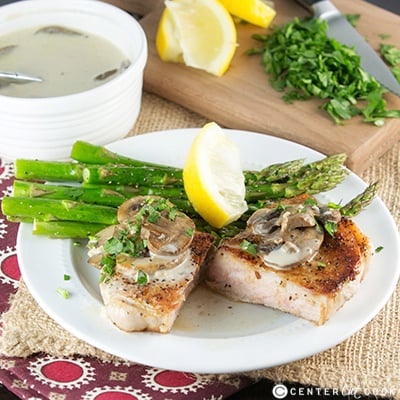 INGREDIENTS
3-4 New York Pork Chops (previously called Top Loin Chop, boneless) – about 3/4" of an inch to one inch thick
Salt, black pepper, garlic powder for seasoning
1 tablespoon olive oil
1 tablespoon butter
8 ounces mushrooms
2 cloves garlic, minced
1/2 cup dry white wine (you can also substitute chicken broth)
1/2 cup heavy cream
3/4 cup chicken broth
1/4 teaspoon dried thyme
Salt and pepper to taste
DIRECTIONS
Pat the pork chops dry and season both sides with salt, black pepper and garlic powder.
Heat 1 tablespoon olive oil in a large non-stick skillet over medium-high heat. When the oil is hot and shimmering, add the pork chops to the pan.
Cook the pork chops for 3-5 minutes, then flip the pork chops and cook an additional 3-5 minutes, until the internal temperature reaches 145 degrees. Be sure to not overcook the pork chops and use a thermometer!
Remove the pork chops from the pan and allow them to rest for 3 minutes.
Meanwhile, prepare the pan sauce. Melt 1 tablespoon butter in the pan. Add mushrooms and sauté until lightly browned, about 7-8 minutes.
Add minced garlic and cook for a minute longer.
Deglaze the pan with 1/2 cup dry white wine (you can also substitute chicken broth). Whisk well to pull up any bits of pork and/or mushrooms from the bottom of the pan. Then add in heavy cream and chicken broth. Bring to a boil, then reduce the heat and let it simmer for about 7 minutes, or until the sauce has reduced by about half.
Add in dried thyme and season to taste with a bit of salt and pepper.
To plate: place a pork chop on a plate. Drizzle sauce over each pork chop. Sometimes I serve the pork over rice so that the rice can absorb the delicious pan sauce. It's wonderful either way.
Garnish with chopped fresh parsley.
Enjoy!
Recipe from
CenterCutCook