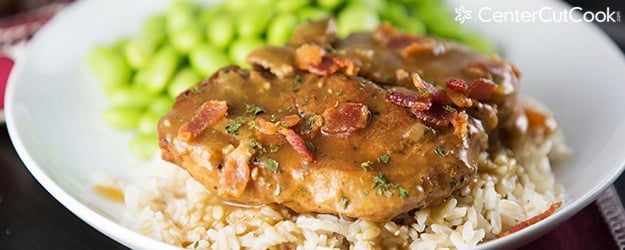 Slow Cooker Smothered Pork Chops with bacon and brown gravy made in the crock pot, served over rice! They are easy to make and fall-off-the-bone tender! You NEED to try this recipe!
Slow cooker pork chops are so easy and delicious! But, when it comes to pork chops, I'll just be upfront and honest and tell you that we've had a rocky relationship, the pork chop and I. By rocky, I mean that I have always felt obligated to make and enjoy pork chops yet I rarely enjoyed them. I mean, I grew up eating them, and they're just a classic, aren't they? My problem is that the pork chops I've always had were tough and left me feeling slightly disappointed. As a result, I can count on one hand the number of times I've made pork chops in the last 10 years. Yes, fewer than 5 times!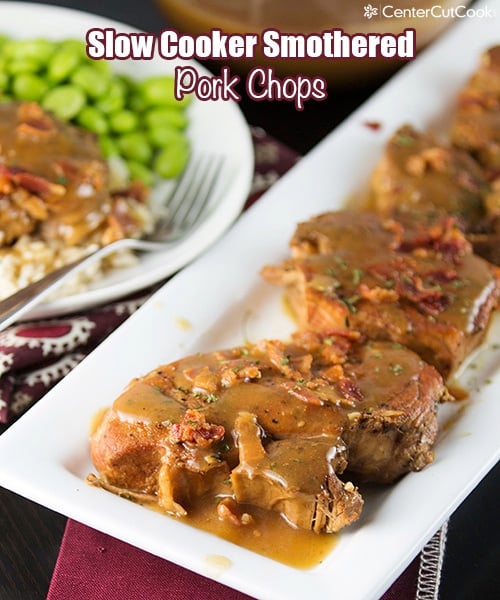 Are slow cooker pork chops easy to make?
I am so glad I decided to use my crock pot to make this recipe for Slow Cooker Smothered Pork Chops because not only were they so tender and delicious, it was really quite easy to make. The pork chops cook low and slow in the slow cooker allll day long and by dinner time, you're left with fall off the bone, super tender, flavorful pork chops!
By fall off the bone, I mean literally. I think I let out an audible squeal when I opened my crock pot after these guys had been cooking all day to literally see that the meat had fallen off the bone. Weeeeeeeeee! Trying to get the pork chops out of the slow cooker in one piece to take photos was almost nearly impossible.
No need for knives at the dinner table when you're serving up this recipe for Slow Cooker Smothered Pork Chops. No sireee! Your fork will go through the meat like butttah (that's butter, in case you're wondering). One of my favorite parts about this entire recipe is the brown gravy that you'll smother the pork chops with. Not too thick, not too thin, and with bits of smoky bacon! Mmmmm delish!
What goes with pork chops?
I served these Smothered Pork Chops over rice, but another good option would be egg noodles. To go along with the tender pork chops and rice, I made some edamame which totally completed this savory mouth-watering dinner.
Now, if I'm keeping it real here, I want to let you know upfront that for a slow cooker recipe, it does require a bit more work than you're probably used to but it's nothing complicated. Unlike Slow Cooker Chicken Fajitas where you literally just toss everything in the crock pot and walk away, this recipe does take a little bit of prep in the form of browning the pork chops before placing them in the slow cooker. Let me assure you, however, that the prep required is worth it! I'll say it again… it's W-O-R-T-H it!
Let me recap – Slow Cooker Smothered Pork Chops with bacon and brown gravy, served over rice, and fall off the bone tender. Seriously delicious! Give it a try and enjoy!
PS: THANK YOU so much for taking the time to read and comment on my recipes, and for trying them and sharing them with your family and friends. I wouldn't be able to do it without you. Much love! XOXO
INGREDIENTS
4 bone-in pork chops, about 3/4 inch thick seasoned with salt and pepper on each side
4 slices bacon, cut into small pieces
2 tablespoons canola oil
1 large yellow onion, cut into 1/2 inch thick slices
1/4 cup water
2 tablespoons water
1 tablespoon brown sugar
2 teaspoons minced garlic
3 cups low-sodium chicken stock
2 teaspoons Worcestershire sauce
1 tablespoon corn starch
1 tablespoon cider vinegar
1 teaspoon dried parsley
DIRECTIONS
Pat the pork chops dry with paper towels, then season both sides with salt and pepper.
Cook bacon over medium high heat until crispy. Remove the bacon from the pan with a slotted spoon and transfer to a paper-towel lined plate to drain, then store it in the fridge until later.
There should be about 2 tablespoons of bacon drippings in the pan, just eyeball it. If it doesn't look like there's enough, add a little canola or vegetable oil and increase the heat to high. If there's more than 2 tablespoons of bacon drippings in the pan, drain some off until you're left with 2 tablespoons. Add the pork chops to the pan and cook for two to three minutes per side, until they are nicely browned. Transfer the browned pork chops to the slow cooker.
Add a small amount of oil to the pan if there is no remaining fat/oil, about a teaspoon. Add the onions, a pinch of salt, and 1/4 cup water and cook until the onions are translucent. Use a wooden spoon to scrape up the browned bits of pork chop on the bottom of the pan. Add in garlic and cook for another minute. Pour this mixture over the pork chops.
To the skillet combine chicken stock, worcestershire sauce and brown sugar and bring to a boil. Pour over pork chops. Add bay leave to the slow cooker and cook on low for 7-8 hours, until the pork chops are tender.
Discard the bay leaves and carefully remove the pork chops from the slow cooker and transfer to a plate. Cover with foil to keep warm while you make the sauce.
Pour the liquid from the slow cooker through a fine mesh strainer into a large saucepan. Place the solids in a blender, and add in 1 cup of the liquid from the saucepan. Blend on high until smooth. Pour this mixture back into the saucepan and heat to medium high heat.
In a small bowl combine 2 tablespoons water with 1 tablespoon corn starch. Pour this mixture into the sauce pan cook for about 5 minutes, until the sauce has thickened and is bubbly. Stir in the vinegar, add in the bacon, and season with salt and pepper to taste.
To serve: Place a pork chop atop fluffy cooked rice or egg noodles, spoon gravy over the pork chop and sprinkle with parsley.