8 Minute Air Fryer Parmesan Crusted Chicken
Air Fryer Parmesan Crusted Chicken cooks in 8 minutes and requires only 5 ingredients! Easy to make, juicy, and delicious, this is an air fryer chicken recipe the whole family will love! You'll never guess the secret ingredient!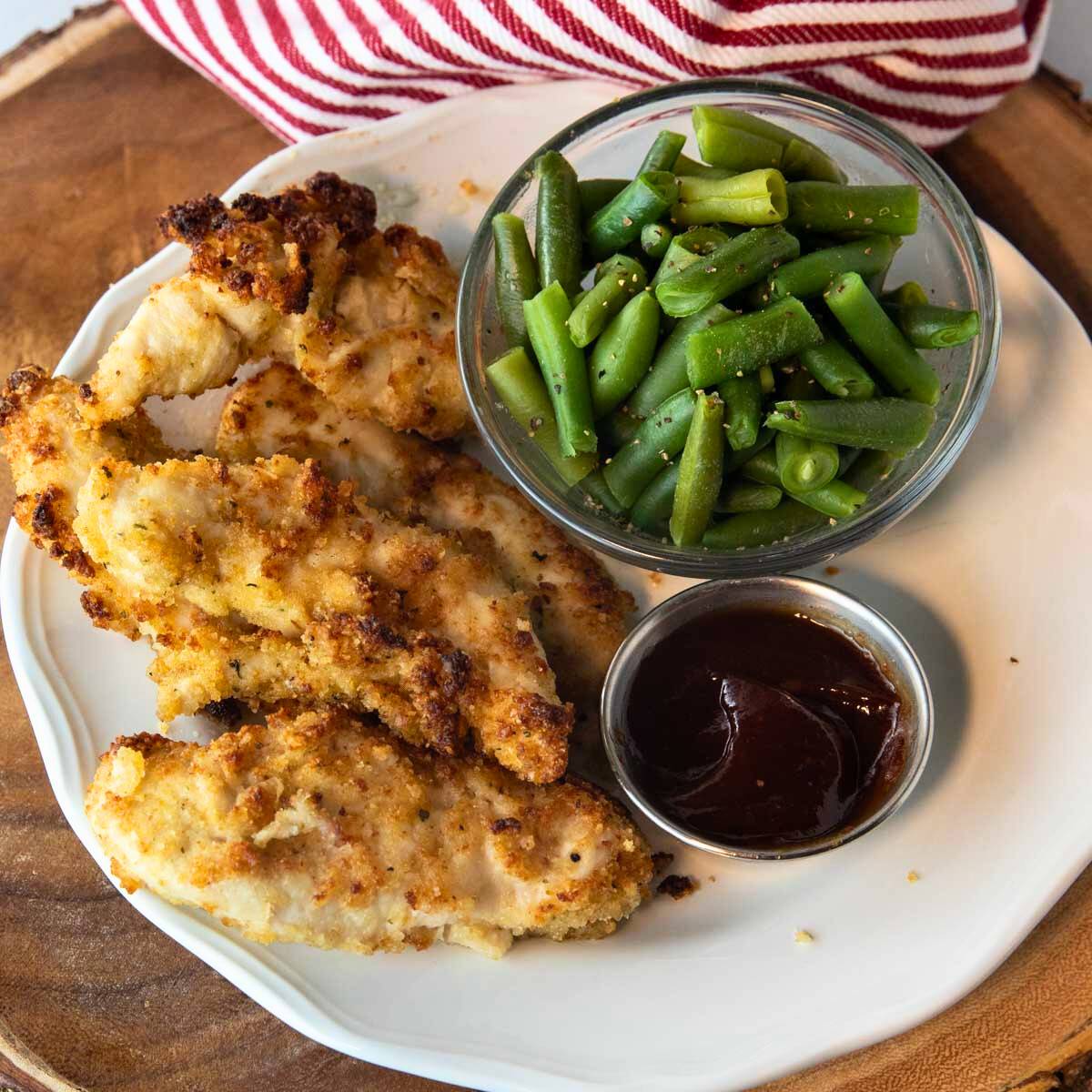 Air fryer recipes are so wonderful because they keep your oven clear, either for another dish or to avoid heating up your house during hot seasons. This parmesan chicken recipe comes together in 15 minutes from start to finish and with simple ingredients, making it the perfect easy weeknight meal that even your picky eaters will love. The juicy inside and crispy flavorful outside can be enjoyed as is or on pasta, salads, or in wraps!
This recipe features both Italian flavored bread crumbs and panko, which results in the best flavor and texture when combined with shredded parmesan cheese for breading the chicken. A secret ingredient (scroll down to see what it is!) acts as a binding agent for this delicious breading and makes the chicken juicy, win-win!
How to Make Parmesan Crusted Chicken in the Air Fryer
Here is a brief overview of how this delicious parmesan chicken is made in the air fryer. A twist on my parmesan crusted chicken that is baked in the oven, this air fryer version cooks in under 10 minutes! For the full recipe including all ingredients, measurements, and cooking times, scroll to the recipe card at the bottom of the post.
Prepare your chicken. Pat your chicken dry then add it to a large bowl with the mayo. Toss to coat all of the pieces thoroughly.
Bread the chicken. In a small bowl, combine the panko bread crumbs, parmesan cheese, and Italian seasoned bread crumbs. Sprinkle the mixture over the chicken and stir to combine.
Cook the chicken. Add the chicken pieces to your preheated air fryer and spray the tops of each chicken tender with non-stick spray. Cook the chicken, flipping the chicken halfway through.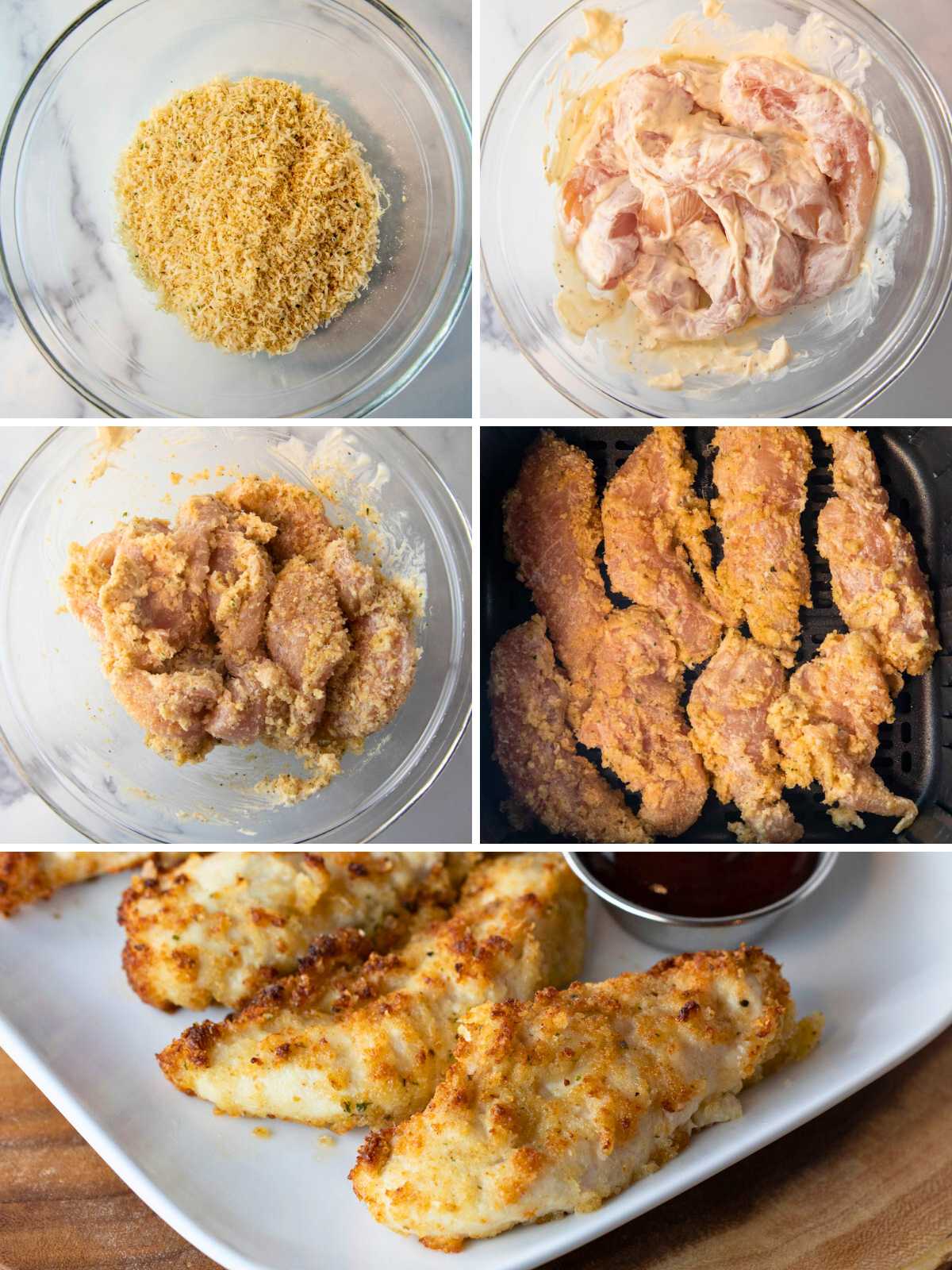 Products to make Air Fryer Parmesan Chicken
Here are a few of the products we use to make Air Fryer Parmesan Crusted Chicken:
The Secret Ingredient
The secret ingredient in this parmesan crusted chicken is mayonnaise. Acting as a bonding agent so the bread crumbs, seasonings, and cheese stick to the chicken, using mayo makes the chicken juicy and eliminates the need to dredge the chicken in egg and flour. Regular mayo or light mayo would work.
Cooking Chicken
Anytime you are cooking chicken, it is important that it is fully cooked for food safety purposes, but not overcooked which will result in chicken that is dry and tough. It is considered fully cooked when the internal temperature reaches 165 degrees Fahrenheit. The best way to know when the chicken is done is to use an instant-read thermometer. This way you can remove the chicken from the air fryer and enjoy its crispy outside, and juicy tender inside! I share my recommendation for an instant-read meat thermometer above.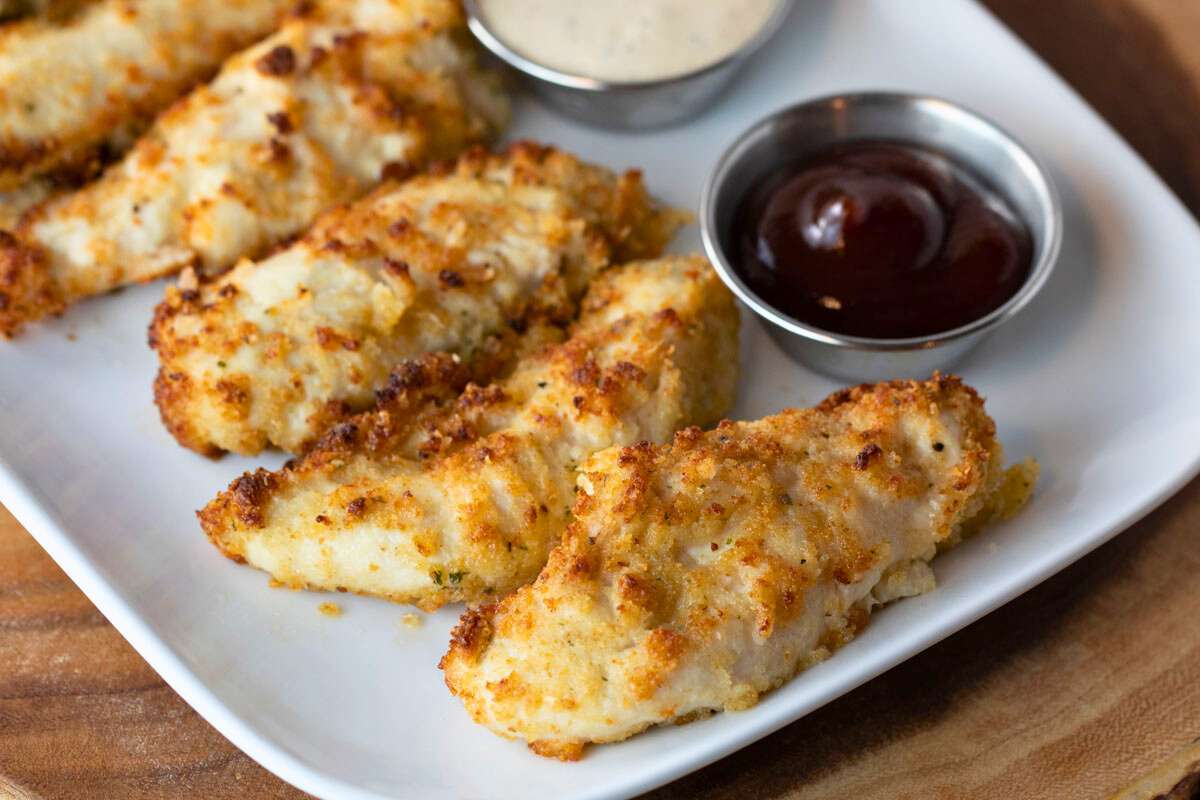 Tips and Tricks
Preheat your air fryer. Just like you would preheat your oven when baking something, preheating your air fryer ensures that your chicken starts cooking right away at the correct temperature. Get your air fryer heating up while you prepare your chicken, I promise it won't add any additional time to the recipe.
Shred your cheese from a block. I always recommend using a block of cheese to shred it yourself rather than buying pre-shredded cheese. It melts and tastes so much better because it isn't covered in preservatives. You will want it finely grated so that it combines with the bread crumbs and panko and sticks to the chicken.
Cook in batches. The chicken pieces must be in a single layer in your air fryer to cook properly. If they don't all fit, cook them in batches to avoid overcrowding the tray. Be sure to spray the basket of the air fryer and the tops of the chicken pieces with non-stick spray for each batch to make the outer layer nice and crispy and to avoid them sticking to the tray.
Serving
This air fryer parmesan chicken is perfect with a green vegetable and some Smashed Potatoes with Cheese. You can also use it to make my Parmesan Crusted Chicken Alfredo which features my homemade Alfredo sauce! This is one of my favorite ways to use leftover parmesan crusted chicken. You can eat these chicken tender plain or dip them in your favorite sauce! From ketchup to mayo, here are some of my favorites: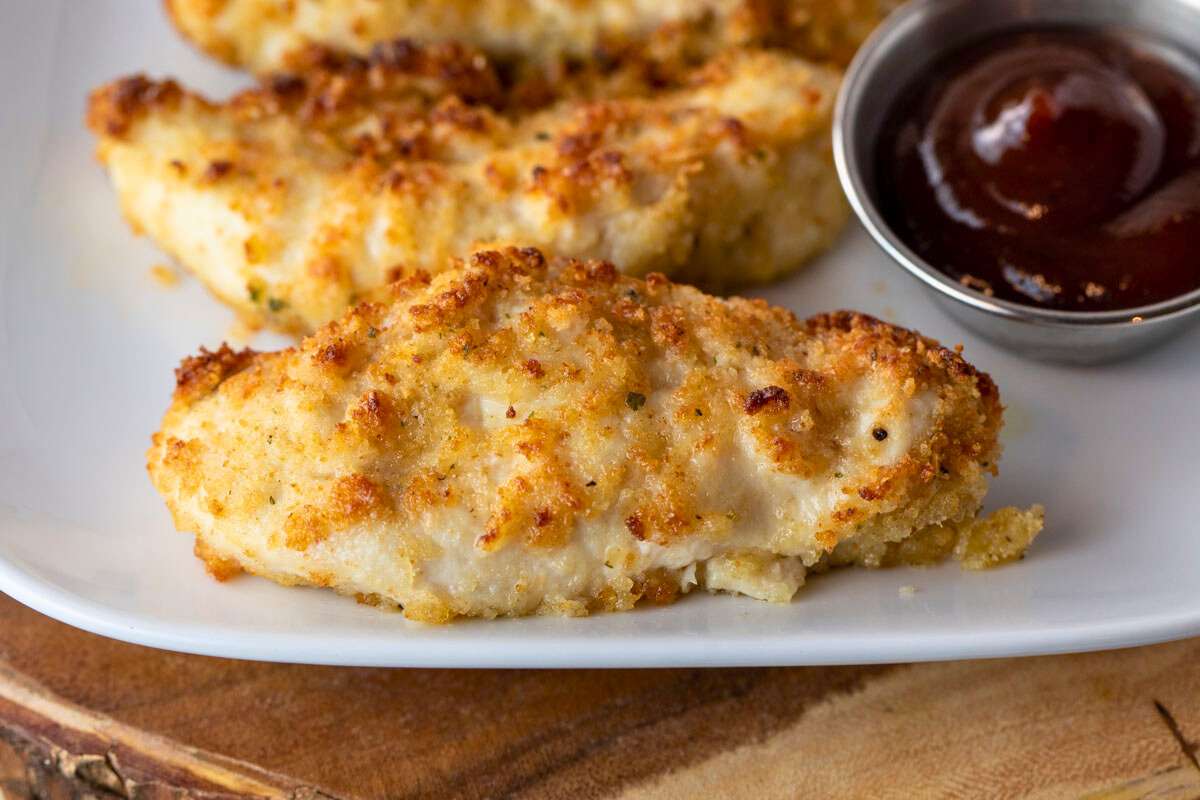 Storing and Reheating Leftovers
Store any leftover chicken tenders in an airtight container in the refrigerator for up to three days. Reheat them in the air fryer for a few minutes until heated through.
Can I use chicken thighs?
Yes, chicken thighs would also work in this recipe. Just make sure to cut them into tenders.
Is panko gluten free?
No, if you need to make this recipe gluten free I recommend using gluten free bread crumbs and gluten free panko. Always double check your ingredients to make sure they do not contain gluten if you are cooking for someone who can't have gluten.
How long do you cook chicken in the air fryer?
The cooking time will vary depending on the thickness of the chicken and the temperature of your air fryer. The key to knowing when chicken is done is for the internal temperature of the meat to reach 165 degrees Fahrenheit. For this recipe, this will take approximately 7-8 minutes because we are cooking it at 400 degrees.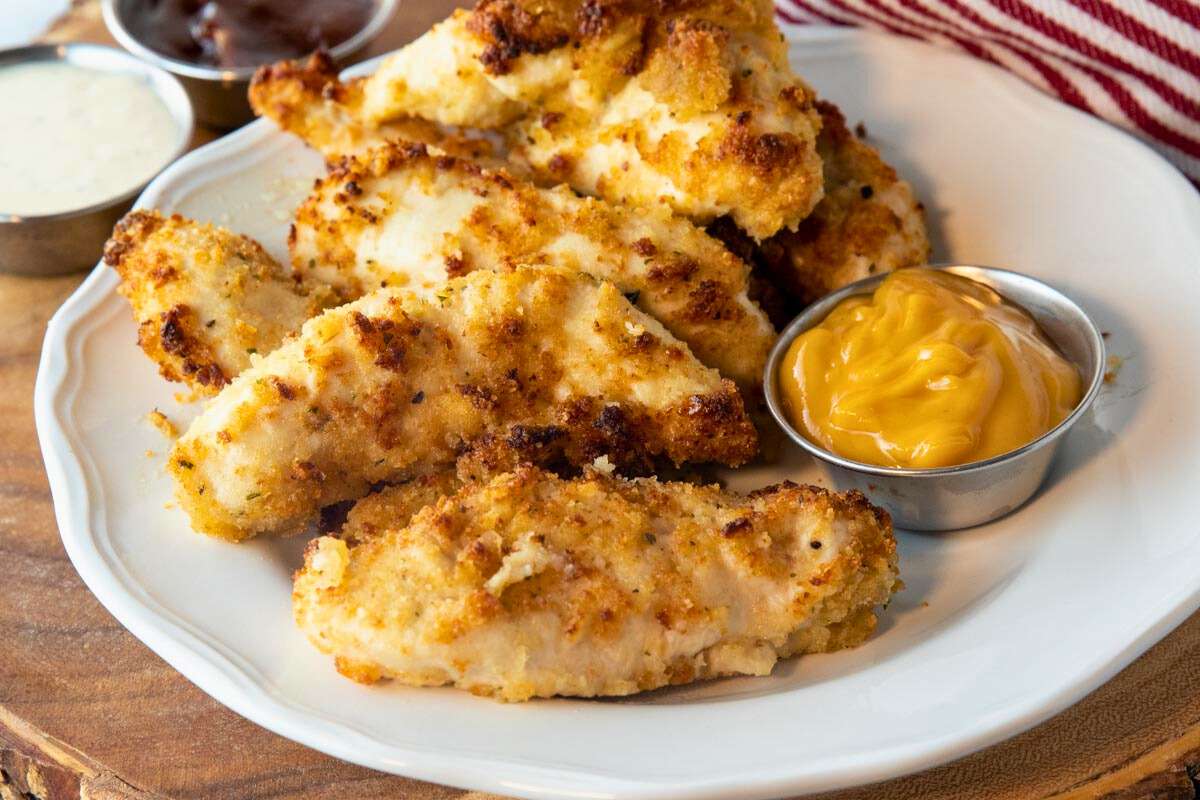 What To Serve With Air Fryer Parmesan Crusted Chicken
If you make this air fryer parmesan chicken recipe or any of my others, please leave a comment telling me what you thought! I love hearing from you.
Air Fryer Parmesan Crusted Chicken
Air Fryer Parmesan Crusted Chicken cooks in 8 minutes and requires only 5 ingredients! 
Ingredients
1.5

pounds

chicken breast tenders

½

cup

mayo

3

tablespoons

panko bread crumbs

½

cup

parmesan cheese

finely grated

¼

cup

Italian seasoned bread crumbs
Instructions
Preheat air fryer to 400 degrees Fahrenheit.

Pat chicken dry with paper towels.

In a small bowl combine panko breadcrumbs, parmesan cheese, and Italian seasoned breadcrumbs.

In a large bowl, add the chicken tenders and toss with mayo.

Sprinkle the breadcrumb mixture over the chicken and stir to combine.

Coat the air fryer basket with non-stick cooking spray.

Arrange tenders in a single layer in the air fryer basket, cooking in batches if needed. Spray the tops of each chicken tender with non-stick spray.

Air fry for 7-8 minutes, flipping the chicken halfway through. Use a meat thermometer to check for doneness. Chicken tenders are done when the internal temperature reads 165 degrees Fahrenheit.