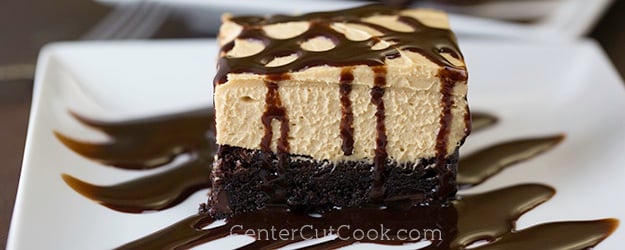 If I was going to be stuck on a deserted island, and I could only bring five things, I can assure you that chocolate and peanut butter would definitely be on the list. Separately, chocolate and peanut butter are two of my most favorite foods ever. Combined? Even better! Since I sort of have a thing for layered desserts, with this now infamous Chocolate Lasagna and all, I decided I'd make another fabulous layered dessert that incorporates two of the things I'd consider a "necessity" if I were stranded on that aforementioned deserted island.
There's nothing I love more than a good brownie, especially this recipe for these Triple Chocolate Chewy Brownies! Despite the fact stand alone brownies are amazing, whether they're made from scratch, or come from a box (seriously, what is it about boxed brownies?) I thought I'd have a little fun and turn ordinary brownies into this fancy Peanut Butter Brownie Dream!
To make this fabulous, down-right tasty dessert, you'll start with an 8×8 inch or 9×9 inch square pan in which you'll bake your favorite brownie recipe. I went with a boxed version this time around, Ghirardelli Triple Chocolate Brownies that I bought from Costco. Because there are multiple steps to this recipe, you may find using a boxed version will be a welcomed time saver versus making brownies from scratch.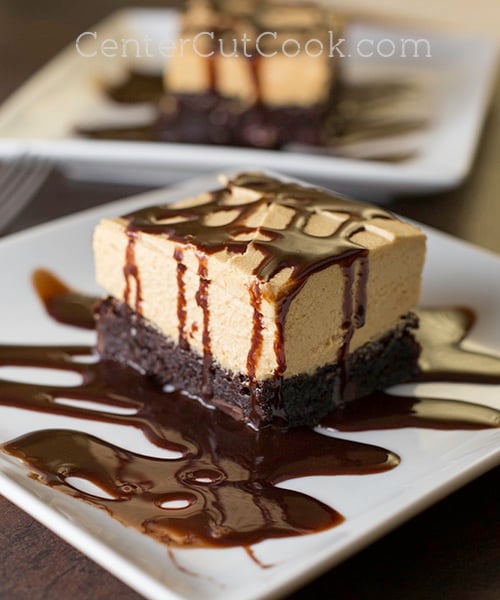 Once the brownies are baked, you'll pull them out of the oven and allow them to cool completely. I put them in the fridge for a bit to help speed the process along. Next comes this fabulous peanut butter layer! For this you'll need peanut butter, cream cheese, Cool Whip, and powdered sugar. With the help of a mixer, these ingredients will turn into a beautifully fluffy peanut butter layer that will get spread over the cooled brownies.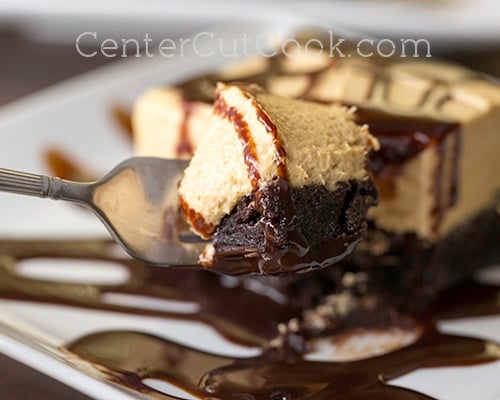 Now the pan will go into the fridge for at least an hour so that the peanut butter layer can set. Right before serving, drizzle a little chocolate syrup over each piece! You could get all fancy and make your own chocolate sauce, or just use whatever you have on hand (am I the only one that keeps a bottle of chocolate sauce on hand so that the hubby can make chocolate milk?). The end result? A fabulous chocolate and peanut butter concoction that tastes much like a really good dream!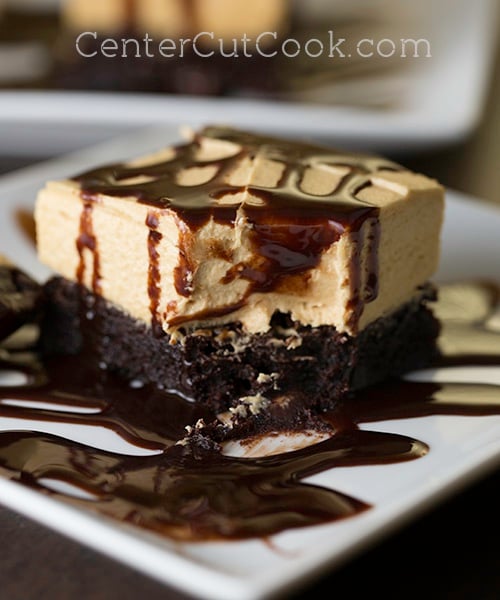 You'll want to cut up the 8 x 8 inch pan into small pieces because this is a decadent, rich dessert! The piece shown above? Waaaay toooo big. I cut the pieces big for the purpose of the photo, but you could get away serving little cubes of this treat. I lined my pan with foil so that I could easily lift the dessert out of the pan to cut up. I recommend you do the same. I'm not comfortable giving a serving recommendation since it could really vary depending on how big you cut each piece. I am having a hard time thinking of anything that could possibly be better than the combination of chocolate and peanut butter, which is why this Peanut Butter Brownie Dream is well… a dream! We loved it and I'm sure you will too!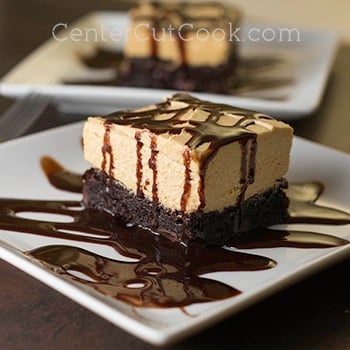 INGREDIENTS
1 box brownie mix, prepared according to package directions in a 8×8 or 9×9 inch square pan (I used Ghirardelli Triple Chocolate Brownie Mix because they are the best boxed brownies, ever!!)
1 cup peanut butter
8 ounce package cream cheese, softened
1 cup powdered sugar
8 ounce tub Cool Whip, thawed
Chocolate syrup for garnish (make your own or buy from the store)
DIRECTIONS
Line a square baking dish with foil hanging over the edges to create handles. This will make it easier to lift the dessert out of the pan when it is done. Spray the foil with cooking spray.
Prepare brownie mix according to package directions and spread into the prepared square pan. Bake according to package directions.
Allow the brownies to cool completely.
With your mixer, whip an 8 ounce package of softened cream cheese until it is light and fluffy. Add in peanut butter and mix for a minute to combine. Slowly add in powdered sugar. At this point, the mixture will be very thick.
Add in Cool Whip and mix until the filling is light and fluffy.
Spread the filling over the brownie layer and place in the refrigerator for at least an hour.
Right before serving, cut the dessert into small pieces, drizzle with chocolate syrup, and serve.
Store leftovers covered tightly in the refrigerator.

Please remember that all images shown here are copyrighted and may not be used without written permission from CenterCutCook.
Recipe from
CenterCutCook