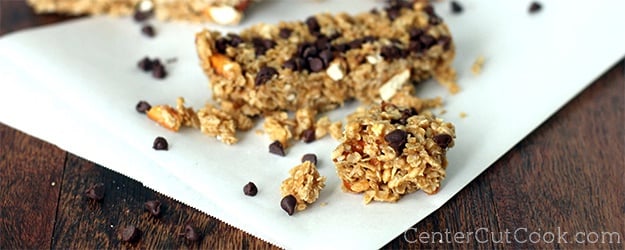 Over the years, I've had my fair share of Quaker Chewy Granola bars packed in lunches and as snacks, and I'm sure many of you have too. The thought never occurred to me to try making my own homemade granola bars at home until a few weeks ago after I made these tasty little Peanut Butter Granola Balls. If I could make granola in ball form, why not granola bars, I thought.
Forget the packaged version, once I made these homemade granola bars and realized how easy and delicious they are, I decided there's no need to ever, ever buy boxed granola bars again! It literally took me under 10 minutes to put these guys together, and then they sat in the fridge to firm up for a bit.
The only problem that I have with these babies is they are addicting and so easy to grab for breakfast or a snack. The 8×8 pan I made did not last long around here! I think my favorite part about these granola bars are the pretzels! They add the perfect slight crunch to balance out the chewiness of the rest of the bar. And did I mention these are no bake? This is one of those treats you can make that both kids and adults will enjoy which means, you can't go wrong making them!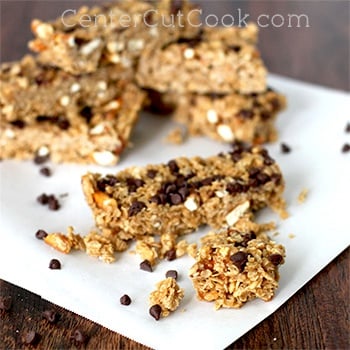 INGREDIENTS
DIRECTIONS
In a sauce pan, melt butter with brown sugar, honey, and creamy peanut butter.
When the mixture has melted and is combined well, stir in old fashioned oats, crispy cereal, and pretzels.
In an 8 x 8 pan, place a piece of parchment paper to fit. This will make removing the granola bars much easier.
Spread the granola mixture into the pan, then press it in firmly.
Take a handful of mini chocolate chips and sprinkle them over the top.
Place in the refrigerator for 30 minutes, or the freezer for 15 minutes to firm up.
The parchment paper that you placed on the bottom should allow you to slide the bars out of the pan easily. Cut into bars and serve.
Recipe slightly adapted from
Two Peas and Their Pod