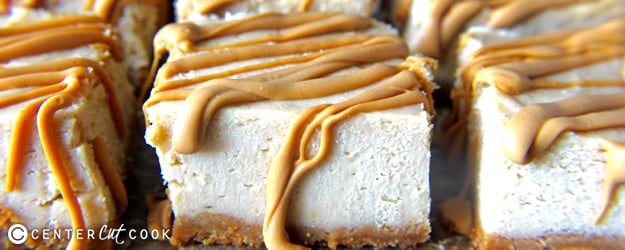 This Peanut Butter Cheesecake is so easy! It is made in a 9×9 pan and there is no need for a water bath- something that can be intimidating about cheesecake. I like to line my pan with foil so I can remove and cut it easily. It also makes clean-up a breeze. This literally comes together in just minutes, make the crust and press it in the pan, then while that bakes make the filling. It will be ready to pour on by the time the crust is done. So simple!!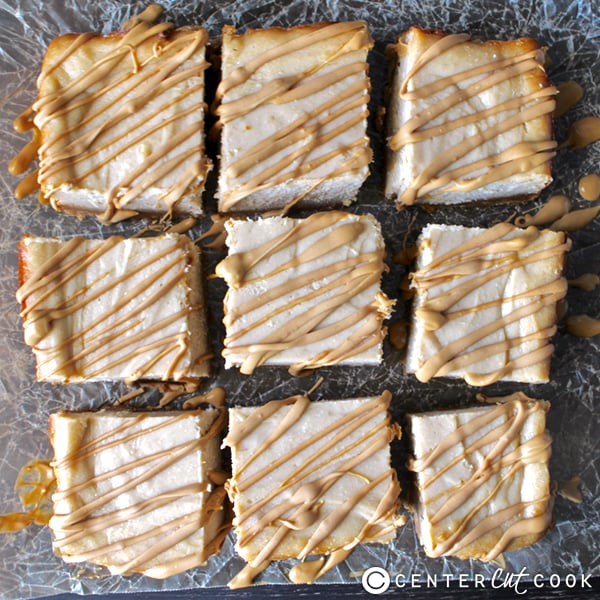 One tip is to not over-mix the eggs. I always use a hand mixer to mix the cream cheese, sugar, and peanut butter mixture- I want that as smooth as possible, but when it comes time to add the eggs, stir them in by hand until they are just combined. Over-mixing them can cause cracks in the cheesecake as it bakes.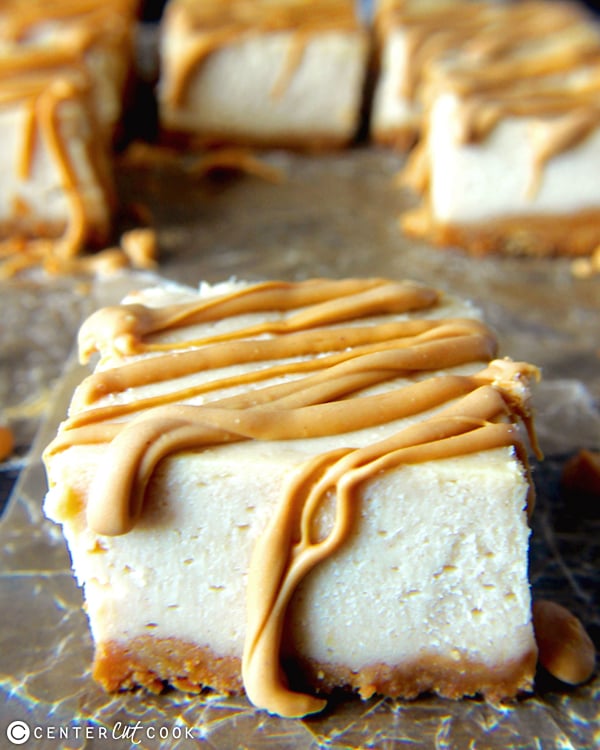 This cheesecake is so delicious! The sweet crust that is so simple to make, the smooth and creamy filling that isn't too sweet, and the light drizzle of melted peanut butter chips. It all comes together for the ultimate peanut butter experience. This one will be a hit with everyone!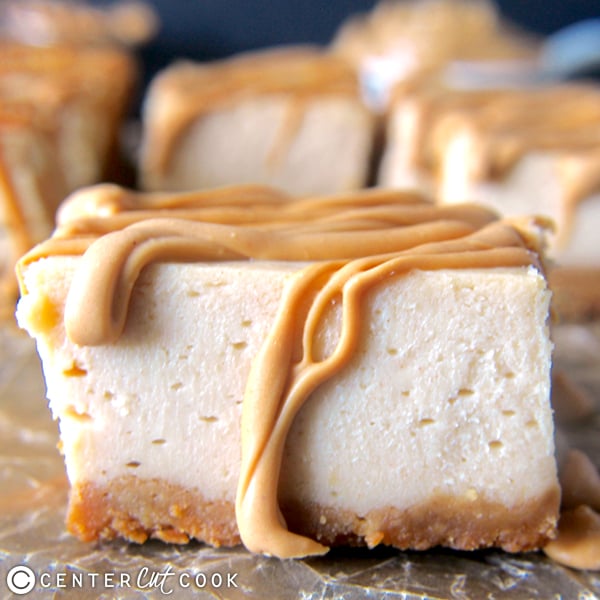 CRUST INGREDIENTS
22 Nutter Butters
5 tablespoons butter, melted
FILLING INGREDIENTS
16oz (2 blocks) cream cheese, room temperature
1/2 cup granulated sugar
1/2 cup smooth peanut butter
1 teaspoon vanilla
2 eggs
DRIZZLE INGREDIENTS
1/2 cup peanut butter chips
2 teaspoons coconut oil
DIRECTIONS
Preheat the oven to 250° and line a 9×9 pan with foil. Spray with non-stick spray and set aside.
Place the Nutter Butters in a food processor or blender and blend until completely crushed.
Place in a small bowl and add the melted butter. Mix well and press into the bottom of the pan.
Bake for 9 minutes.
While crust is baking make the filling.
In a large bowl, combine cream cheese, sugar, peanut butter, and vanilla and mix with a hand mixer until smooth. Add in eggs, by hand, one at a time, just until combined. Do not over-mix. Pour on top of warm crust, raise oven temperature to 350° and bake for 30 minutes.
Let cool completely before adding peanut butter drizzle.
For the drizzle: in a small bowl, combine peanut butter chips and coconut oil. Microwave in 10 second increments until melted. Stirring regularly. Scoop into plastic baggie, cut off corner, and drizzle over the cheesecake.
Store cheesecake in the fridge.
Servings: 9-12