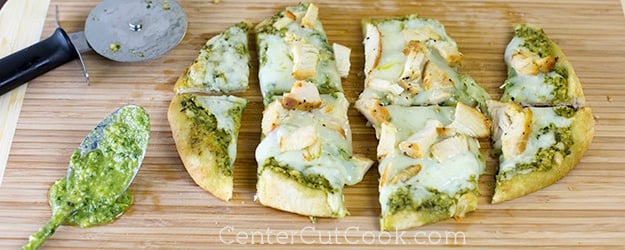 As you might have noticed, I'm sort of obsessed with flatbreads lately. Last week it was the Caprese Flatbreads with Garlic Spread that I was swooning over, now this week it's these Pesto, Chicken & Provolone Flatbreads that I just can't get enough of! There are so many reasons why I love flatbreads. Or is it flat bread? I've been saying flatbreads for forever, so we'll stick with that. Versatile doesn't even begin to describe what you can do with a simple flatbread! Not only are they versatile, whatever you use them for is almost guaranteed to come together quickly. Like this Pesto, Chicken, and Provolone version? 15 minutes! In 15 minutes you've got yourself a super flavorful snack, appetizer, or meal. It's hard to beat that!
Start with flatbread. I bought these guys at Costco, but I also make them from scratch pretty regularly to use for lunch wraps. If you want to make them from scratch, try my recipe for Simple Flat Bread. Next up is the Pesto. During summer months, I make homemade pesto. All you need is basil, olive oil, pine nuts, and parmesan cheese. Because I don't have a big beautiful basil plant…. yet, I bought pesto from the grocery store. Spread a thin layer on each flat bread.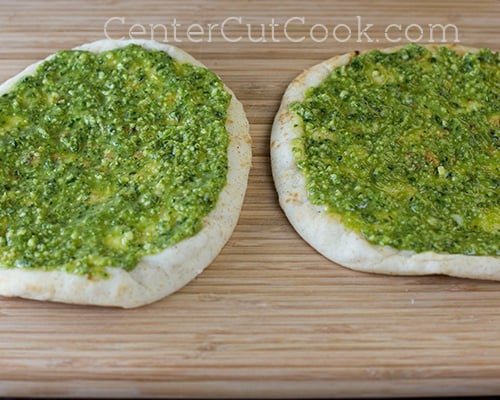 Next up…. the cheese! I went with provolone for these guys because this recipe was inspired by a sandwich a friend made for me with the same ingredients. She used provolone and I thought it was the perfect flavor in combination with the pesto and chicken.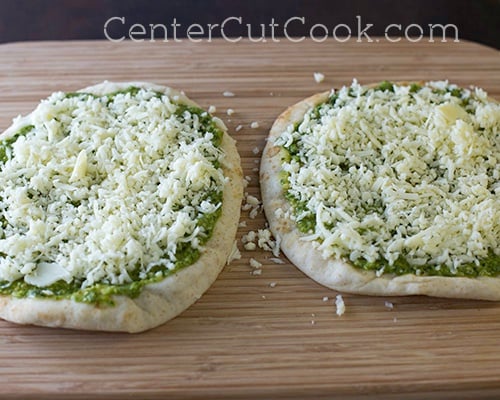 And speaking of chicken. You'll need some pre-cooked grilled chicken so plan ahead if you want this to be a quick meal! You can either buy pre-cooked grilled chicken strips from the grocery store, make your own, or use rotisserie chicken as another shortcut. I had some grilled chicken already on hand from a meal I made earlier this week. 1 chicken breast, chopped, will be enough for 4 flatbreads. Top each flatbread with chicken, then pop 'em in a 400 degree oven for about 10-12 minutes.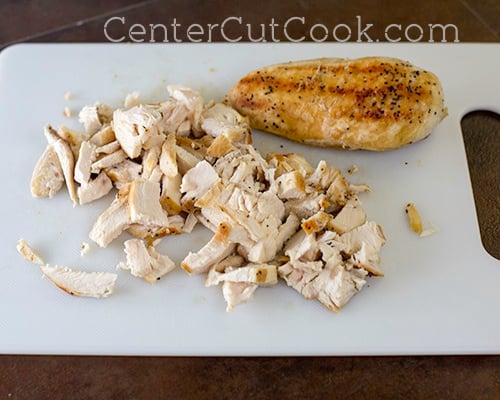 When the cheese is all melty, and the flatbread is crisp, pull it out of the oven, cut into pieces, and serve! These work beautifully as an appetizer, lunch, or a light dinner. It's also a great option for entertaining because you can just leave off the chicken for a vegetarian option. Between the pesto, the grilled chicken, and the provolone, these flatbreads are so flavorful and delicious!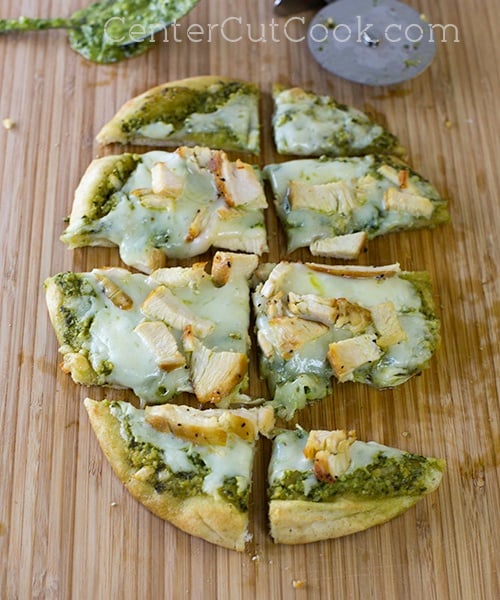 I made 4 flatbreads, but feel free to adjust the ingredients for however many you'd like to make. I am typically cooking for two, so this works perfectly as a simple supper, and then we have yummy leftovers for lunch the next day.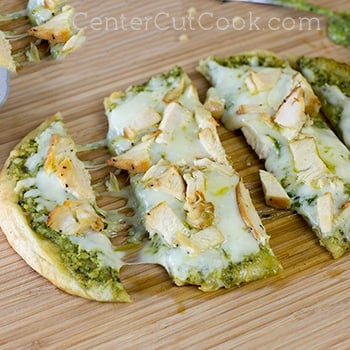 INGREDIENTS
1 cup chopped cooked grilled chicken breast
1 cup shredded provolone
Thin layer of pesto for each flatbread
4 flatbreads
DIRECTIONS
Pre-heat your oven to 400 degrees.
Spread a thin layer of pesto on each flatbread
Divide shredded provolone among all 4 flatbreads
Top with chopped cooked grilled chicken breast
Place the flatbreads on a non-stick baking sheet
Bake for 10-12 minutes, or until the cheese is gooey and melted and the flatbread is starting to crisp up.
Cut into pieces and serve.
Please remember that all images shown here are copyrighted and may not be used without written permission from CenterCutCook.
Recipe from
CenterCutCook