There's something about flatbreads that I just love. I don't know if it's because they're like pizza, but not really, or if it's because of the endless amount of options there are. Whatever the reason, I LOVE flatbreads! In fact, one of my favorite's is BLT Flatbreads with avocado spread. And then there's the Cheeseburger Flatbreads which is one of Ryan's favorites. Sometimes I make my own with this recipe for Simple Flat Bread, other times I buy them from the grocery store in the bread aisle. Costco also sells them, in bulk of course, but I divide them up and freeze what I won't use right away.
Today though, it's all about fresh mozzarella cheese, juicy grape tomatoes, and fresh basil atop flatbread with a buttery garlic spread. These Caprese Flatbreads are fresh, delicious, and work perfectly as an appetizer, lunch, or even a light supper with a salad served alongside. I made two different version here. The first was just classic Caprese with no meat. The second I made for Ryan and included a little bit of leftover rotisserie chicken that I had on hand from making these Skinny Creamy Taquitos.
I've always loved the flavors of anything Caprese, whether it be a Caprese salad, or a Caprese sandwich. These Caprese Flatbreads are no exception. The flavors are just phenomenal! Next time I may experiment with a balsamic drizzle for this recipe.
Please note: The full recipe including ingredient amounts, and detailed instructions is found at the bottom of this page in a printer friendly format.
You'll start with a cup of grape or cherry tomatoes, quartered. I seasoned them with a sprinkle of salt and pepper. You'll also need about 1 tablespoon of chopped fresh basil (sub 1/2 teaspoon dry basil if you don't have fresh on hand). You will need about 1 cup of freshly grated mozzarella cheese, cooked chopped chicken if you desire, and of course, the garlic spread! For the garlic spread I melted 4 tablespoons of butter, then stirred in 1/2 teaspoon garlic powder and 1/2 teaspoon dried parsley.
Start by spreading a layer of the yummy garlic spread over each flatbread. Don't skip this part, this garlic spread adds amazing flavor to these flatbreads!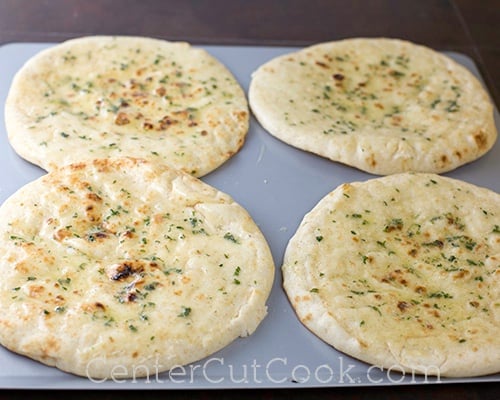 Next you will sprinkle cheese on each flatbread. I used about 1 cup divided among the 4 flatbreads, however, use as much or as little as you'd like.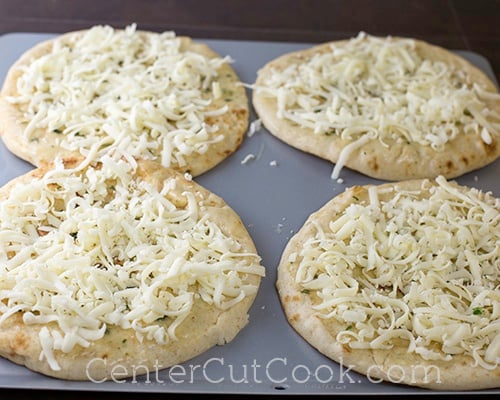 Top each flat bread with chopped tomatoes, basil, and chicken if you wish.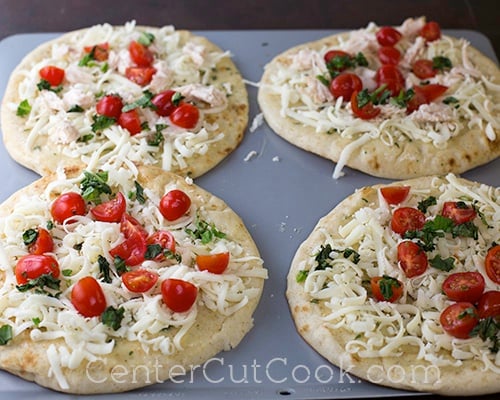 Then into the oven they'll go for about 10-12 minutes. When the cheese is ooegy gooey and melted, pull 'em out of the oven. Top with a little fresh grated parmesan cheese if yo wish, cut into pieces and serve! I'm thinking next time I'll try a balsamic glaze to drizzle over the top of these babies. They'd be fantastic, wouldn't it?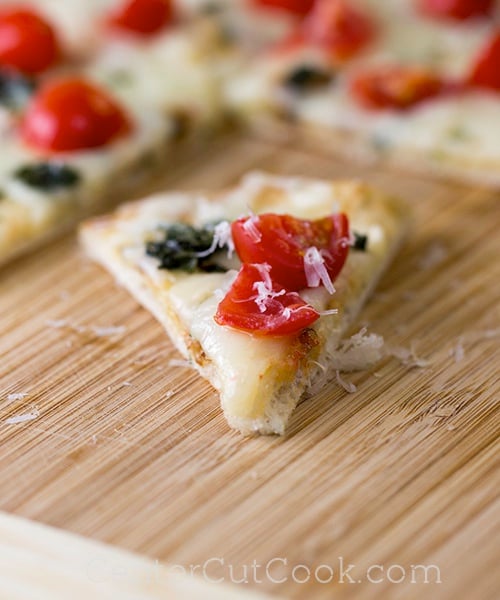 I am including ingredient amounts to make 4 flatbreads, but you could easily adjust to make as many or as few as you'd like.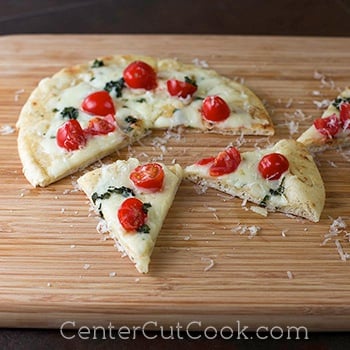 INGREDIENTS
1 cup grape tomatoes, quartered
1 tablespoon fresh chopped basil (1/2 teaspoon dried basil if you don't have fresh, but I really recommend the fresh)
1/2 cup chopped cooked chicken *optional
1 cup freshly grated mozzarella cheese
4 flatbreads
4 tablespoons butter, melted
1/2 teaspoon garlic powder
1/2 teaspoon dried parsley
Fresh grated parmesan cheese for garnish
DIRECTIONS
Pre-heat your oven to 400 degrees.
Combine 4 tablespoons melted butter with 1/2 teaspoon garlic powder and 1/2 teaspoon dried parsley. Brush this mixture over each flatbread.
Top each flatbread with about 1/4 cup mozzarella cheese.
Season grape tomatoes with a bit of salt and pepper and divide them evenly among the flat breads.
Sprinkle fresh basil on top.
Top with cooked chopped chicken if you wish.
Place in the oven for around 10 minutes, or until the cheese is ooey gooey and melted.
Sprinkle freshly grated parmesan cheese over the top, cut into pieces and serve.
Yields 4 flatbreads.
Please remember that all images shown here are copyrighted and may not be used without written permission from CenterCutCook.
Recipe from
CenterCutCook