Pizza bites make a great lunch or after school-snack. A few of these will see everyone through to dinner time (although the kids will probably ask to have them for dinner too!).
So simple to make, it's a great idea to get the kid's involved and let them make their own.
For this recipe I've made a version with cheddar and pepperoni, and also a version with cheddar, mozzarella, basil and red onion.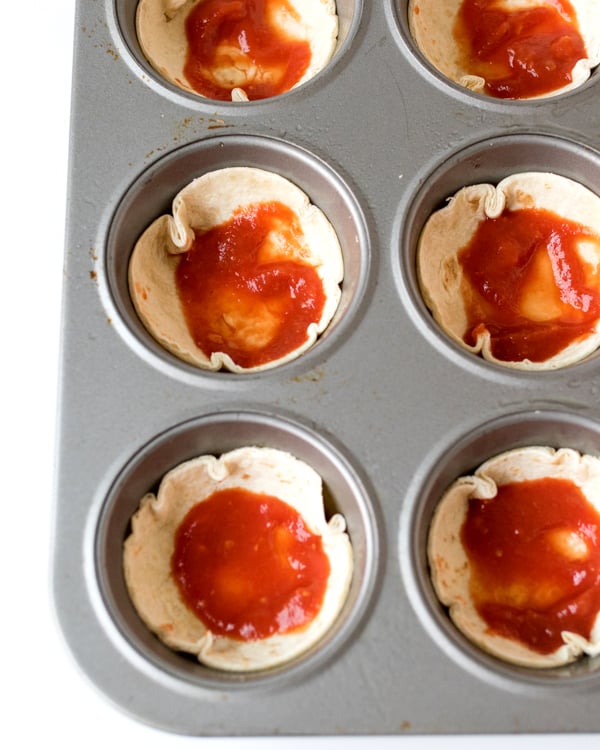 You can use whatever you have in. Here are a few more suggestion that my kids love:
Ham, pineapple and peppers
Sun-dried tomato and feta
Tuna and sweetcorn
The recipe also calls for pizza sauce, but if you haven't got any, then tomato paste mixed with a splash of water and some dried oregano will do the job nicely.
I also use garlic and herb marinara sauce sometimes too.
Simple and versatile – always makes the best kind of snack!!
INGREDIENTS
4 large flour tortillas
1 cup pizza sauce
3/4 cup shredded cheddar cheese
1/4 cup pepparoni minis
1/2 cup mozzarella cheese – torn into small pieces
1/4 small red onion, peeled and sliced
5 basil leaves, roughly torn
A few sprigs fresh parsley, finely chopped
DIRECTIONS
Preheat the oven to 425F.
Spray 2 muffin trays with spray oil (This recipe makes approx 16 pizza bites, so you'll probably need two trays).
Place a tortilla on a chopping board and cut 4 circles out of it using an empty can or a cookie cutter (approx 2.5 inches diameter). Repeat with the remaining tortillas so you have 16 circles.
Press the tortilla circles into the muffin trays. Make sure you push them to the bottom and then squash the sides against the sides of the tray – so you have enough room for the toppings.
Place 1 tbsp of pizza sauce on each tortilla. Divide the cheddar between the tortillas.
Divide the peperoni between half of the tortillas. Top the remaining tortillas with the mozzarella and red onion.
Place into oven and cook for 9-10 minutes.
Remove from the oven and leave to cool in the tin for 1 minute. Top the mozzarella pizzas with the basil. Sprinkle the parsley on the pepperoni pizzas before serving.
Servings: 16