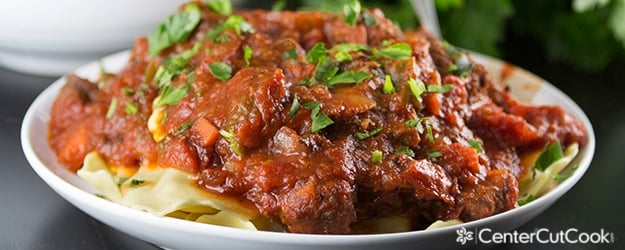 The fact that I haven't shared this easy recipe for spaghetti sauce with you yet is flat out ridiculous. I've been holding out on you guys with this one and I owe ya'll a huge apology! Spaghetti Sauce is such an essential recipe that everyone needs in their repertoire, especially this one because it's easy and made from scratch in the crock pot, and it's utterly delicious!
There are so many reasons to love this recipe. For starters, it's versatile. You can make this with or without meat, and with our without veggies which means there's an option for all of you!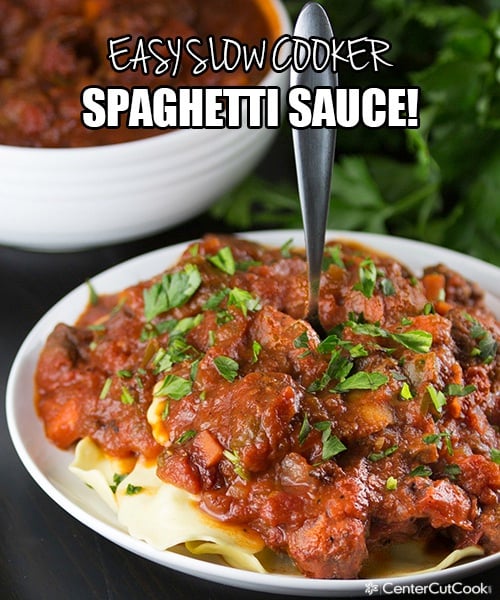 Ryan is a meat lover, so I tend to make this with Italian Sausage and ground beef or ground turkey, and I love the veggies, so I always add those in too, but you can also do it without the veggies, and you can also do it without the meat! And don't you worry, I outline below exactly what is essential and what are the optional add-in ingredients and explain how to make it with or without meat.
This recipe is made in the crock pot which is half of what makes it delicious. It cooks low and slow all day long so that come dinner time, you're left with a fantastic sauce that the whole family is going to devour.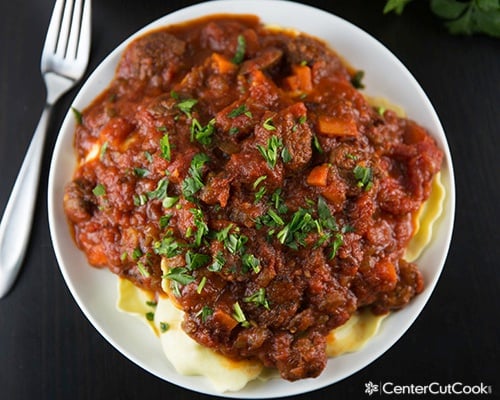 Now, before anyone freaks out about the fact that I have sugar listed under the "optional" ingredients, let me just explain the purpose of it in this recipe. Sometimes homemade spaghetti sauce can taste a little bitter because of the tomatoes. Sugar is one ingredient that helps to balance out the bitterness, therefore, I recommend tasting the sauce shortly before serving it. If it tastes a little bitter, add in about a tablespoon of sugar. It doesn't matter if you use granulated sugar or brown sugar. I've used both with great success. Adding carrot also helps a bit with the bitterness.
Lastly, one of my tricks to prevent this spaghetti sauce from getting watered down: I like to drape a clean towel over the slow cooker before I put the lid on it to cook. The towel will undoubtedly get very messy, but, it'll absorb any excess moisture. If by chance the sauce is not quite the right consistency, add in an additional can of tomato paste shortly before serving. I've never needed to add in the tomato paste if I use the towel trick! Here's a picture of what I'm talking about: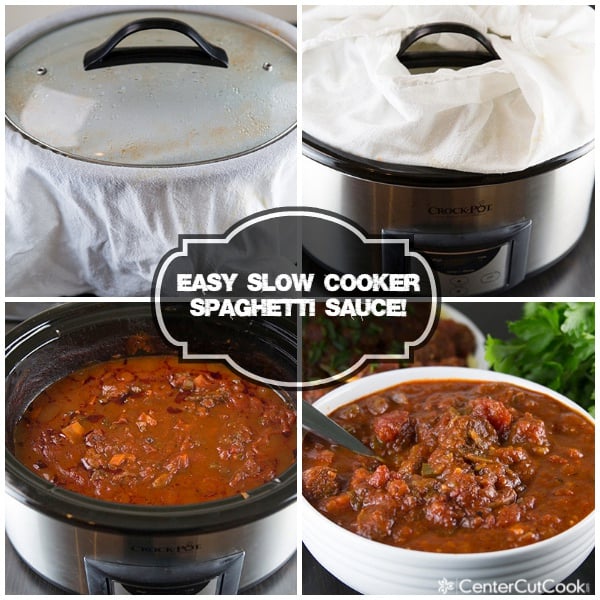 I don't have a precise serving size, just know that this recipe for spaghetti sauce makes a lot and freezes beautifully! You can use it however you wish, for spaghetti or any other pasta that you'd like. This time around I served it over mushroom stuffed ravioli and it was deeelicious! Enjoy!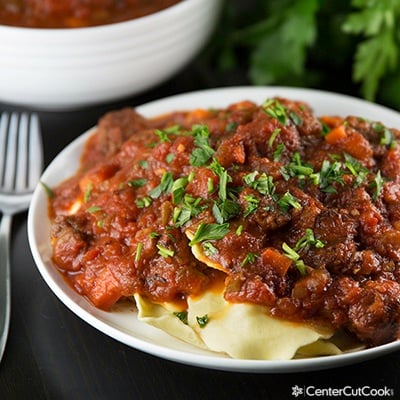 INGREDIENTS
2 tablespoons olive oil
1 large yellow onion, chopped
3 garlic cloves, minced
28 ounce can tomato sauce
6 ounce can tomato paste
29 ounce diced tomatoes (fire roasted if you can find them)
1/2 teaspoon garlic powder
1/2 teaspoon dried basil
3/4 teaspoon dried oregano
Salt and pepper to taste
OPTIONAL ADD-IN INGREDIENTS
1 pound sweet italian sausage – casings removed, cut into chunks -you can also make it with ground turkey or ground beef or eliminate the meat all together
1 carrot, chopped
8 ounces mushrooms, cleaned and stems removed, sliced
1 rib celery, chopped
1 bell pepper, chopped
1/2 cup red wine
Shortly before serving, taste the sauce, if there's a slight bitterness, add 1 tablespoon brown sugar or granulated sugar
If the sauce is too runny for your liking, stir in an additional 6 ounce can of tomato paste
DIRECTIONS
In a 6 quart or larger slow cooker (this makes a lot!), combine a 28 ounce can of tomato sauce with two 14.5 ounce cans of diced tomatoes (fire roasted works great here) and one 6 ounce can tomato paste. Add in two bay leaves, 1/2 teaspoon garlic powder, 3/4 teaspoon dried oregano, and 1/2 teaspoon dried basil. You can also add in about 1/2 cup dry red wine for an additional layer of flavor, but this is optional.
In a large non-stick skillet, heat 2 tablespoons olive oil over medium heat. Add onion and sauté for a few minutes, until softened. Add in the garlic and cook for a couple of minutes longer. If you want additional veggies in the sauce, add in the mushrooms, chopped carrot, bell pepper, and celery and sauté for just a minute, then transfer the veggies to the crock pot.
If you'd like to make this a meat sauce, brown 1 pound of sweet italian sausage, ground turkey, or ground beef.Drain any excess fat and add the meat to the slower cooker.
Cook on low for 7-8 hours. Shortly before serving, remove the bay leaves and taste the sauce. If there's a slight bitterness, add 1 tablespoon brown sugar or granulated sugar which will eliminate the bitterness. Season to taste with salt and pepper. I added about 1/2 teaspoon each of salt and black pepper.
To prevent the sauce from getting watery, I like to drape a clean dish cloth over the slow cooker before covering it with the lid to cook. The cloth will help absorb additional moisture. You can also stir in an additional can of tomato paste prior to serving if you want to thicken the sauce even further. I have found that if I use a towel, the sauce is the perfect consistency and I don't need the additional tomato paste .
Serve over pasta of your choice! This sauce also freezes well.
Recipe from
CenterCutCook