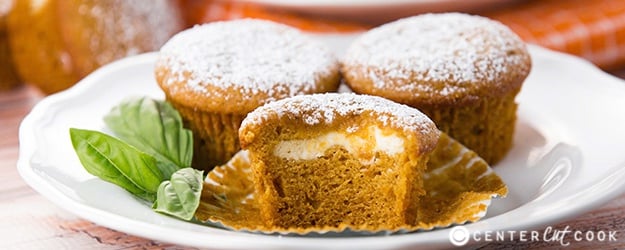 One of my favorite treats from Starbucks is their Pumpkin Cream Cheese Muffins. When you combine a soft pumpkin muffin with a decadent cream cheese filling, you're left with a muffin that is so hard to resist! Because I'm obsessed with the Pumpkin Cream Cheese muffins that Starbucks sells, I decided it was worth a try to make my own version at home. This muffin recipe is super easy to make, and the result is swoon worthy.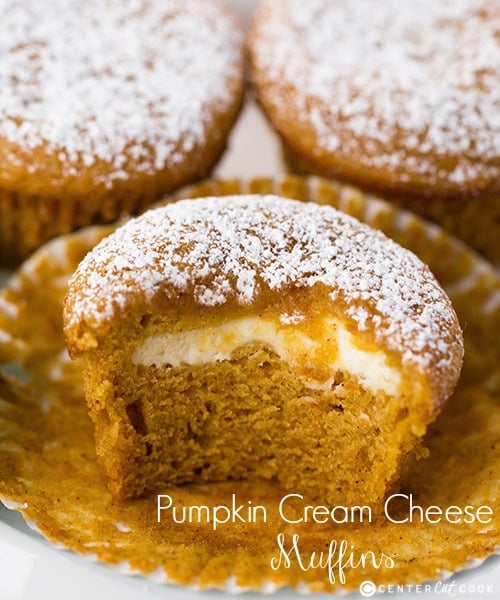 These Pumpkin Cream Cheese muffins sort of remind me of my favorite recipe for Pumpkin Roll. And just like the pumpkin roll, I tend to make these muffins year round. I don't know who made up the rule that pumpkin should only be consumed during the fall months, but it's not a rule I follow! :)
When these Pumpkin Cream Cheese Muffins come out of the oven, you can either dust them with powdered sugar or leave them as is. The powdered sugar adds a nice touch, especially if you're entertaining with them. You'll get about 24 muffins from this recipe. They are great fresh out of the oven, but leftovers are fabulous too. Enjoy!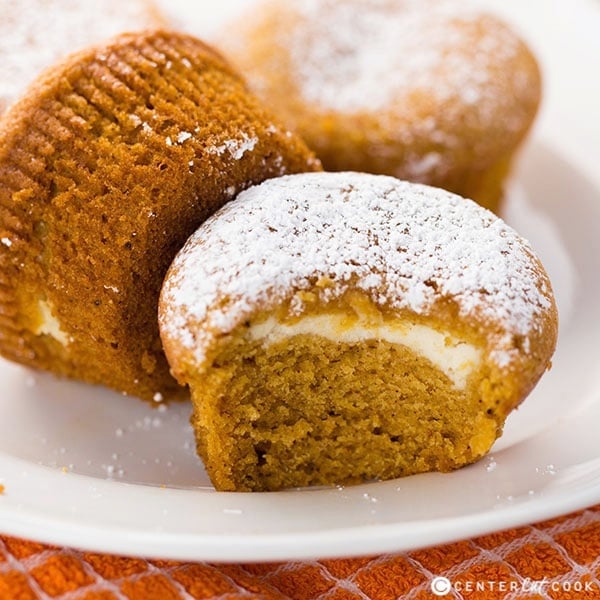 MUFFIN INGREDIENTS
CREAM CHEESE FILLING INGREDIENTS
8 ounce package cream cheese
1 egg
1 teaspoon vanilla extract
3 tablespoons sugar
DIRECTIONS
Pre-heat your oven to 350 degrees and grease 24 muffin cups or line them with paper liners.
In a large bowl sift together flour, pumpkin pie spice, cinnamon, baking soda, and salt.
With your mixer beat sugar, pumpkin, eggs and oil and water until well combined.
Add the dry ingredients into the wet and mix to combine.
To make the filling: With your mixer beat the cream cheese until it's light and fluffy. Add in the egg, vanilla and 3 tablespoons sugar and mix to combine.
Fill each muffin cup about 1/4 of the way full with batter. Place about 1 tablespoons cream cheese mixture in the center, then top with remaining batter so that each cupcake is filled about 3/4 of the way.
Bake for 25 to 30 minutes, or until a toothpick inserted into the center comes out clean.
Allow to cool for about 10 minutes before serving. Dust with powdered sugar if you wish.
Recipe from
CenterCutCook