Have you ever wondered what would happen if pumpkin pie met the cupcake? Guess what, I arranged their first date and it was love at first sight! Pumpkin Pie Cupcakes are sort of like the Pumpkin Pie Smoothie in that it's everything you love about pumpkin, but in this case, in cupcake form (and who doesn't love a cupcake?).
I debated long and hard about what kind of frosting to put on these babies. At first I was thinking something like a cool whip based frosting, since that's what I typically put on pumpkin pie. But then I started thinking about how insanely delicious a cream cheese based frosting would be, and how perfectly it pairs with pumpkin, and then there was no debate. The cream cheese frosting won! To finish off the pumpkin pie cupcake, I sprinkled graham cracker crumbs over the top as the final finishing touch, you know, in place of the graham cracker pie crust? Simple to make, and so delicious that it'll be hard to consume 'just one', these pumpkin pie cupcakes will be a hit in any pumpkin pie loving household!
This recipe yields two dozen regular sized cupcakes, or you can take the route I did and make one dozen regular sized cupcakes, and two dozen of the mini-cupcakes. I'm warning you though, the mini guys are DANNNGEROUS! It's so easy to pop a few in your mouth and before you know it, you've consumed way more than you ever anticipated eating! I'm not speaking from experience though…… ;)
Tips: I've mentioned this before, but decorating cupcakes is really not all that difficult. I bought a little cake decorating kit at Target in the baking aisle for under $10 dollars. It came with simple instructions, deposable frosting bags and a few tips. All I did was read the instructions (like two sentences) and woo-la, I was able to make a cupcake look pretty with very little effort (it DID take a few cupcakes for me to get the hang of it but even my ugly cupcakes were still yummy)! You can do it too! :) Lastly, make sure the butter and cream cheese is softened for the frosting. You'll get the best results if they aren't rock hard.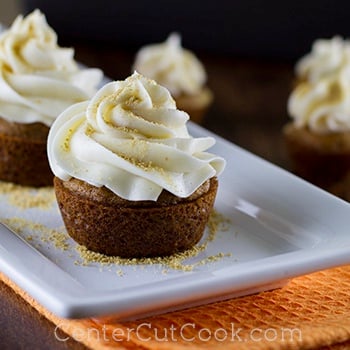 CUPCAKE INGREDIENTS
FROSTING INGREDIENTS
4 cups powdered sugar, sifted
1/2 cup unsalted butter, softened
8 ounces cream cheese, softened
1 teaspoon vanilla extract
Crushed graham crackers (about 1/4 cup)
CUPCAKE DIRECTIONS
Preheat oven to 350 degrees and grease a cupcake pan, or use liners.
In a bowl, combine flour, baking soda, baking powder, salt, cinnamon, and pumpkin pie spice.
In the bowl of your mixer, combine brown sugar, sugar, butter, and eggs.
Add dry ingredients into the wet ingredients and mix until everything is incorporated together.
Stir in pumpkin puree.
Fill each cupcake liner half-full with batter. You should get about 24 regular sized cupcakes from this recipe.
Bake on the top rack in the oven for about 22 minutes, or until a toothpick inserted in the middle of a cupcake comes out clean.
Allow the baked cupcakes to cool for about 2 minutes, then transfer them to a wire cooling rack and allow to cool for about an hour before frosting them.
FROSTING DIRECTIONS
Beat butter with a mixer until it's light and fluffy.
Add in cream cheese and beat for a minute or two.
Add in powdered sugar, one cup at a time mixing well between adding more.
Mix in vanilla and beat until frosting is light and fluffy.
Frost each cupcake, then top with graham cracker crumbs
Recipe adapted from
Martha Stewart