Enjoying the flavors of pumpkin pie doesn't get much easier than this, ladies and gents. This gluten-free, low cholesterol, low sodium treat delivers all of the flavors of pumpkin pie, in smoothie form! I was pleasantly surprised at just how delicious and refreshing this smoothie is, given that it literally took me only five minutes to make!
I'm a fan of all things pumpkin from classic pumpkin pie, to pumpkin whoopee pies, to pumpkin monkey bread. You name it, I love it, including this lovely smoothie. I made a few changes to the original recipe (which I found on the VitaMix website) including swapping in almond milk in place of regular milk, and using greek yogurt instead of regular yogurt. Simple changes, but ones that offer a few extra health benefits. You get a little extra protein with the greek yogurt, and more calcium, and lower sugar and calorie levels with almond milk.
Topped with a little whipped cream and cinnamon? This is the perfect treat for a fall afternoon. Enjoy!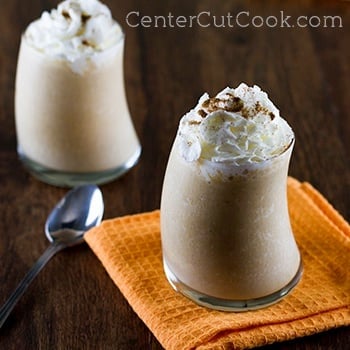 INGREDIENTS
DIRECTIONS
Place all the ingredients in your blender in the order listed, and blend until smooth.
Top with whipped cream and cinnamon, if desired. Serves 2.
Recipe slightly adapted from
VitaMix