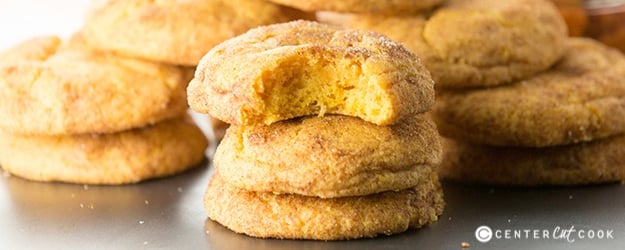 Raise your hand if you love snickerdoodles. My hand is raised high. They were my favorite cookie growing up, and each year my grandma would make me my own batch of snickerdoodle cookies for my birthday. Sometimes I like to change things up and try variations like these White Chocolate Chip Snickerdoodle cookies. And for fall, I just adore these Pumpkin Snickerdoodle Cookies that are super soft with a hint of pumpkin.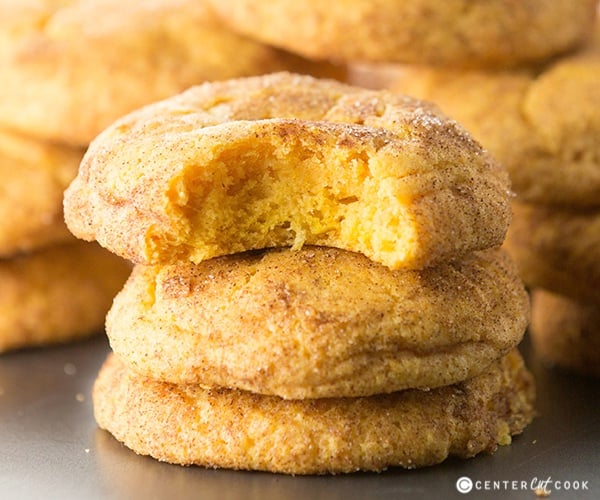 If you've made snickerdoodles before, the method is exactly the same, except the dough has the addition of pumpkin. One of the most important steps in this recipe is to put the dough in the freezer so that it can firm up. If you don't do this step, the dough will be very difficult to work with and the cookies will not turn out right.
These Pumpkin Snickerdoodle Cookies are super soft, and that hint of pumpkin makes them such a perfect fall treat. Enjoy!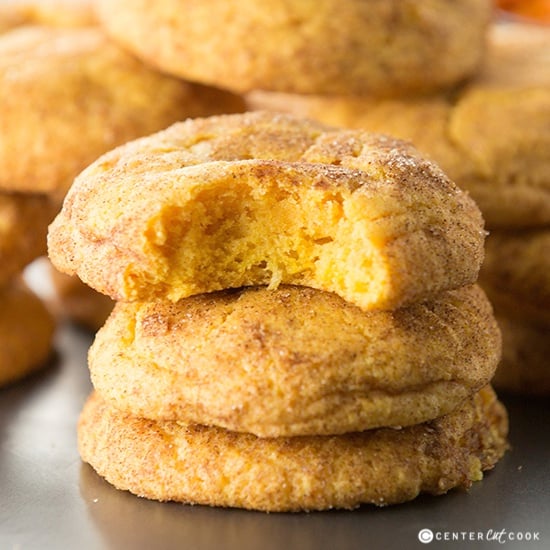 INGREDIENTS
1 1/2 cups granulated sugar
1/2 cup butter, softened
1/2 cup vegetable shortening
2 large eggs
3/4 cup pumpkin puree
2 3/4 cups all-purpose flour
2 teaspoons cream of tartar
1 teaspoon baking soda
1/4 teaspoon salt
1/4 cup sugar for topping
2 teaspoons ground cinnamon for topping
DIRECTIONS
With your mixer, cream together sugar, butter and shortening. Add in eggs and mix well.
In a separate large bowl, sift together flour, cream of tartar, baking soda, and salt.
Combine the wet ingredients into the dry and mix until all of the ingredients are incorporated together.
Stir in 3/4 cup pumpkin puree.
Place the dough in the freezer to chill for about 90 minutes. If you do not chill the dough, these cookies will not turn out right.
Pre-heat your oven to 350 degrees.
In a small bowl combine 1/4 cup sugar with 2 teaspoons ground cinnamon.
Measure 1/4 cup cookie dough and use your hands to roll into a ball. Roll the ball around in the cinnamon sugar mixture.
Place the balls of cookie dough on ungreased baking sheets.
Bake for about 18-20 minutes. When just the edges of the cookies start to brown, you know they are done. The middle part of each cookie is going to appear undercooked. This is what you want.
Allow the cookies to cool on the baking sheet for about 10 minutes before transferring them to a wire rack to cool completely. As the cookies cool, they will lose the appearance that make them look like they are undercooked. Make sure to allow the cookies to cool completely!
Store leftovers in an air-tight container.
Recipe from
CenterCutCook