If you are looking for the perfect fall treat, look no further than these Pumpkin Whoopie Pies with Cream Cheese Filling. They are SO good and SO soft and SO delicious and a favorite fall dessert.
What is a Whoopie Pie?
Have you heard of whoopie pies before? They are a dessert made from two super soft cookies with a creamy filling sandwiched in between. There are a variety of variations with the most common being chocolate cookies with vanilla frosting.
Aside from the chocolate variety, the next most popular is the Pumpkin Whoopie Pie, especially during the fall months when pumpkin desserts are so popular. With two super soft pumpkin cookies filled with cinnamon infused cream cheese filling, it's no wonder that this is one of our favorite fall treats.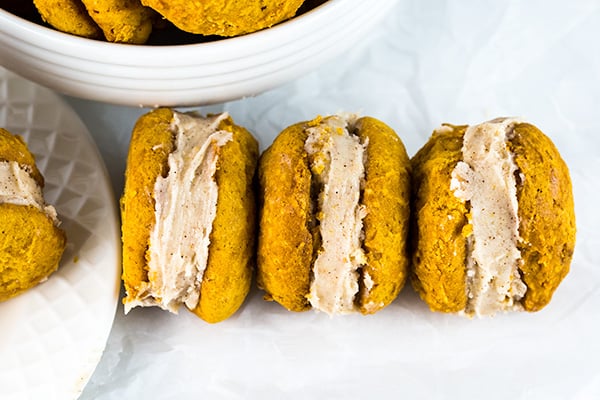 How do you make a whoopie pie?
To make a whoopie pie, you will start by making a super soft pumpkin cookie. The key is to make sure you do not over-bake the cookies. You want them to be super soft.
While the cookies bake you will make the cream cheese filling. We infused it with cinnamon to make it extra perfect for fall. You could also add a little maple extract for more of a cinnamon maple filling that would also be really excellent.
While some recipes call for making whoopie pies from a cake mix, it really does not take much longer to make the pumpkin cookies from scratch which is our preference.
From start to finish, plan to spend about 45 minutes to make these Pumpkin Whoopie Pies.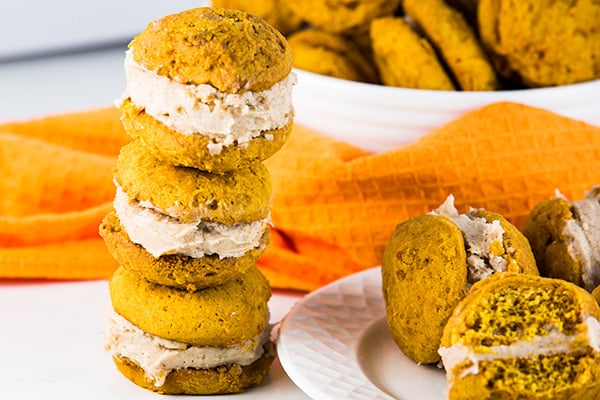 Enjoy!
For another delicious whoopie pie recipe, checkout our Chocolate Peanut Butter Whoopie Pies. Peanut butter frosting is sandwiched between two chocolate cookies and they are amazing!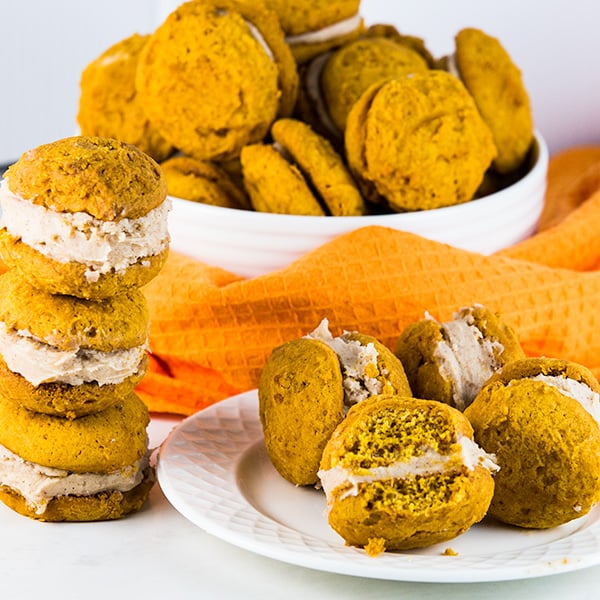 PUMPKIN COOKIE INGREDIENTS
FROSTING INGREDIENTS
PUMPKIN COOKIE DIRECTIONS
Preheat oven to 350 degrees F.
In a large bowl, combine butter, sugar, and brown sugar. Beat until well combined.
To that add eggs, pumpkin puree', and vanilla extract.
In a second bowl, combine flour, baking powder, baking soda, pumpkin spice, and salt.
Gradually add dry ingredients to wet ingredients. Stir until well combined.
Using a tablespoon, drop dough onto ungreased cookie sheets. Bake 13-15 minutes or until cookies are slightly brown. Be sure not to over bake.
Transfer cookies to a cooling rack.
FROSTING DIRECTIONS
Using a mixer, start by beating the cream cheese until light and fluffy.
Add in: vanilla extract, salt, cinnamon and powdered sugar. Continue beating until mixture is smooth.
ASSEMBLY DIRECTIONS
Once cookies are completely cooled, spread a thick layer of cream cheese frosting on the bottom of a cookie.
Top with another cookie. Repeat until all cookies are filled.
Recipe credit:
Brittany Jenkins