I think it's safe to say that Red Velvet Cupcakes with Cream Cheese Frosting are one of the most popular cupcakes out there! Any time visit Magnolia bakery (based in New York, but they also have one in Chicago!), I have a hard time deciding between getting a Red Velvet Cupcake or a Devil's Food cupcake. They're all so good!
Thankfully Red Velvet Cupcakes are super easy to make at home, despite the fact that they might look a little bit intimidating. While some red velvet cupcake recipes are made with beets to get that deep red beautiful color as a more natural alternative, I still stuck with red food coloring just because I didn't have any beets on hand.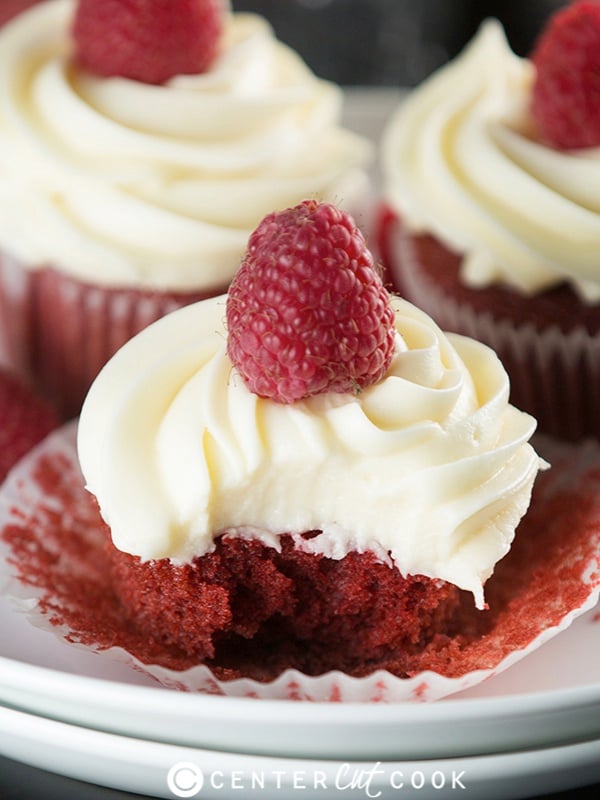 Red Velvet Cupcakes would not be the same without that delicious, decadent Cream Cheese Frosting. It is SO easy to make, and truly completes the whole Red Velvet Cupcakes experience!
Another favorite Red Velvet treat are these Red Velvet Cream Cheese Brownies. Both of these desserts are perfect for Valentine's Day, or any day of the year. Enjoy!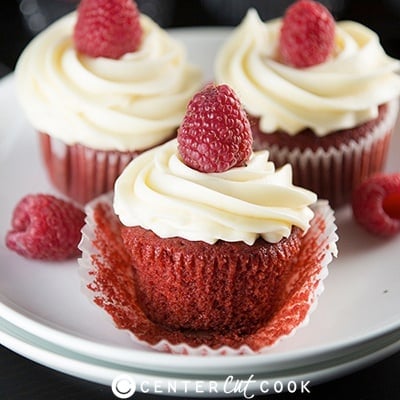 CUPCAKES INGREDIENTS
CREAM CHEESE FROSTING INGREDIENTS
16 ounces cream cheese, softened to room temperature
2 sticks butter, softened to room temperature
2 teaspoons vanilla extract
4 cups confectioners' sugar – sifted
Raspberries or sprinkles for garnish
DIRECTIONS
Preheat your oven to 350 degrees.
In a large bowl sift together flour, sugar, baking soda, salt, and cocoa powder.
With your mixer, combine oil, buttermilk, eggs, food coloring, vinegar, and vanilla.
Slowly add the dry ingredients into the wet and mix to combine well.
Line two cupcake trays with paper liners.
Fill each cupcake 2/3 full with batter.
Bake for 20-22 minutes, or until a toothpick inserted into a cupcake comes out clean.
Transfer the cupcakes to wire cooling racks to cool completely.
While the cupcakes are cooling, make the frosting.
With your mixer, beat cream cheese to soften it up a bit. Add in butter and mix well, then add in vanilla.
Add in confectioners' sugar, one cup at a time until all 4 cups have been added. Beat until the frosting is light and fluffy.
I used the Wilton 1M tip to pipe frosting onto the cupcakes
Garnish each cupcake with sprinkles or a fresh raspberry
Recipe from
CenterCutCook