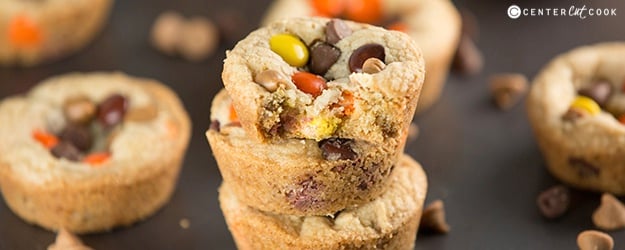 When it comes to candy, I am a total sucker for just about anything Reese's. I adore Reese's Peanut Butter Cups but equally as dangerous are Reese's Pieces. Because I had a bag of Reese's Pieces on hand that I didn't want to devour all by myself, and because I am a sucker for these Chocolate Chip Lava Cookies, I decided to combine the two to create the ultimate Reese's Cookie Cup loaded with Reese's Pieces and peanut butter chips!
What is it about Reese's Pieces that makes them sooooo addicting? I don't know what it's like in your house but if there's a bag of Reese's Pieces in the house, it is dangerous, which also means if you have these Reese's Pieces peanut butter cookies in your house, they are equally as dangerous.
I like baking these cookies in cup form, just because it's fun. And did I mention that they are soft and delicious?I haven't? Well, they are, and I think you should get yourself in the kitchen and whip a batch! They are great for an everyday treat, perhaps for the kiddos after school, or they are also perfect for entertaining. I served them at my Gender Reveal Party.
I have no doubt you and your family are going to enjoy these Reese's Cookie Cups!
INGREDIENTS
DIRECTIONS
Pre-heat your oven to 350 degrees.
Spray two muffin tins with non-stick cooking spray.
With your mixer cream together butter, brown sugar and granulated sugar and mix until light and fluffy.
Add in egg and vanilla and mix well.
In a large bowl sift together flour, salt and baking soda. Slowly add the dry ingredients into the wet and mix well.
Fold in peanut butter chips and Reese's Pieces.
Measure 2 heaping tablespoons of cookie dough and flatten a bit so that it will fit in each muffin cup. Continue until you've used all of the cookie batter. You should get about 24 cookies.
Press additional Reese's Pieces onto the top of each cookie cup for garnish, if you wish.
Bake for 15-20 minutes or until the edges start to brown. Run a knife around each cookie after it comes out of the oven to ensure that the sides aren't sticking to the pan.
Allow the cookie cups to cool completely before removing them from the pan.
Store in an air-tight container.
Recipe from
CenterCutCook