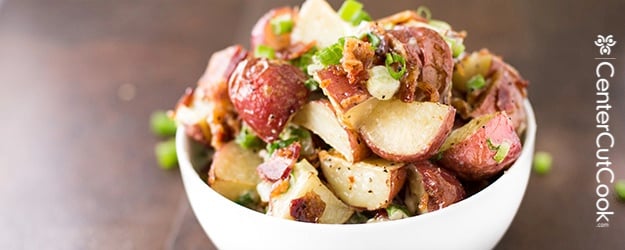 During summer months, I live in a terrarium, or at least that's the way it feels sometimes! Given that, you might say there's nothing worth cooking that requires the oven to be set to a scorching 450 degrees! Typically, I'm anti-oven in the hot, humid summer months, but I'm always willing to make an exception for this Roasted Potato Salad!
Tender roasted red potatoes, crisp bacon, and bright green scallions get tossed together to create this super summer potato salad. I was originally introduced to this recipe as a child when my mom would make it and our family would devour it. Traditionalists might say that there's no place for a warm potato salad in the summer, but try it once, and you'll be hooked!
Typically I serve this potato salad with anything I grill. This time around, I made it to go along with the burgers for the "how-to grill burgers" guide! This is the only potato salad that my potato-salad-hating husband will eat. It almost felt like a minor victory when I made this, and not only did he approve, he loved it! It serves a group, so feel free to scale the recipe back if you're just making this for a few people, or if you don't want leftovers. I happen to love the leftovers, because they heat up lovely, but it's also great cold.
You'll start with 3 pounds of red potatoes, quartered. Arrange them on a rimmed baking sheet and bake them for about 30-35 minutes in a 450 degree oven.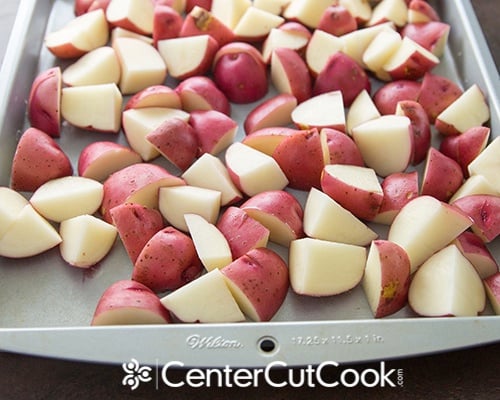 Next, cook 8 slices of bacon. I like to bake my bacon. To do that you simply line a baking sheet with foil, arrange the bacon, and place it in a cold oven. Turn the oven on to 400 degrees and bake for about 20 minutes, or until crisp. Because you're already baking the potatoes, you'd need two ovens to be able to do this. I don't have two ovens, but I wasn't in a rush so I baked the bacon first, then the potatoes.
Chop the bacon into small pieces….
Then chop up a few scallions….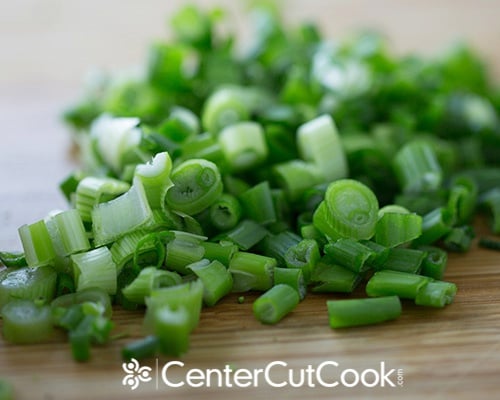 When the potatoes are done, you'll transfer them to a large bowl and stir in the bacon, scallions, mayo, salt, black pepper, and a pinch of garlic powder. That's all there's to it!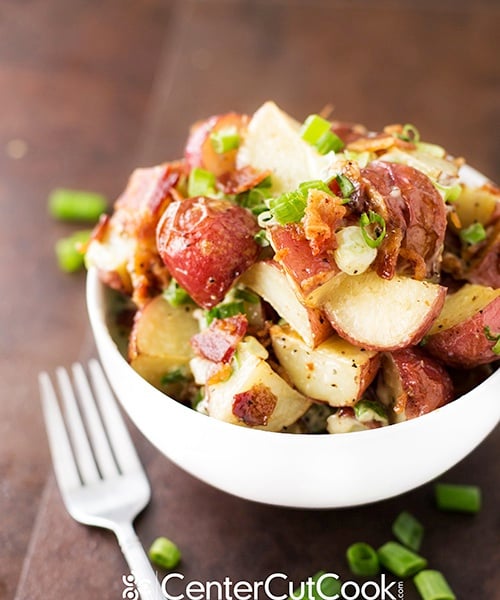 Serve this potato salad at BBQs or for any night of the week when you're looking for a hearty, tasty side-dish. Enjoy!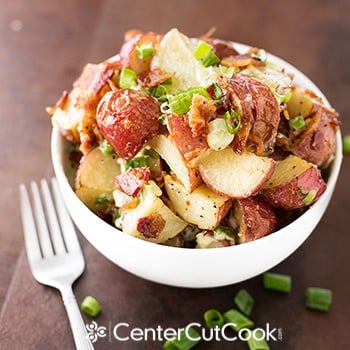 INGREDIENTS
3 pounds red potatoes, cut into 1/2 inch chunks
8 slices bacon, cooked and crumbled
2 scallions, diced (green and white parts)
3/4 teaspoon salt
1/2 teaspoon ground black pepper
1/4 teaspoon garlic powder
3/4-1 cup mayo
DIRECTIONS
Pre-heat your oven to 450 degrees
Arrange potato chunks on a large rimmed baking sheet and bake for 30-35 minutes, or until the potatoes are fork-tender.
Allow the potatoes to cool for about 5 minutes, then transfer them to a large bowl.
To the potatoes add the bacon, scallions, salt, pepper, garlic powder, and mayo. Gradually add the mayo until you get the creaminess you're looking for. I've never actually measured how much mayo I use, but it's about 3/4 of a cup.