We all have our areas of expertise, right? For example, I could tell you all about how to play the piano, or how to teach fifth graders math. I could tell you all about my adorable little puppies, and everything to do with their breed (Biewer Terriers). And then, I could probably talk your ear off for hours on end about jaw surgery and what it's like, especially now that I'm four months post-op. I know lots of things, and I'm sure you do too. But one thing I am nearly 100% clueless on is wine, yes wine.
I'm not a wine drinker, so when I received a bottle of Kendall-Jackson Chardonnay as a Christmas gift, it promptly went on a shelf, in a closet, with the intent that I would *gasp* re-gift it at some point to someone who I knew would enjoy it. I completely forgot about it until not that long ago when I went to do some spring cleaning and found it. What's a girl to do with a bottle of wine she has no intention of drinking? Cook with it, of course!
I've mentioned Bucca Di Beppo before and their spicy chicken rigatoni. It's definitely one of my favorite pasta dishes out there, but a close second is their Shrimp Fra Diavolo. My take on this dish isn't necessarily a copycat version of Bucca's, but it's still darn tasty. And better yet, the recipe calls for dry white wine. Chardonnay, come to find out, is considered a dry wine, so I was in luck!
This recipe does pack some heat, so adjust the red pepper flake accordingly. Fire roasted tomatoes, garlic, and tender spicy shrimp come together to create one of my favorite, most flavorful pasta dishes out there. If you find yourself in the same I-know-nothing-about-wine boat as I'm in, chardonnay is apparently a good choice. They say not to cook with a wine that you wouldn't drink (which is tricky when you don't drink it to know what's good and what's bad), so perhaps ask for help at the grocery store to pick out a decent dry wine for this recipe?
Enjoy!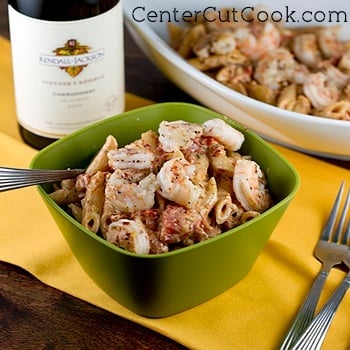 INGREDIENTS
1/2-1 pound large raw shrimp, peeled and deveined
1 teaspoon sea salt
1-2 teaspoons crushed red pepper flake
1/2 teaspoon black pepper
3 tablespoons olive oil
1 small onion, diced
1- 14.5oz can fire roasted diced tomatoes
1 cup dry white wine
1 cup alfredo sauce
4 garlic cloves, minced
1/2 teaspoon dried oregano
1/2 teaspoon dried basil
1 pound penne pasta, cooked according to package directions
DIRECTIONS
Heat a large skillet to medium-high heat. While the skillet is heating, in a small bowl combine shrimp, sea salt, red pepper flake, and black pepper. Stir to coat the shrimp with the seasonings.
Add 2-3 tablespoons of olive oil to the pan, and add shrimp. Sauté' the shrimp until they are cooked, about 3-4 minutes. Remove the shrimp from the pan.
To the remaining olive oil, add 1 small diced onion and cook until the onion is translucent. Add additional oil if necessary. When the onion is almost done cooking, add in garlic and sauté for a minute or two.
Stir in fire roasted diced tomatoes, alfredo sauce, oregano, basil, and dry white wine. Reduce heat, add shrimp back to the pan and simmer for about 10-15 minutes. The sauce will thicken as it simmers.
Stir in pasta, and serve immediately.
Recipe adapted from
Giada De Laurentiis