Living in the suburbs of Chicago means I have endless dining options surrounding me. We prefer eating at home for most meals, but we also love to support local businesses that work hard to serve the community. A couple weeks ago, we came across one of the best examples of a local business that I am happy to support. It's called Rubi's and it's a pop-up taco stand at the Maxwell Street Market in Chicago.
Every Sunday, the crew from Rubi's set-up their taco stand and spend 8 hours cooking with a near constant line out front with hungry patrons waiting for an authentic taco or quesadilla. This is street food at its finest, folks! They make their corn tortillas, from scratch, right in front of the line of customers. Let me tell you, these tortillas are to die for! It makes the packaged tortillas from the store taste like cardboard! Three hours after I ate my carne asada quesadilla, I was craving another one. The meat was so tender, the tortilla so soft and flavorful, and the homemade salsa was just perfect.
For the last two weeks, ever since eating at Rubi's, I've had tacos on the brain. I'd love to drive into the city every Sunday to partake in Rubi's, but it's just not realistic! I knew I'd have no clue how to replicate what they offer, so this recipe for slow cooker shredded beef tacos isn't a copy-cat, but, it definitely satisfied my cravings! This is without a doubt, my new go-to recipe for tacos at home when getting to Rubi's just isn't an option.
I love slow cooker recipes for those hectic days when you know you won't feel like cooking. Additionally, isn't it the best to just come home to a house that smells SOOOO good from whatever you have cooking in the crockpot? These tacos turned out to be one of my favorite slow cooker recipes. It ranks right up there with this recipe for slow cooker beef stroganoff. The method is simple, you cut up a chuck roast after removing any visible chunks of fat. Then you sear those chunks of beef in a pan (sear it, trust me, it adds a new depth of flavor!) before adding the beef to your cooker. Chipotle chiles in adobo sauce along with diced tomatoes and some seasonings get blended together to form a cooking sauce. The beef gets covered with the sauce and some onion slices, then it sloooooow cooks all day for 6-8 hours on low or 3-4 hours on high.
What I love about this recipe is that you can easily adapt it to your personal preferences. We love heat in this house, so I was generous with the chipotle peppers. However, you can easily cut back on the peppers if you are cooking this for children, or if you're not a fan of the heat yourself. I wish I knew how to make homemade corn tortillas at home like Rubi's, but I don't, so I resorted to using leftover flour tortillas I had in my freezer.
The next time you're craving tacos, give this recipe a try. It's SO easy, and SO delicious, and SO easy. Oh yeah, I already mentioned that. It's traditionally served with a cabbage/radish/cilantro topping, but feel free to serve it with lettuce and tomatoes and whatever else floats your boat. I loved the meat/cabbage combo, but my hubby preferred his taco with cheese, lettuce and tomato.Oh, and if you ever get to Chicago on a Sunday, check out Rubi's at the Maxwell Street Market. The market itself is NOT impressive, but the street food, especially Rubi's, is.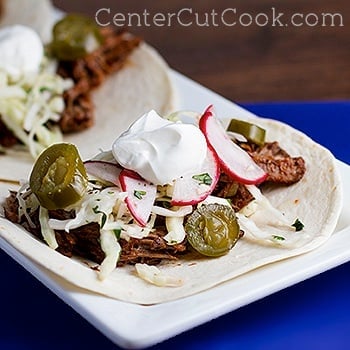 INGREDIENTS
3 pound beef chuck roast with visible fat removed, cut into 3 inch chunks
1 large onion, thinly sliced
3 cloves garlic
1-5 chipotle chiles plus 1-2 tablespoons adobo sauce depending on your heat preference (chipotle chiles in adobo sauce can be found in the international foods aisle near the green chiles)
1- 14.5 ounce can of diced tomatoes, lightly drained
1 teaspoon dried oregano
Salt, pepper, garlic powder, onion powder
2-3 tablespoons olive oil
4 cups shredded cabbage
1/2 cup thinly sliced radishes
Juice from 1 lime
Corn or flour tortillas
Garnishes- sour cream, pickled jalapeños, etc.
DIRECTIONS
Season beef chunks with salt, pepper, garlic powder, and onion powder.
Heat 2-3 tablespoons olive oil in a large skillet on high heat.
Add beef to the skillet and sear the meat on both sides.
Transfer the meat to your slower cooker and top with sliced onion.
In a blender, combine diced tomatoes, chipotle chiles with adobo sauce, garlic, and oregano. Blend until the sauce is smooth. Pour this mixture over the beef and onions.
Cook in the slow cooker on low for 6-8 hours or high for 3-4 hours.
When the beef is tender, remove and use two forks to shred the meat.
Transfer the remaining sauce to a sauce pan and cook over medium-high heat for 8-10 minutes, or until the sauce thickens.
Heat your tortillas in warm non-stick skillet.
In a large bowl combine shredded cabbage with sliced radishes, and the juice from 1 lime.
Place shredded meat on each tortilla, top with cabbage mixture, and a spoonful or two of sauce. Top with any garnishes of your choice including sour cream and pickled jalapeños.