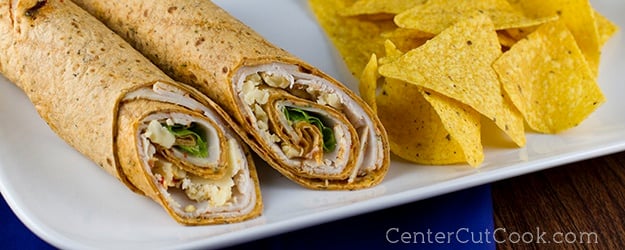 If you like simple recipes, and I mean simple, look no further than these Southwestern Turkey Wraps! The most difficult aspect to this recipe is making the Southwestern sauce which literally takes minutes, as long as you have a blender. I came up with these wraps when I was trying to find a way to use up some turkey, and I had a taste for something a little spicy. Thanks to the chipotle peppers in the southwestern sauce that gets spread all over the tortilla, this little wrap can pack a punch! But, you can easily control the heat by adjusting how many peppers you add.
It's important to use a blender to create this sauce, so that all of the flavors are distributed evenly. You do not want chunks of chipotle peppers in this sauce, trust me on that one! I used a Spicy Monterrey Jack cheese blend that I found at the store the other day, along with a little lettuce, and put it all on sun dried tomato tortillas.
Should you decide to entertain with these, you could easily cut them into little bite sized snacks, sort of like these Ham and Cheese Pinwheels I made last year.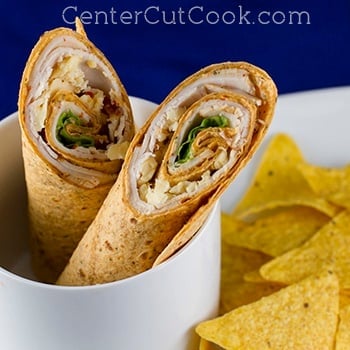 INGREDIENTS
1/2 cup mayo
1 tablespoon dijon mustard
1/2 tablespoon chopped fresh cilantro
1 chipotle chile in adobo sauce – use more or less depending on your desired heat preference
1 clove garlic
Juice from 1/2 of a lime
Salt and pepper to taste
Deli turkey slices
Monterrey Jack cheese
Lettuce
Tortillas – I used sun dried tomato
DIRECTIONS
Create the Southwestern sauce by combining mayo, dijon mustard, cilantro, chipotle chile in adobo sauce, garlic, lime juice, and salt and pepper in the blender. Blend well.
Spread a thin layer of Southerwestern sauce over the tortilla. Top with turkey, monterrey jack cheese, and lettuce. Roll up tightly, cut in half, and serve. Yields enough sauce for at least 4 wraps.
Recipe from
CenterCutCook