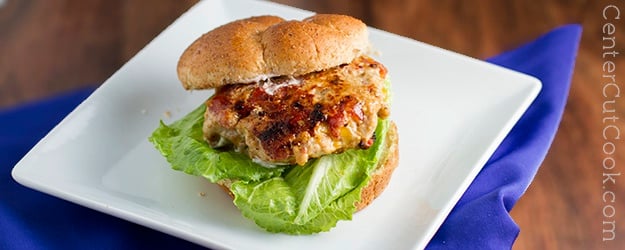 I'm excited to introduce you all to these lean, mean Spicy Chicken Burgers that can be made as mild or as spicy as you'd like to accommodate a variety of taste buds! They require only a handful of ingredients, AND they are fully cooked in about 12 minutes. Dinner is on the table in under 20 minutes, can I get a BOOYAH?!
Not only are these chicken burgers quick and simple to make, they are so juicy and tender. Yes, I used chicken, juicy, and tender in the same sentence. They are so tender that my hubby even said, "wow, you hardly need to chew!" So what's in these burgers you ask? It's simply ground chicken, 1 can Ro*Tel (that's diced tomatoes and green chilies), 1/2 cup cheddar cheese, and some standard seasonings. The chilies in the Ro*Tel is what gives it a slight "spicy" kick, but "spicy" is used lightly here. It truly is pretty family friendly as-is. To makes things a little more spicy, you could add a little hot sauce for an extra zing!
If you're low carbin' it like I am, just skip the bun and place the burger between two lettuce leaves. I have to say, this goes down as my favorite meal for the month of September, and probably ranks up there on my list for favorite meal of the year! The can of Ro*Tel is what adds so much moisture and flavor to these burgers, so don't skip it. Ro*Tel can be found by the diced tomatoes at the grocery store.
I tried serving these burgers with some "crispy" oven-baked fries, but they turned out soft and floppy. You can imagine what I'm on the lookout for now…. REAL crispy oven-baked fries! If you've got a recipe, send it my way. Anyhow, I'd recommend serving these burgers with Smashed Potatoes with Cheese, and fresh steamed veggies. Serves 4 – enjoy!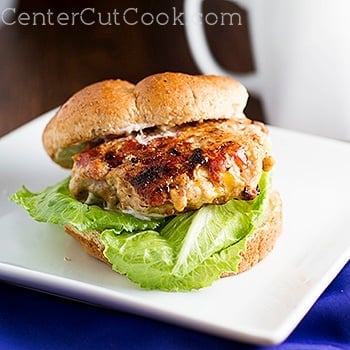 INGREDIENTS
1 pound lean ground chicken
1 can mild Ro*Tel – drained
1/2 cup cheddar cheese
Salt, pepper, garlic powder for seasoning
Buns, toasted
Lettuce
1/3 cup mayo
1 tablespoon olive oil
DIRECTIONS
Open can of Ro*Tel and drain all liquid. Scoop out 1/4 cup of the tomato/chilies mixture and set aside.
In a large bowl combine chicken with remaining Ro*Tel, and 1/2 cup cheese. Form the mixture into 4 equal patties. If desired, add hot sauce to taste.
Season each chicken burger liberally with salt, pepper, and bit of garlic powder.
Heat a grill pan or large skillet to medium high heat and add 1 tablespoon olive oil.
When the oil is hot, add burgers and cook for 5-6 minutes, then flip and cook 5-6 minutes more until burgers are cooked through and the internal temp reaches 165 degrees F.
Toast the buns, if desired.
In a small bowl combine reserved 1/4 cup Ro*Tel with 1/3 cup mayo.
Divide the mayo mixture among the 4 buns. Place a chicken burger on each bun, add lettuce if desired, and serve.
Recipe adapted from
Ro-Tel.com