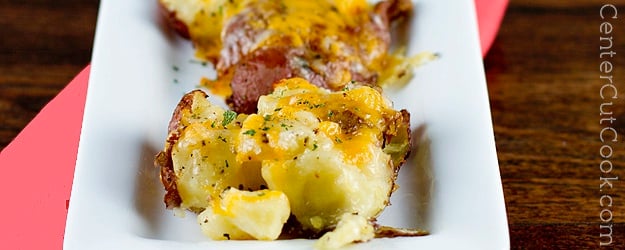 Smashed Potatoes!
Gooey, Cheesy
The best way to eat spuds
Top with bacon, sour cream, or chopped chives
Smashed Potatoes!
—
So my forte' is definitely not poetry but I could wax poetic forever about these cute little smashed potatoes with cheese. First and foremost, these little guys are already perfectly portioned. For anyone watching portion control, this recipe requires no effort. Secondly, I love the way these potatoes crisp up. The addition of cheese puts them over-the-top and the perfect addition to so many meals like Balsamic BBQ Glazed Chicken or Chicken Cordon Bleu Rollups.
The method is truly simple, you start by boiling the potatoes until they are soft enough to pierce easily with a fork. Then you arrange them on a baking sheet, smash them with a potato masher, top them with a little olive oil, salt and pepper, and bake them on high heat until they start to crisp. Then comes the cheese! After sprinkling each potato with the cheese of your choice, they go back in the oven, just long enough for the cheese to melt. The result is a gooey cheesy potato that is delicious as-is, or you can top with bacon, sour cream, and chopped chives.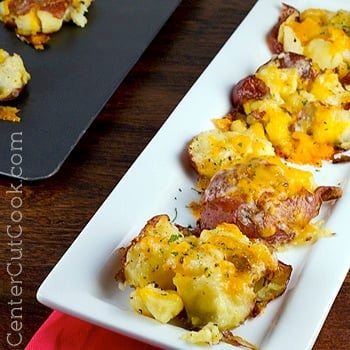 INGREDIENTS
Small red potatoes (however many you'd like)
Black Pepper
Cheese of your choice (cheddar, fontina, etc.)
DIRECTIONS
Pre-heat your oven to 450 degrees.
Fill a pot with water, add a little salt, and bring to a boil. When the water is boiling, add as many potatoes as you'd like.
Cook the potatoes until you can easily pierce them with a fork. Drain and set aside.
Prepare a rimmed baking sheet by greasing it with olive oil.
Place each potato on the baking sheet, leaving a few inches between each potato.
Use a potato masher to gently smoosh the potato so that it is mostly flat. Don't push too hard though, you don't want to have to peel these potatoes off the pan.
Brush each potato with olive oil and liberally salt with kosher salt, and sprinkle with black pepper.
Bake the potatoes in the oven for 18 minutes.
Remove potatoes from the oven and sprinkle any cheese of your choice on top. I used a combination of cheddar and fontina because I had both on hand.
Return the potatoes back to the oven and cook for an additional 5 minutes, or until the cheese is melted.
Enjoy!