Smashed Potatoes with Cheese
Crispy smashed potatoes with cheese are fabulous as-is, or you can top them with bacon, sour cream, and chopped chives. Made with small red potatoes, they cook quickly and are the perfect easy side dish!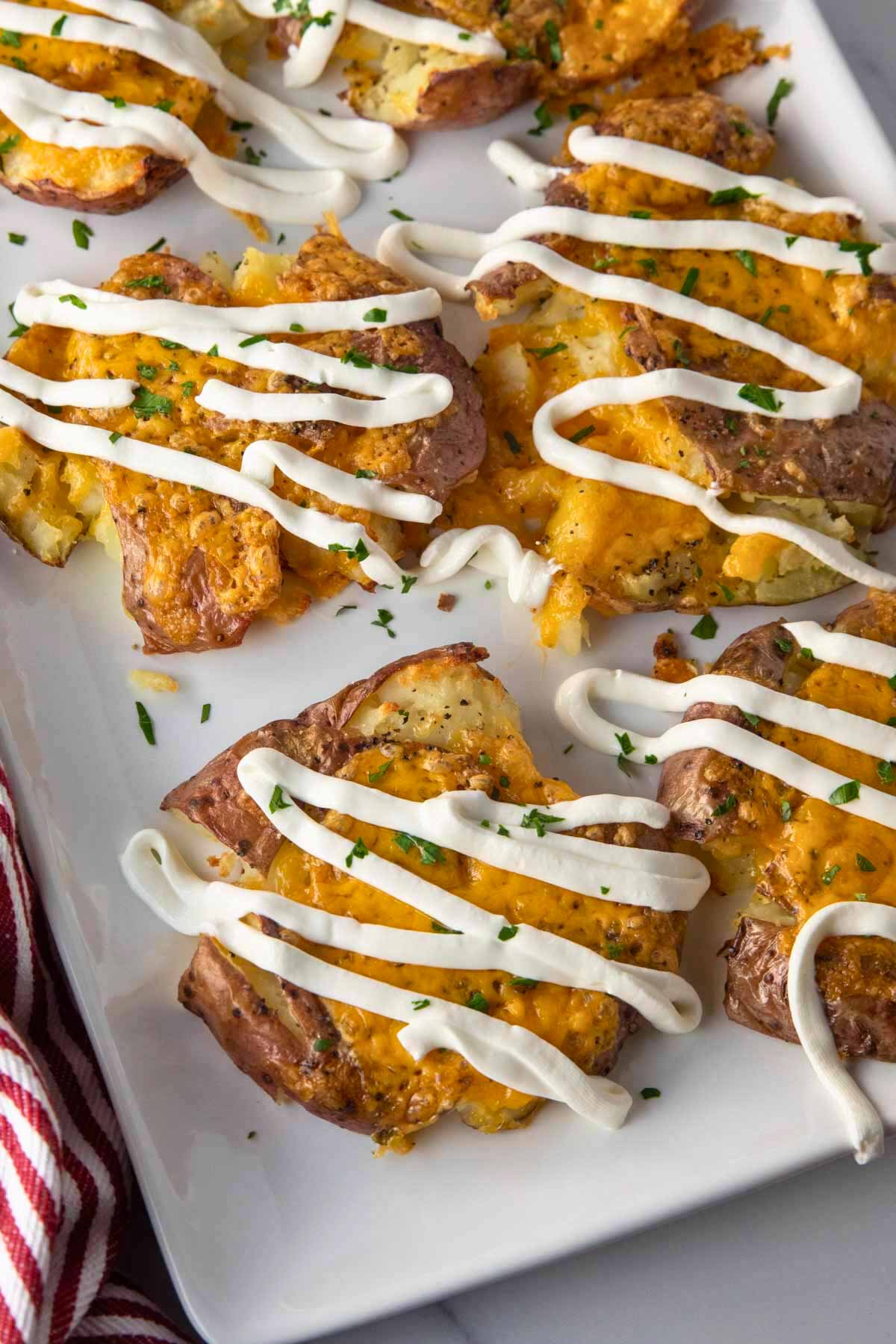 My forte' is definitely not poetry but I could wax poetic forever about these cute little smashed potatoes with cheese. First and foremost, these little guys are already perfectly portioned. For anyone watching portion control, this recipe requires no effort. Secondly, I love the way these potatoes crisp up. The addition of cheese puts them over the top and the perfect addition to so many meals like Balsamic BBQ Glazed Chicken or Chicken Cordon Bleu Rollups.
Smashed Potoatoes Ingredients
These simple ingredients combine to create the most delicious potatoes:
Potatoes: The best potatoes for this recipe are small yellow or red potatoes. I love how smooth and buttery they are! And since they are small, they cook fairly quickly and evenly. This recipe can be made for one person or a group, just grab as many as you need. Scrub them to remove any dirt and debris before starting the recipe.
Oil, salt, and pepper: Makes the potatoes crispy and gives them just enough flavor.
Cheese: Shredded cheese makes these crispy potatoes just gooey enough. I share my recommendation for what cheese to use below.
Other toppings: Cooked bacon, sour cream, and chives are all delicious on this baked potatoes recipe. Anything you love on your baked potato can be added here!
How To Make Smashed Potatoes
Here is a brief overview of how to make smashed potatoes. For the full recipe including all measurements and cooking times, scroll to the recipe card at the bottom of the post.
Cook the potatoes. Boil them in a large pot until they are fork tender and can be pierced with a fork. Drain them and set aside.
Mash the potatoes. Arrange the potatoes on an oiled baking sheet and gently mash them with a potato masher or the bottom of a glass.
Season the potatoes. Brush the mashed potatoes with oil and then season with salt and pepper. Additional seasonings you could add include garlic powder and onion powder.
Bake the potatoes. Cook time will be about 18 minutes, then take them out and add shredded cheese. Return the potatoes back to the oven and cook for an additional 5 minutes, or until the cheese is melted. Add a sprinkle of fresh herbs if you wish.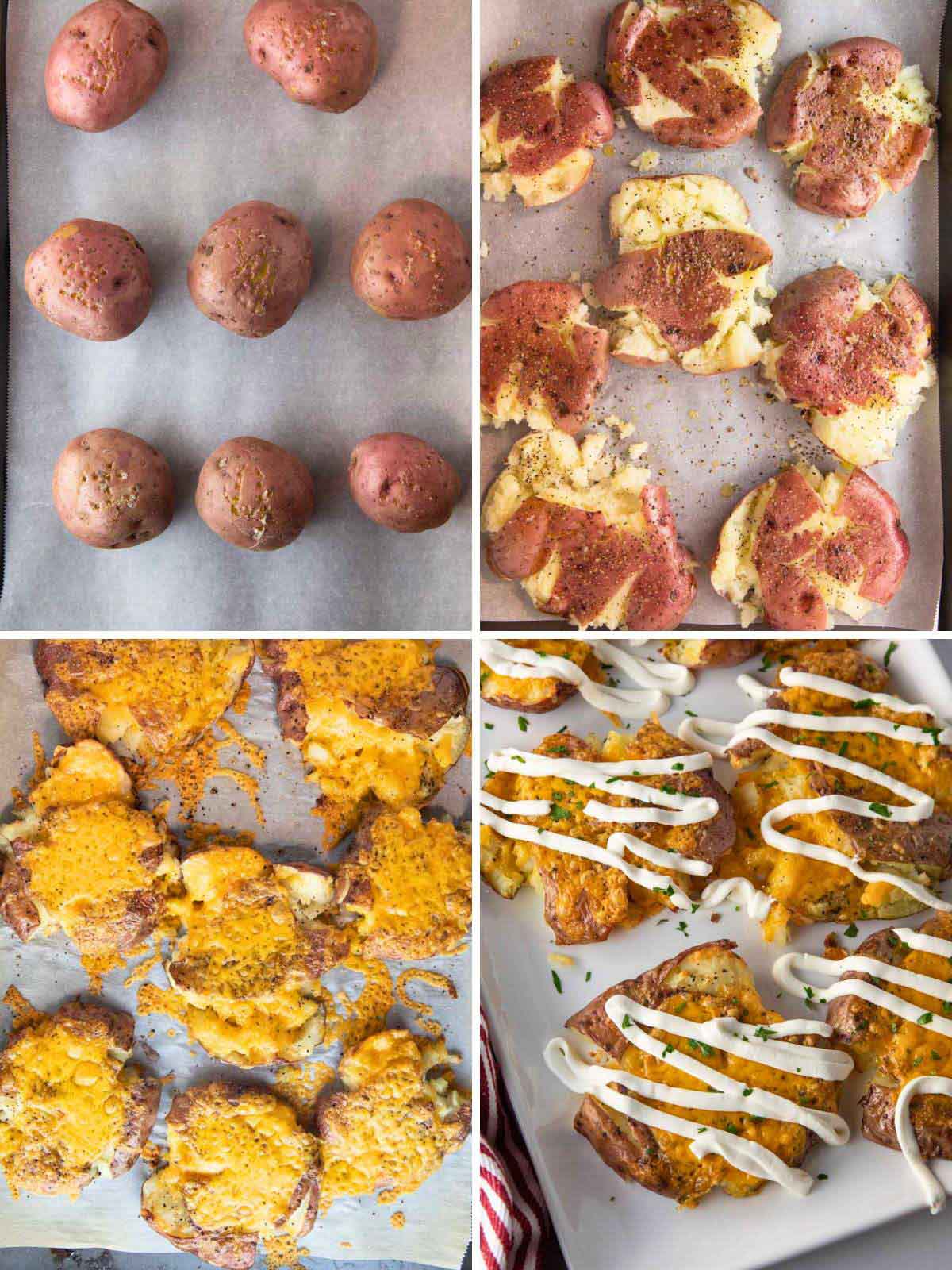 Choosing Cheese
For this recipe, you can use any cheese that you like that melts well. I like to use a combination of cheddar and fontina because I usually have those on hand. Parmesan cheese would also be delicious! I always recommend grating your own cheese from a block for any recipe that asks for shredded cheese. It will melt and taste so much better than pre-shredded cheese which is covered in preservatives that prevent it from clumping in the bag. Taking the time to do this is worth the extra few minutes.
Tips and Tricks
Salt your water. This flavors the potatoes while they cook.
Smash the potatoes almost flat. Don't push too hard though, you don't want to have to peel these potatoes off the pan. This is easiest to do with a potato masher, but can also be done with a fork or the bottom of a glass.
Oil the pan. This makes the bottom of the potatoes crispy as well as the top and prevents them from sticking to the pan.
Mix up the seasonings. I love the flavor of just salt and pepper, but cayenne pepper, garlic powder, or even red pepper flakes could add some additional flavor and spice!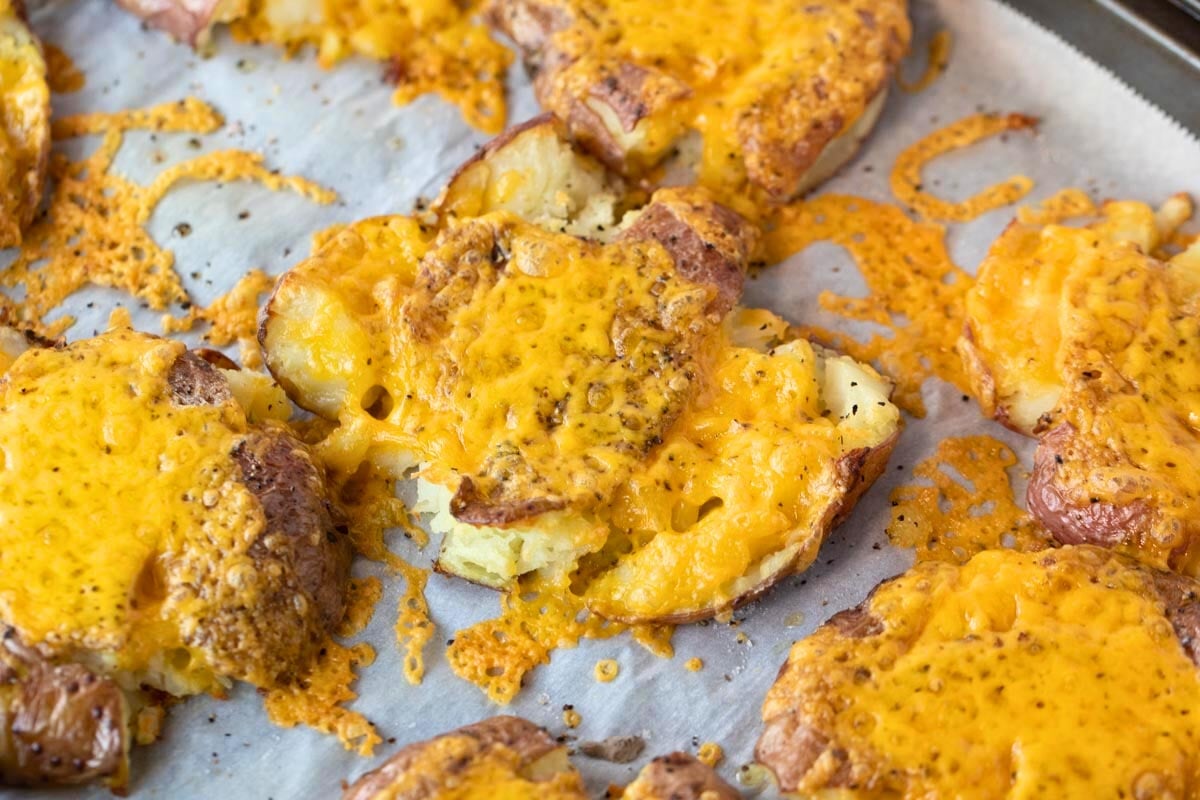 Do I need to peel the potatoes first?
This is up to you! If you don't like the texture or taste of potato skin, peel the potatoes before you boil them. I love the texture and extra nutrients the skin adds, as well as the convenience of not taking the time to peel them. The skin also helps the potatoes hold up when baking.
What are the best potatoes to use?
Red or yellow potatoes work best because of their texture and size.
Is this recipe gluten free?
Yes! It is also vegan if you use vegan cheese and omit the bacon.
Making Them Ahead
Save time by boiling the potatoes ahead of time. Once they are fork tender, drain the water and put the potatoes in an airtight container in the refrigerator until you are ready to make the smashed potatoes, up to a day in advance. Proceed with the recipe as written, arranging the cooked potatoes on a baking sheet and smashing them before baking.
Instructions for Microwaving Red Potatoes
Instead of boiling the potatoes, you can choose to microwave the red potatoes as a more simple option. To microwave red potatoes, wash the potatoes, pierce them with a fork a few times, then place them on a microwave safe plate. Microwave for about 8 minutes to start, then check for doneness. Continue to cook in the microwave in 1-2 minute increments util potatoes are fork tender but not mushy. The length of time it will take to took will depend on your specific microwave, the size of the red potatoes, and how many potatoes you're cooking.
I cooked 8 red potatoes that were about 4-6 ounces each in the microwave and it took about 12 minutes for them to become fork tender.
Storing and Reheating Potatoes
These smashed potatoes are best served hot off the baking sheet. If you have leftovers, store them in an airtight container in the refrigerator for up to three days. Reheat leftover smashed potatoes in the oven. Remember to only reheat leftovers once.
What to Serve With Smashed Potatoes
These crispy smashed potatoes can be served as an appetizer or a delicious side dish. Here are a few ideas of what to serve to round out the meal:
We hope you love this recipe for Crispy Smashed Potatoes! This will be your new favorite way to enjoy baby red potatoes. If you make this smashed potato recipe or any of my other recipes, please leave a comment and let me know what you think. I love hearing from you!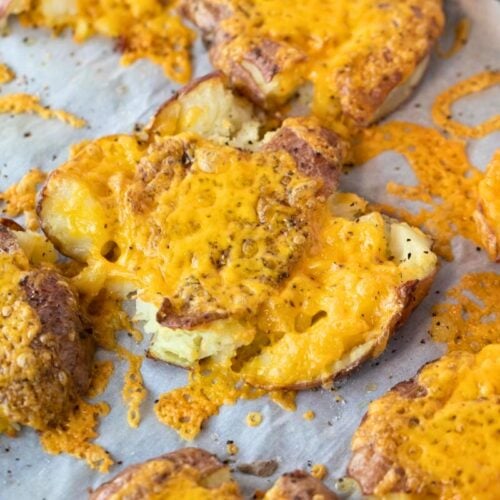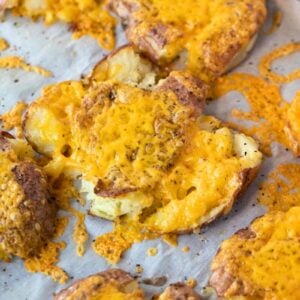 Smashed Potatoes With Cheese
Gooey and cheesy, these crispy smashed potatoes are fabulous as-is, or you can top them with bacon, sour cream, and chopped chives!
Ingredients
small red potatoes

however many you'd like

olive oil

kosher salt

black pepper

shredded cheese of your choice

cheddar, fontina, etc.
Instructions
Preheat the oven to 450 degrees Fahrenheit.

Boil the potatoes: Fill a pot with water, add a little salt, and bring to a boil. When the water is boiling, add as many potatoes as you'd like. See note above about microwaving the potatoes instead.

Cook the potatoes until you can easily pierce them with a fork. Drain and set aside.

 Prepare a rimmed baking sheet by greasing it with olive oil or lining it with parchment paper.

Place each potato on the baking sheet, leaving a few inches between each potato.

Use a potato masher or the bottom side of a drinking glass to gently smash the potato so that it is mostly flat.

Brush each potato with olive oil and liberally salt with kosher salt, and sprinkle with black pepper.

Bake the potatoes in the oven for 18 minutes.

Remove potatoes from the oven and sprinkle any cheese of your choice on top. I used a combination of cheddar and fontina because I had both on hand.

Return the potatoes back to the oven and cook for an additional 5 minutes or until the cheese is melted.