While Starbucks is best known for their Pumpkin Spice Latte, did you know that they also have an incredible Pumpkin Scone? Today we will be sharing our version of a Starbucks Pumpkin Scone Copycat that you can make right at home.
We have received so much positive feedback about our Starbucks Caramel Frappuccino Copycat and our Starbucks Lemon Loaf Copycat recipes that I decided it was about time to share a copycat of my personal favorite, the Pumpkin Scone.
Each fall when Starbucks brings back the Pumpkin Spice latte and all of the fall baked goods, I treat myself to a Pumpkin Scone without even worrying about how many calories I'm consuming. :) It's a fall tradition.
(Side note: I am absolutely working on a Pumpkin Cream Cold Brew copycat because it's fantastic and one of my favorite drinks on the Starbucks menu right now)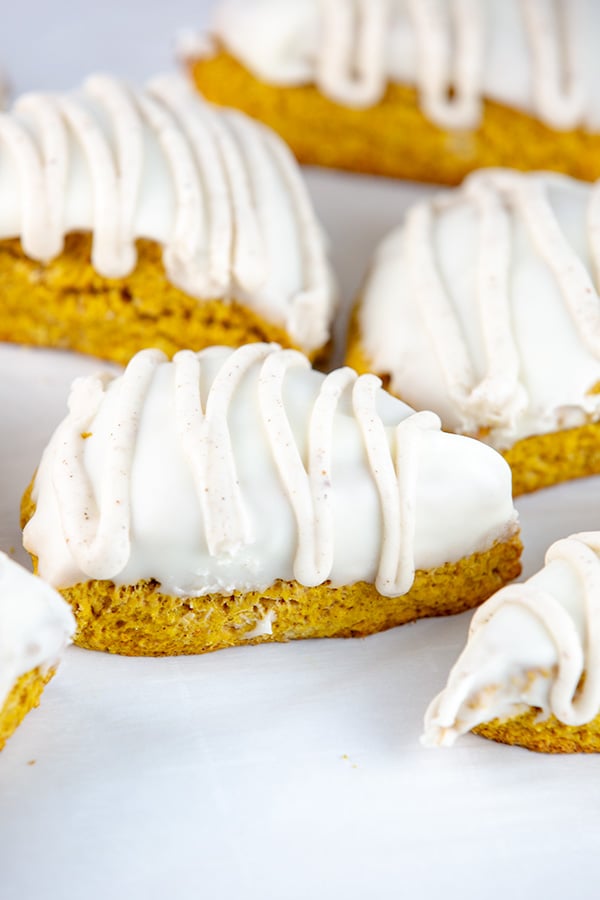 What is a scone?
A scone is typically a dense pastry that's lightly sweetened and a bit crumbly. The glaze on these Pumpkin Scones adds a little more sweetness than you'd typically find on a scone, but it's delicious and well worth it!
How do I make a scone?
Scones require basic baking staples including eggs, flour, sugar and they're leavened with baking powder. Be sure to use pumpkin puree for this recipe and not pumpkin pie mix. The grocery store sells both. We want to add our own spices which will include cinnamon, nutmeg, allspice, ginger, and cloves. You'll also need cold, unsalted butter.
After making the dough, you'll cut it into the classic triangle that you often see with scones, and bake them until they're a little puffy and firm. This recipe yields 8 scones.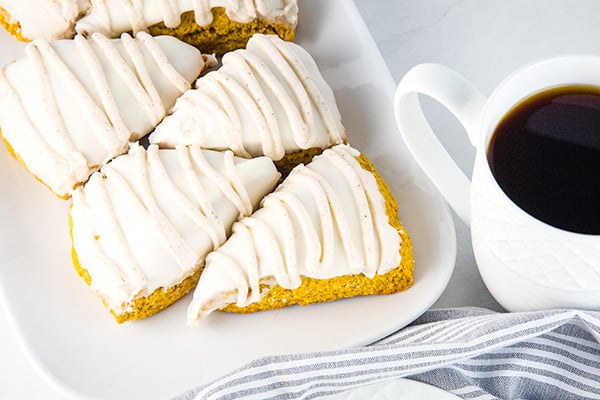 How do I make the glaze?
Often times scones do not have a glaze, but the glaze on these Pumpkin Scones is a must! It is one of the things that I loved about these scones when I first tried one at Starbucks years ago.
To make the glaze you'll just need powdered sugar, a bit of heavy whipping cream, and then you'll also need cinnamon, cloves and nutmeg.
How do I store scones?
If I'm being completely honest, Pumpkin Scones are best enjoyed fresh. However, you can store them in an air-tight container for about two days. They won't last long though, so it shouldn't be a problem. :)
The cost of a Starbucks latte and scone can be a bit steep which is why it's so nice to be able to make them at home. I hope you enjoy this recipe for pumpkin scones as much as we do.
Happy Fall!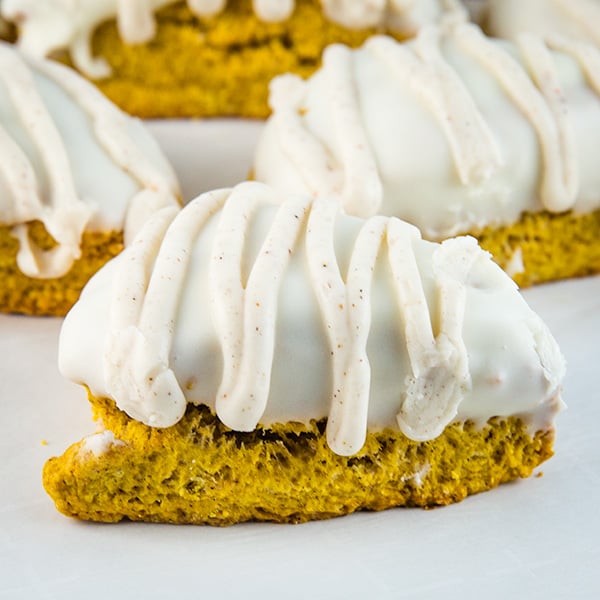 SCONE INGREDIENTS
1/2 cup pumpkin puree (not pumpkin pie mix)
1 large egg
1/4 cup heavy whipping cream
2 cups all-purpose flour
1/3 cup sugar
1 tablespoon baking powder
Dash salt
1 teaspoon ground cinnamon
1/2 teaspoon nutmeg
1/4 teaspoon allspice
1/4 teaspoon ground ginger
1/4 teaspoon ground cloves
1/3 cup unsalted, cold butter
GLAZE INGREDIENTS
2 cups powdered sugar
2-3 tablespoons heavy whipping cream
2 dashes ground cinnamon
1 dash ground cloves
1 dash ground nutmeg
SCONE DIRECTIONS
Preheat oven to 375 degrees F. Line a large baking sheet with parchment paper.
In a medium bowl, combine pumpkin puree, egg and heavy whipping cream. Mix together using a fork.
In a large bowl, combine flour, sugar, baking powder, salt, ground cinnamon, nutmeg, allspice, ground ginger, and ground cloves. Mix together using a whisk.
Cut the cold butter into cubes. Add to the flour mixture.
Use your hands to pick up a handful at a time of the flour/butter mixture and rub your hand together once then drop it back into the bowl. Continue until all the butter has turned into thin sheets spread throughout the flour mixture.
Take the pumpkin mixture and pour it into the flour/butter mixture. Mix gently using a rubber spatula until it is mixed half way.
Pour the half mixed dough onto a floured surface. Pick up half of the dough. Fold it over the other half. Continue doing this gently until almost all the flour is incorporated. Slowly start to form a round shape about 2 inches thick.
Cut the dough into 8 triangular pieces. Place them on the lined baking sheet.
Bake 20-22 minutes or until the scones are a little puffy and firm. If they start to brown, pull them out of the oven immediately to prevent them from over cooking.
Let the scones cool about 5 minutes before transferring them to a cooling rack.
GLAZE DIRECTIONS
In a medium bowl, start by adding the powdered sugar. Slowly add the heavy whipping cream just 1 tablespoon at a time while continuously whisking until a thick glaze forms.
Separate the glaze into 2 bowls. Leave one bowl on the side.
To the other bowl, add the ground cinnamon, ground cloves, and ground nutmeg. Whisk to combine. This is the spiced glaze.
Once the scones have cooled, dip them upside down into the white glaze so that it completely covers the top of the scone.
Transfer the glazed scones back to the cooling rack to allow the glaze to dry. (about 5 minutes)
Fill a piping bag or ziplock bag with the spiced glaze. Cut of the tip and pipe a zig zag pattern or lines across the top of each scone- on top of the white glaze.
Allow the scones to sit for about 15 minutes so the glaze can harden before serving.
For best results enjoy immediately, or store in an air tight container for up to two days.
Servings: 8
Recipe credit
Brittany Jenkins