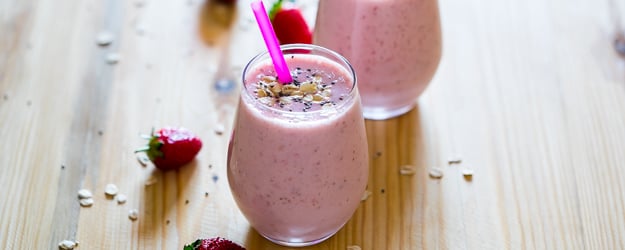 How many times have you dashed out of the house without breakfast? I have done that so many times that I can't even remember. Because the best intentions to have breakfast disappear when you wake up late or have kids to get ready for school or have generally taken too long over that second cup of coffee.
Thats why I love smoothies because they make having breakfast such an easy task. We usually grab this strawberry oatmeal breakfast smoothie which is our favourite flavours. And with so many strawberries piling up in the markets, its really the natural choice for a smoothie right now.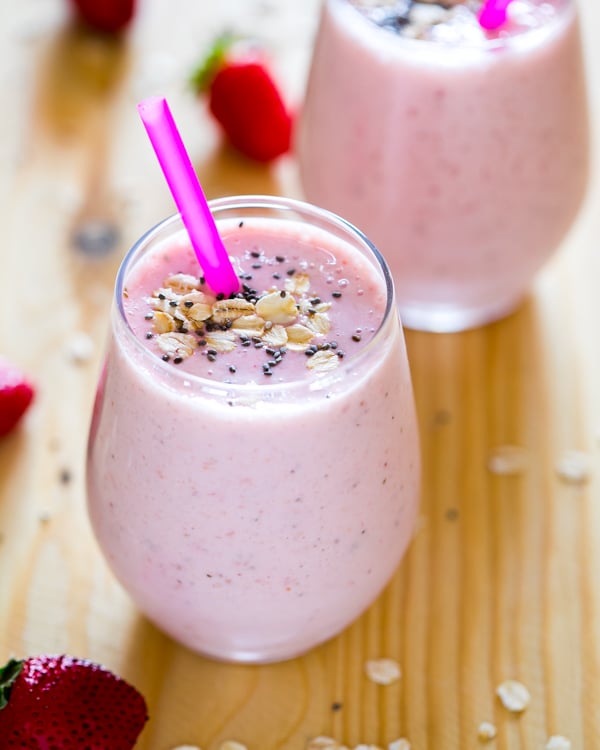 Unlike other smoothies, adding oatmeal to this strawberry oatmeal breakfast smoothie makes it really creamy and filling because you are getting some whole grains along with fruits and probiotics from the greek yogurt. Another reason why this is a great smoothie is because I like to use frozen strawberries instead of fresh ones. And trust me it can make a world of difference between thick, cold smoothie and thin, lukewarm smoothies.
All you need to do is line the strawberries on a paper towel in a freezer friendly box and refrigerate the previous night. In the morning, just add them to the blender along with all the other ingredients and you've got yourself a creamy, filling strawberry oatmeal breakfast smoothie that will keep you full till lunch!
If you don't want to freeze strawberries yourself, just buy them frozen at the supermarket and use them in your smoothie.
Whatever you do, this strawberry oatmeal smoothie really gives you no excuse to miss breakfast the next time you are late for work!
INGREDIENTS
1 cup Milk (can be substituted with any plant based milk)
3/4 cup Greek Yogurt
1 1/2 cups frozen Strawberries
1/4 cup quick cooking Oats
1 tablespoon Honey
1/4 teaspoon Vanilla Extract
DIRECTIONS
Add all the ingredients into a blender and blend until smooth.
Pour into glasses and serve immediately.
Servings: 2