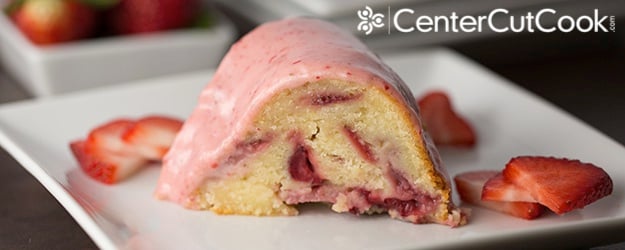 THIS cake…. this cake my friends, just might win an award if there were a prize being offered for "most moist cake, ever!" I love greek yogurt, and regularly scope out new and different ways to incorporate it into the recipes that I make. I was so excited to have discovered a strawberry cake that uses greek yogurt as I was browsing around over at A Spicy Perspective. I KNEW I had to make it at first glance!
You'll start by prepping a bundt cake pan with cooking spray, or grease it well with butter and little flour. Set it aside.
Next you'll combine the dry ingredients. For this you'll just need all-purpose flour, baking soda, and salt.Once you've sifted those three ingredients together, you'll add in the zest of one lemon which is what you see below. The lemon zest adds a nice little tang!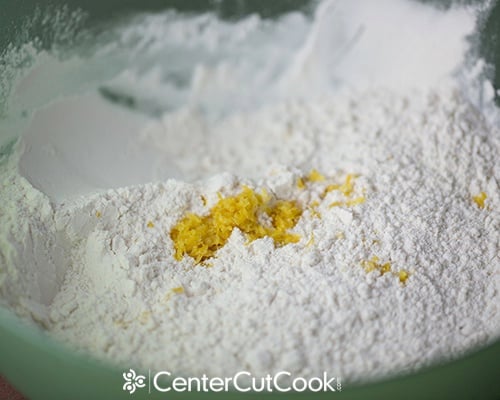 And of course, what is strawberry cake without strawberries? You'll need about 12 ounces of fresh, sweet strawberries, cut into thin pieces. Be sure to give the strawberries a good rinse before using them, and pat them with paper towels to make sure they're dry before using them. The strawberries will get tossed with a little flour! Set these guys aside.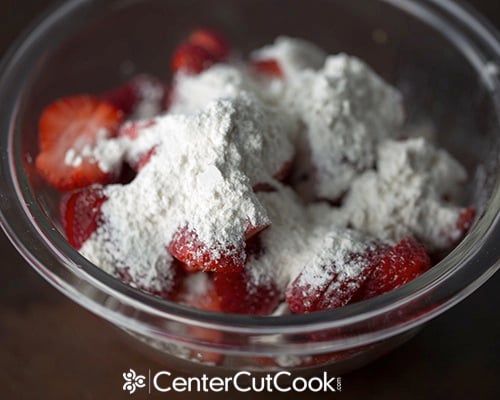 At this point you'll start the cake batter by creaming together sugar and butter. When the butter and sugar are light and fluffy, you'll add in the eggs, one at a time, and the juice from half of a lemon. Toss in a teaspoon of vanilla extract, then mix in some vanilla Greek Yogurt. The thicker the yogurt, the better. Once the Greek Yogurt is incorporated, slowly mix in the dry ingredients and stir well. Fold in the strawberries.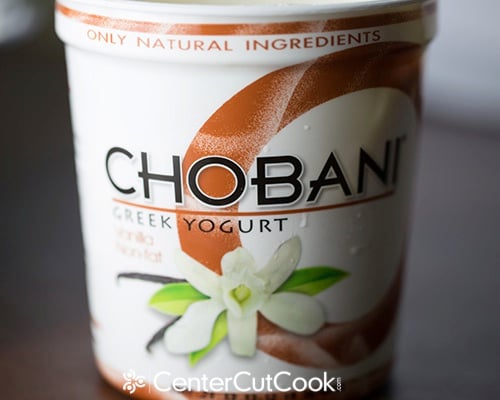 Pour the batter into your prepared bundt pan. Note: The batter IS going to be thick, and that's okay! You'll start by pre-heating your oven to 375, but right when you pop the cake into the oven, you'll reduce it down to 325 degrees F. Bake the cake for about 65 minutes, or until a tooth pick inserted into the center comes out clean.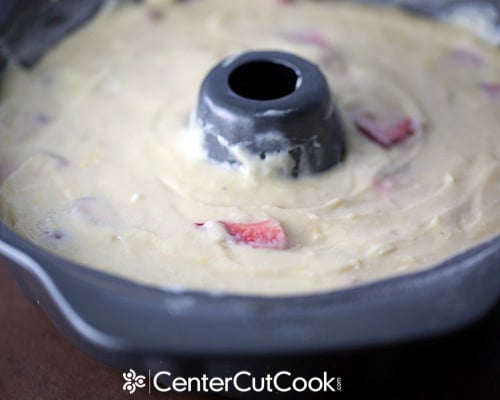 Allow the cake to cool for about 30 minutes before flipping it, carefully, onto a plate. Look at this beauty! If you've used a good thick Greek yogurt, the strawberries will be evenly dispersed throughout. If your Greek yogurt was a little thin and runny, the strawberries will probably sink to the bottom of the cake.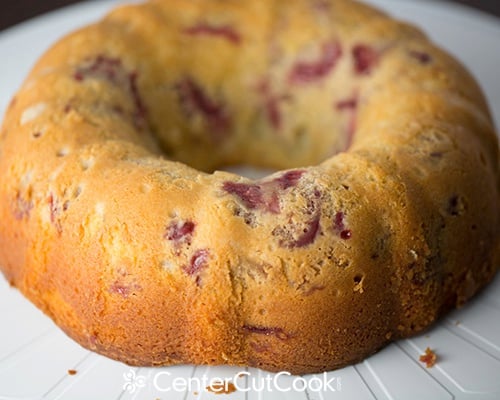 Now it's time for the yummy Strawberry Cream Cheese Glaze! For this, you'll need about 4 mashed strawberries (about 1-2 tablespoons), cream cheese, a little vanilla extract, and powdered sugar.I used my food processor to create the glaze, but you could also use a hand or stand mixer. Spoon the delicious glaze evenly over the top of the cake, allowing it to run down the sides.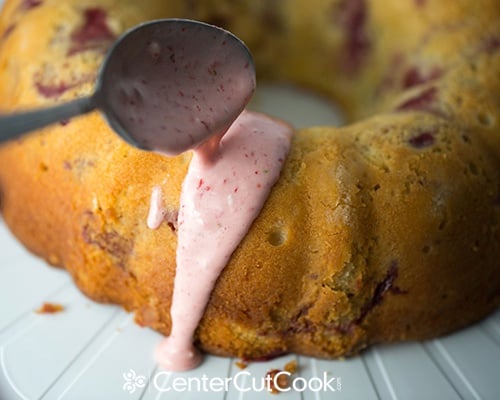 Cut into pieces and serve! This cake is just bursting with strawberry flavor! Between the strawberries mixed in with the batter, and the strawberry glaze that's drizzled over the top, one bite will leave you in strawberry heaven!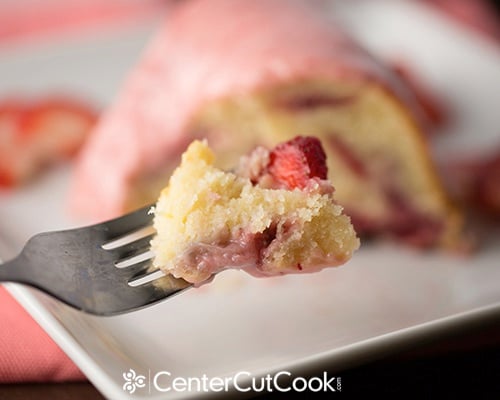 Moist, strawberry cake from scratch has never been so easy to do with the help of Greek yogurt. It tastes fresh, and is perfect for celebrating summer or Mother's Day!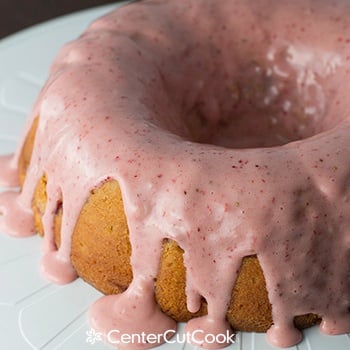 I cut up some additional fresh strawberries to garnish with, and it turned out to be a beautiful presentation. And with only one layer, it's easy, easy, easy to make.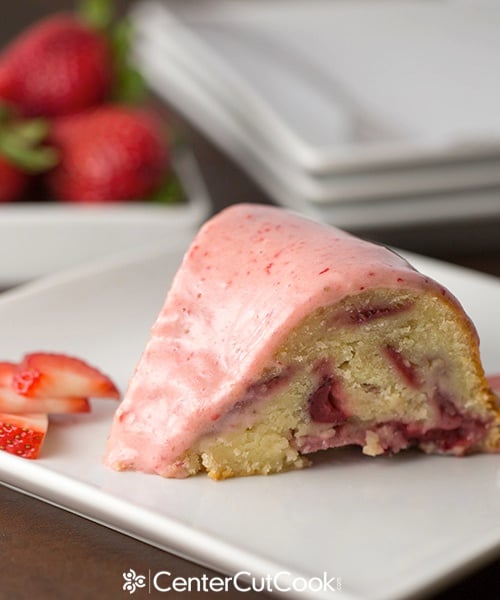 What are you waiting for? Go make this strawberry cake. It is so moist, and delicious, you won't be sorry! :)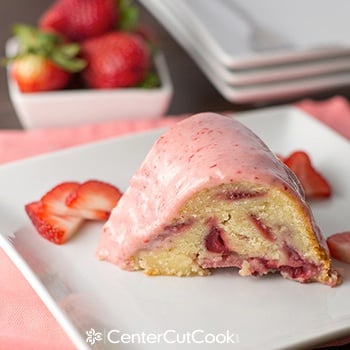 CAKE INGREDIENTS
2 1/2 cups all-purpose flour, divided (you need a bit to toss with the strawberries)
1/2 teaspoon baking soda
1/2 teaspoon table salt
Zest from 1 lemon
1 cup butter, softened
2 cups granulated sugar
3 eggs
Juice from 1/2 of a lemon
1 teaspoon vanilla extract
1 cup vanilla Greek yogurt
12 ounces fresh strawberries, sliced
GLAZE INGREDIENTS
DIRECTIONS
Pre-heat your oven to 375 degrees, and prepare a bundt pan with cooking spray, or grease and flour it.
In a large bowl sift together 2 and 1/4 cups flour with 1/2 teaspoon baking soda and 1/2 teaspoon table salt. Stir in the zest of 1 lemon.
In another bowl, toss sliced strawberries with remaining 1/4 cup all-purpose flour.
With your mixer, combine 1 cup butter and 2 cups granulated sugar and mix until light and fluffy. Add in eggs, one at a time. Then add in juice from 1/2 of a lemon, and 1/2 teaspoon vanilla extract. Combine well.
Mix in 1 cup vanilla Greek yogurt, then slowly add the dry ingredients in. Mix well.
Fold in sliced strawberries.
Pour the thick batter into your prepared bundt cake pan.
Reduce the oven temperature to 325, and bake the cake for about 65 minutes, or until a toothpick inserted into the center of the cake comes out clean.
While the cake is baking, prepare the Strawberry Cream Cheese Glaze. With a mixer combine cream cheese and mashed strawberries. Add in vanilla extract and powdered sugar, and mix until all ingredients are well combined.
When the cake is done baking, allow it to cool for about 30 minutes before flipping it onto a plate. Drizzle with the Strawberry Cream Cheese Glaze and serve.
Recipe adapted from
A Spicy Perspective