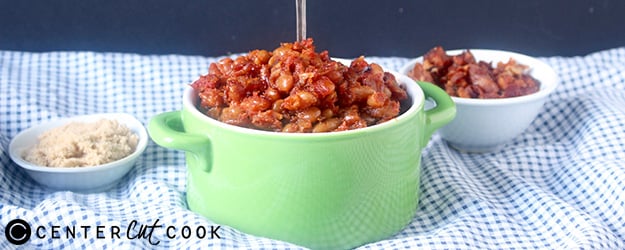 I had never really cared for beans growing up, but these were on the table at my sisters open house a few years ago so I took a tiny serving to be polite. When I finally took a bite of them I couldn't believe how good they were! Not like any beans I have ever had- these had so much flavor, had pieces of bacon in them, and had this perfect sweetness that left me wanting more. I went back and got a big serving and quickly ate it, still amazed that I was enjoying beans so much. I had to have this recipe and I'm so glad it was kindly shared. Now I can share it with all of you so you can enjoy them as well.
You most likely have all the ingredients to make these already and they are so easy! They do cook for a few hours, but that is totally hands off so it's not hard- just place them in the oven and do whatever else you need to do. The low and slow is what develops the flavor and thickens them up. I don't like to stir them because it forms this sweet, caramelized crust on top that is the very best part. Of course you can stir them if you want to, but I think you'll like that part.
You will love these! The perfect combination of sweet, smokey, and savory makes them so delicious. These beans turned me from a bean hater to a bean lover!!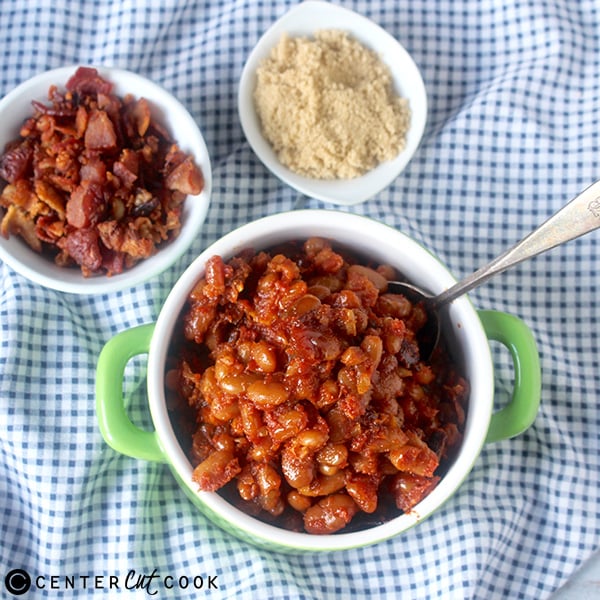 INGREDIENTS
4 15oz cans great nothern beans
1 3/4 cup ketchup (an entire 14oz bottle)
1 1/2 cups brown sugar
3 tablespoons yellow mustard
1 pound bacon, cooked and cut into pieces
1/2 cup diced onion
DIRECTIONS
Preheat oven to 300° and spray a 13×9 with non-stick spray.
Drain and rinse the beans and dump them into a large bowl.
Add ketchup, brown sugar, mustard, bacon, and onion.
Stir until it is well combined and pour into prepared pan.
Cover with foil and cook 3 hours, removing foil for the last hour.
You can cook them up to 6 hours, just leave the foil on until the last hour.
Serves: 8-10