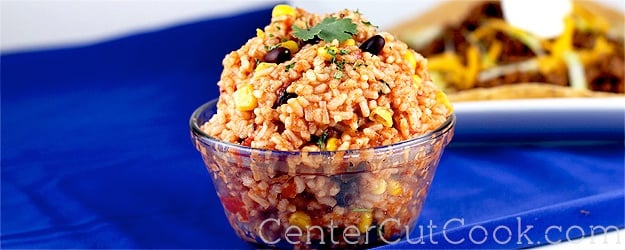 When I came up with this side dish a few years ago, it became apparent that there was really only one main dish we ate it with… tacos! And as a result, this tasty little side dish was named Taco Rice. Sometimes I lack in the creativity department, and naming this dish may have been one of those times where there was room for improvement. :)
So what's this Taco Rice all about? I came up with this recipe a few years ago when I couldn't come up with something decent to go along with the tacos I was making. Essentially, I just threw together the ingredients that I had on hand and hoped that it would taste good…. and it did. It's a simple, subtle side dish that incorporates some of my favorite flavors — fire roasted tomatoes, black beans, corn, and cilantro.
Now, I don't know about you, but I'm an instant rice kind-of-girl. Every once in a while I'll cook with the slower cooking kind, but I've always gotten good results with the instant kind, so I stick with it. Feel free to use any kind of rice that you'd like.
Shamefully, I will admit that tacos along with this taco rice made up our St. Patrick's Day meal. Not too festive, but in my defense, I used my slow cooker earlier in the week to cook corned beef which was perfect for homemade Rueben's and Reuben Dip. Hopefully you all enjoyed St. Patty's Day whether you ate like an Irish(wo)man or not!
INGREDIENTS
2 cups cooked rice (I used instant rice and cooked it with Chicken Stock instead of water for extra flavor)
2 tablespoons fresh cilantro, chopped finely
1/4 teaspoon black pepper
1/4 teaspoon salt
1/2 cup corn
1/2-1 cup black beans
1/2 cup chicken stock or water
1- 14 oz can fire roasted diced tomatoes
3 teaspoons or 1/2 packet taco seasoning
DIRECTIONS
In a large saucepan or stockpot, combine cooked hot rice with water or chicken stock, cilantro, black pepper, salt, corn, black beans, diced tomatoes, and taco seasoning.
On medium heat, simmer all of the ingredients together until everything is heated through, about 5-10 minutes.
Serve immediately.
Recipe adapted from
CenterCutCook Original!