In my mind, summer is not summer unless there's equal parts pasta salad and ice cream. Not together of course.
Let's be clear though, pasta salad can and should be eaten any time of year. Not just summer. No further explanation is required because pasta. salad. Noodles, veggies, a flavor packed dressing, sometimes meats and cheese — a bowl of perfection. I grew up on classic macaroni salad and adore it just as much as most people but let me tell you, this Tex-Mex Pasta Salad deserves a place on the table at your next picnic or potluck.
When I'm making pasta salad, I like to use a noodle with lots of nooks and crannies to help trap all of the yummy veggies and dressing. For this recipe I used fusilli but other good options would be rotini, penne, macaroni, etc.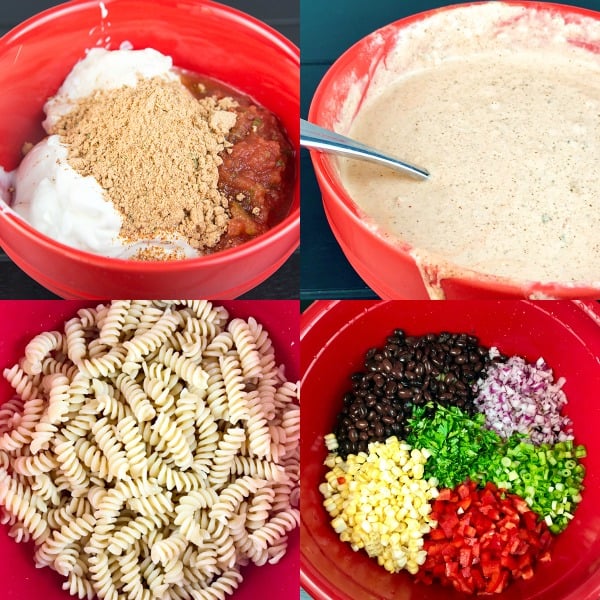 Flavors that I typically associate with Tex-Mex, include red pepper, BUSH'S® Black Beans, corn, onion, and cilantro. Always. And there might avocado too and a hint of lime because fresh lime juice makes everything better. With these simple yet flavorful ingredients in mind, I whipped together this Tex-Mex Pasta Salad bursting with freshness and flavors that the whole family will love.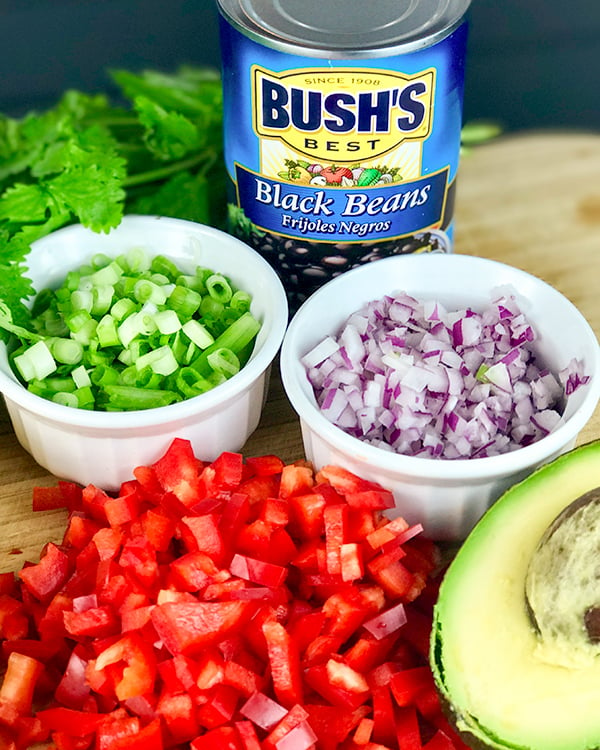 My two and a half year old little boy just had a kidney transplant three months ago after being on dialysis for nearly his entire life and finally, FINALLY he is able to eat so many of the nutrient dense foods that were previously off limits due to kidneys that didn't work. Foods like avocado, black beans, and bananas were to be avoided, and not so nutrient dense foods like ice cream too. Don't take your kidneys for granted! We are so excited to have a summer filled with avocados and BUSH'S® black beans (both toddler friendly) that can so easily be tossed into recipes and pack a nutrient punch. And of course we are excited for a summer with lots of ice cream too!
There are a few ways to adapt this recipe for Tex-Mex Pasta Salad to make it your own. If you want to add meat and make it hardier, feel free to toss in cooked ground beef, grilled chicken, or even rotisserie chicken. Cheese is another great option. Shredded cheddar or pepper jack would be delicious in this pasta salad. Not everyone likes the strong taste of red onion which is why I finely chop it, but feel free to omit it altogether. Other veggies you might like to add include black olives, and pickled jalapeño.There are so many options!
The dressing for this Tex-Mex Pasta Salad is effortless. You will combine one cup of sour cream with 1/3 cup mayo, 1 cup of salsa ( I use mild but feel free to choose the heat level you prefer), a packet of taco seasoning (or use 3 tablespoons of my homemade taco seasoning), and some fresh lime juice to give it a little zing. Add salt and pepper to taste and you're good to go.
Easy summer recipes are my favorite which is why I know you're going to be enjoying this recipe for Tex-Mex Pasta Salad all summer long. Another great recipe you could try this summer is Arepas with Black Beans, Mango, and Avocado!
This is a sponsored conversation written by me on behalf of Bush's Beans. The opinions and text are all mine.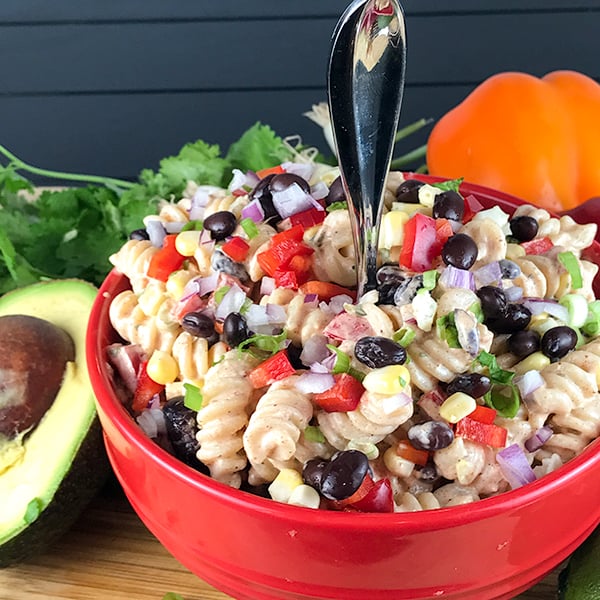 PASTA SALAD INGREDIENTS
1 pound fusilli pasta cooked according to package directions, drained, and rinsed in cold water (alternative options – rotini, penne, macaroni, etc.)
1 can BUSH'S® Black Beans, drained and rinsed
4 green onions
1/4 cup finely chopped red onion
1 can roasted corn, drained or 2 ears fresh corn
1/4 cup chopped cilantro
1 red bell pepper, chopped
*optional – avocado
DRESSING INGREDIENTS
1 cup sour scream
1/3 cup mayo
1 cup mild salsa
1 packet taco seasoning (or 2 tablespoons homemade taco seasoning)
1 lime, juiced
Salt and pepper to taste
DIRECTIONS
Cook one pound fusilli pasta according to package directions. Drain and rinse in cold water.
In a medium sized bowl, make the dressing by combining 1 cup sour cream, 1/3 cup mayo, 1 cup mild salsa, 1 packet taco seasoning, the juice of 1 lime, and salt and pepper to taste. Stir well.
In a large bowl, toss together cooked pasta, 1 can BUSH'S® Black Beans, 4 chopped green onions, 1/4 cup finely chopped red onion, corn, 1/4 cup chopped cilantro, and 1 chopped red bell pepper.
Stir in dressing.
For best results, chill for one hour before serving.