This Thanksgiving salad recipe with cranberries featuring feta cheese, roasted sweet potato, red onions, crisp apples and toasted walnuts is the perfect addition to your holiday table! Tossed with maple balsamic vinaigrette, this is a simple yet flavorful Thanksgiving salad!
As Thanksgiving approaches, it's the perfect time to start planning your Thanksgiving Dinner menu. While side dishes like mashed potatoes, turkey stuffing, green bean casserole, traditional cranberry sauce, and dinner rolls are crowd favorites, this beautiful Thanksgiving Salad is the perfect addition to your holiday table.
Thanksgiving Salad Ingredients
This vibrant and flavorful salad brings together fresh ingredients to make the perfect Thanksgiving salad recipe. You'll need:
Sweet potatoes – roasted sweet potato cubes are an essential ingredient in this recipe. More on this in just a moment…
Walnuts – toasted walnuts add a delicious and satisfying crunch. Toasted pecans are another great option if you do not have walnuts available.
Leafy greens: start with a base of leafy greens that you enjoy. We used a blend of red leaf lettuce, green leaf lettuce and romaine. Other options that work well include baby spinach, arugula, and butter lettuce. You could also add shaved Brussels sprouts for something different.
Feta cheese: Feta cheese provides a salty creamy addition to this salad. Great alternatives include blue cheese crumbles, gorgonzola cheese, or creamy goat cheese.
Cranberries: You will need 1 cup of dried cranberries. You are welcome to use fresh cranberries, however, fresh cranberries tend to taste bitter. Ensure that you enjoy the flavor of fresh cranberries before swapping them for the dried cranberries.
Apple – choose a crisp apple like Honey Crisp or Gala apples then thinly slice them for a refreshing, sweet contrast to the other ingredients in the salad. Toss the apple slices with a squeeze of lemon juice to prevent them from turning brown.
Red Onions – thinly slice red onions for a mild crisp bite that adds a touch of savory to the salad.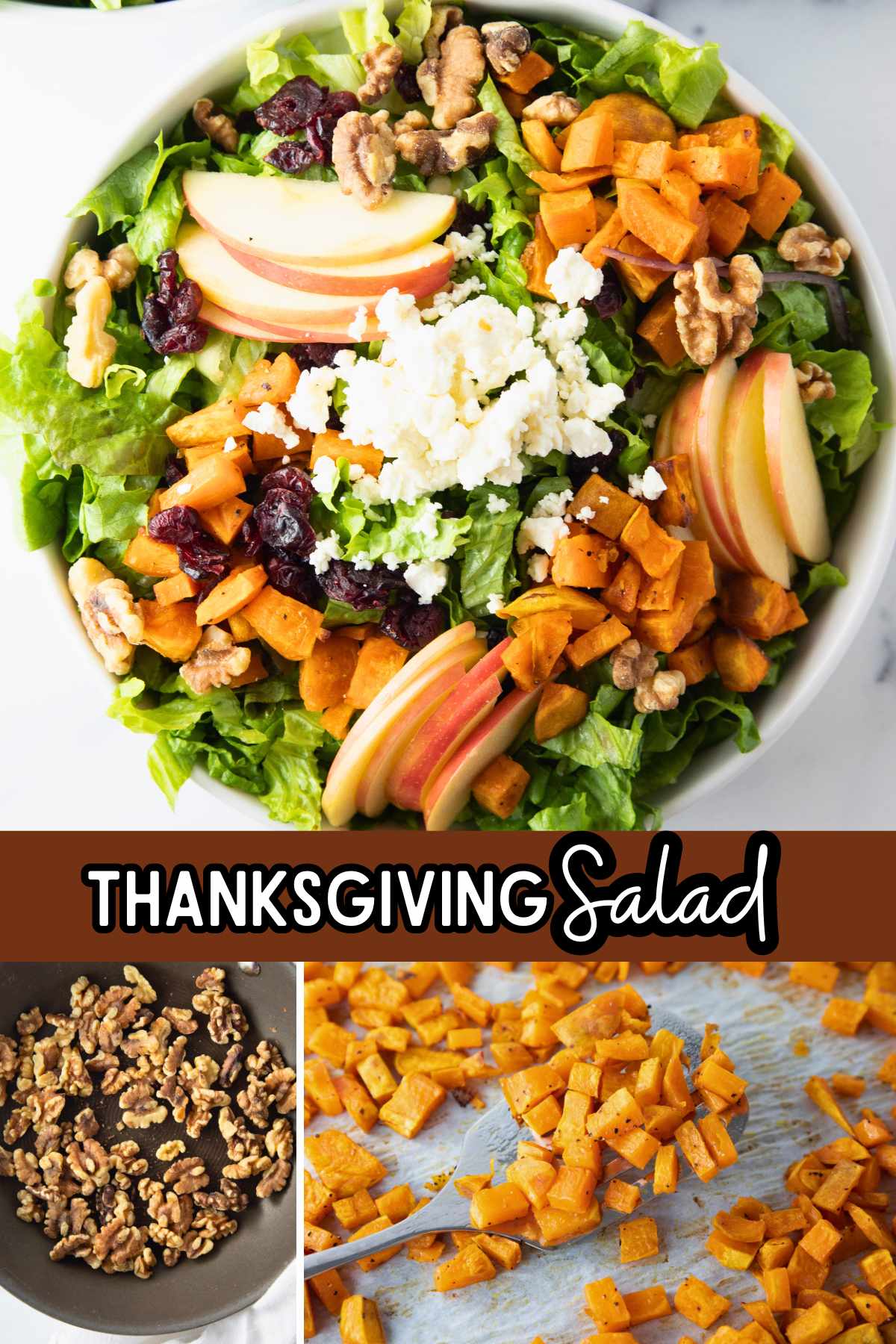 Thanksgiving Salad Dressing
Quite possibly the best part about this salad is the Maple Balsamic Vinaigrette. Create a simple vinaigrette using olive oil, balsamic vinegar, maple syrup, dijon mustard, salt and black pepper. Either whisk these ingredients in a large bowl, or use a jar with a lid to make the dressing and shake to combine.
How to Roast Sweet Potato Cubes
Roasting sweet potatoes intensifies the natural sweetness and adds warmth to the salad. To roast sweet potato cubes, you need to begin by cutting the sweet potato into cubes. It is a straightforward process when using a sharp knife.
Wash the sweet potato
Peel the sweet potato
Place the sweet potato horizontally on the cutting board and ensure that it's stable. If it's wobbly, cut off a small section from the bottom of the sweet potato to create a flat surface.
Cut the potato into slices lengthwise that are ½ inch thick apart. Stack a few potato slices on top of each other, then cut those slices into ½ inch thick strips. Finally, cut those strips every ½ inch into cubes.
To roast the sweet potatoes you will toss the cubes with olive oil, maple syrup, salt and pepper and roast them in the oven for 30-35 minutes at 425 degrees F.
Assembling the Thanksgiving Salad
Salad for Thanksgiving is the perfect complement to the meal. To assemble the salad:
Place chopped lettuce in a very large bowl. This Thanksgiving Salad recipe is meant to feed 8-10 people and includes 16 cups of greens. Make sure your bowl is large enough.
Toss the chopped lettuce with half of the prepared salad dressing.
Layer on remaining ingredients including cooled roasted sweet potato cubes, toasted walnuts, feta cheese, honey crisp apple slices, red onion slices and dried cranberries. Top with remaining dressing.
Making Ahead
When you are making a meal for a holiday, it can be helpful to prep ahead of time. This salad can easily be made ahead of time with a couple of considerations.
Prep all ingredients ahead of time and store each ingredient separately.
Do not toss the leafy greens / lettuce with the dressing until you're assembling the salad just before serving it.
Store all ingredients in airtight containers in the refrigerator, with the exception of the the dried cranberries. Dried cranberries do not need to be refrigerated.
What to serve with Thanksgiving Salad Recipes
Thanksgiving salad recipes round out all of the classic Thanksgiving side dishes perfectly. This salad also lends itself well to leftovers the next day. Try adding leftover Thanksgiving turkey to this salad for a light and healthy lunch idea. The maple balsamic dressing is absolutely delicious!
This salad isn't just for Thanksgiving. It's also a beautiful option for Christmas dinner, or any night of the week as a fall harvest salad. This hearty salad is an easy recipe, serves a lot of people, and will be the star of your next Thanksgiving dinner. If you're looking for the perfect Thanksgiving salad, this is it!
If you make this Thanksgiving Salad with cranberries or any of my other recipes, please let me know what you think by leaving a comment below! I love hearing from you, especially when you use my recipes for celebrations and holidays!
Thanksgiving Salad
Thanksgiving Salad with cranberries, roasted sweet potato, crisp apples, red onion, toasted walnuts and feta cheese.
Ingredients
Roasted Sweet Potato Cubes
2

sweet potatoes

2

tbsp

olive oil

1

tbsp

maple syrup

3/4

tsp

salt

¼

tsp

black pepper
Salad Ingredients
1

cup

walnuts

16-18

cups

leafy greens and romaine lettuce

6

oz

feta cheese

1

cup

dried cranberries

½

cup

red onion, sliced thin

2

honey crisp apples, sliced thin
Maple Balsamic Vinaigrette
¼

cup

balsamic vinegar

3/4

cup

extra virgin olive oil

2

tsp

dijon mustard

2

tbsp

maple syrup

3/4

tsp

salt

½

tsp

black pepper
Instructions
Roasted Sweet Potato Cubes
Preheat oven to 425 degrees F.

Peel sweet potatoes then cut into ½ inch thick cubes.

Line a baking sheet with parchment paper, then arrange the sweet potato cubes on the sheet.

Toss sweet potatoes with 2 tablespoons olive oil, 1 tablespoon maple syrup, 3/4 teaspoon salt, and ¼ teaspoon black pepper. Roast for 30-35 minutes, or until sweet potato cubes are crispy.
Maple Balsamic Vinaigrette
In a bowl or using a jar with a lid, combine ¼ cup balsamic vinegar, 3/4 cup extra virgin olive oil, 2 teaspoons dijon mustard, 2 tablespoons maple syrup, 3/4 teaspoon salt and ½ teaspoon black pepper. Whisk to combine or shake in a jar with a lid.
Thanksgiving Salad
Heat a large skillet over medium heat. Add in walnuts in a single layer and allow them to toast until they are golden brown and fragrant. This should take 4-6 minutes. Immediately remove them from the pan to cool.

Wash, dry, and chop the lettuce into bite sized pieces.

When the sweet potatoes are done roasting, allow them to cool completely, then assemble the salad.

In a large bowl, add the chopped lettuce. Toss with ½ of the prepared salad dressing.

On top of the lettuce arrange dried cranberries, cooled roasted sweet potato cubes, toasted walnuts, red onion slices, apple slices and feta cheese.

Top with remaining dressing and serve immediately.