When I say the word scone, what do you think of? If you're like most people, you're probably picturing something like what you'd see behind the pastry counter at Starbucks and the like. Sometimes they're sweet and include fruits like blueberries or apples, other times you see pumpkin or cinnamon scones. Generally speaking, the scones you're probably accustomed to have a cake-y like texture.
How do I describe a scone? My friends, it is much, much different. This recipe comes from my Granny, who passed it on to my Mom, who passed it on to me. And I fully intend to pass this recipe on to my children because life is just not complete without my Granny's scones. After a little research, it looks as though the "scones" I grew up with actually originated in Utah which makes complete sense, given the fact that my grandma grew up there.
So what's this scone all about? Well for starters, it is pan-fried, not baked, and they are made from a yeast dough, whereas the scones you're probably familiar with aren't. And when it's time to eat these babies, they would not be complete without a healthy slather of butter on top with a generous amount of drizzled honey. Are they healthy? No. Are they delicious? ABSOLUTELY, and that's why I continue to make them every now and then, but especially for special holiday breakfasts. Even my husband who had never tried this type of scone until we got married, has named this one of his all-time favorite breakfasts.
As I mentioned, these scones require a yeast dough. The recipe I use comes from my Mom, and I'm not quite sure where she got it from to give it proper credit. All I know is that this dough works fabulously for these scones, but it also makes some rockin' dinner rolls. Essentially you can choose any yeast dinner roll rough recipe you'd like, but I am definitely partial to this one.
If you haven't tried a pan-fried scone before, you are missing out!!! I recommend you stop what you're doing, and go make this dough…. and then life will almost be complete. :)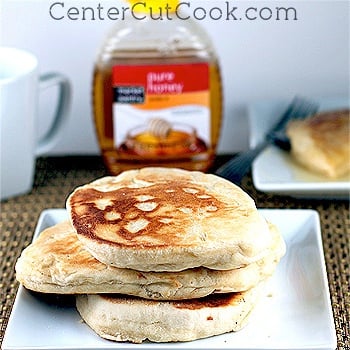 INGREDIENTS
2 packages yeast
1/2 cup warm water
1 tablespoon sugar
1 cup scalded milk
1/3 cup shortening, melted and cooled
1/3 cup sugar
2 teaspoons salt
2 eggs, beaten
5 cups flour
DIRECTIONS
Mix yeast, water, and 1 tablespoon sugar. Set off to the side for about 10-15 minutes.
Scald milk, when cool, add melted shortening, 1/3 cup sugar, and salt.
Next, add beaten eggs, yeast, and flour (1 cup at a time). Mix well. This dough will be sticky which is fine.
Sprinkle flour on a countertop or plate, whichever you are going to use to form the scones. Divide the dough into 8-10 equal sections, depending on how many scones you'd like to get out of one batch of dough.
Take one section of dough at a time and form into circular shaped discs, about 1/2 inch thick.
In a large skillet, melt a tablespoon of butter on medium-low heat. You know your stove better than I, so you'll need to play around with the heat settings so that the scones cook through without burning.
When the skillet is heated and the butter is melted, place a scone in the pan to cook. When the bottom is nice and golden brown, flip the scone to cook the other side until golden brown.
Top each scone with butter and honey. Alternative toppings include various jellies or jams, but honey is definitely the best!
Make sure your pan is not heated too hot, otherwise you'll have golden brown scones that are all doughy in the middle. If you cook the scones on a low temp, the dough will cook through just perfectly.