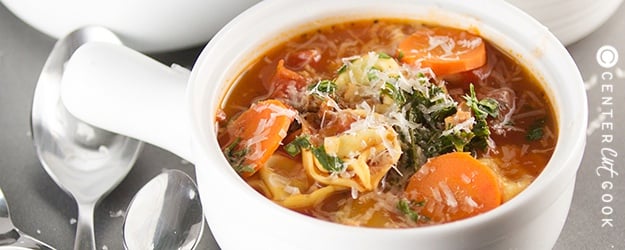 Last week when I saw the weather forecast for Chicago and saw that -50 degree temperatures were coming our way, I knew I needed to make a big hearty pot of soup with lots of veggies to help us keep warm and healthy. Or at least give us the illusion that we're warm, just for a little bit.
With a package of tortellini in the fridge that needed to get used, I decided I'd come up with a recipe for Tortellini Soup! I had plenty of veggies on hand that I could toss in to give it the extra boost of nutrition I was looking for; carrots, zucchini, spinach, kale, tomatoes! All veggies that pair perfectly with tortellini and soup.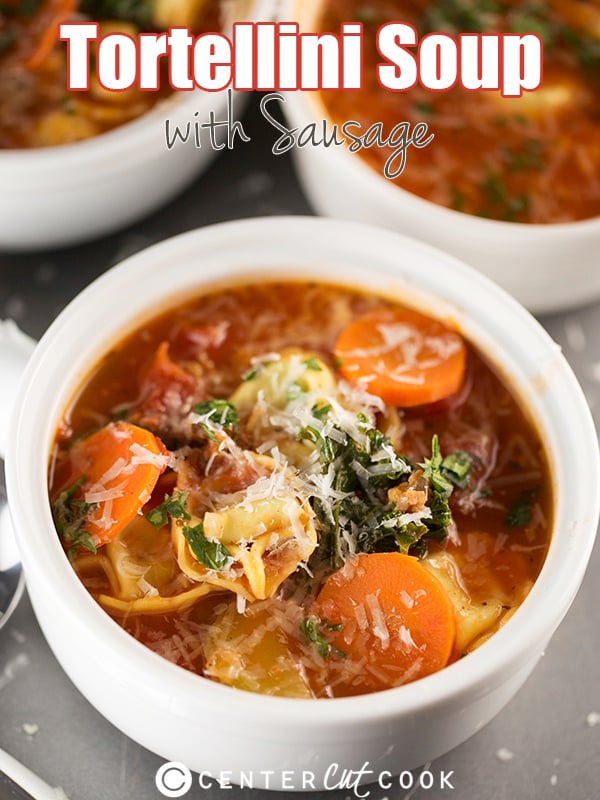 To give it a little boost of protein, I decided to toss in just a little bit of Italian Sausage, about 1/2 pound. I bought ground Italian Sausage at the grocery store, but you could certainly use links of Italian Sausage, you'd just want to remove the casings first. And certainly, if you are a vegetarian, you could leave out the Italian Sausage and sub veggie broth for the chicken broth and you'd be left with a delicious vegetarian variation. On the other end of the spectrum, if you really like your meat, go ahead and increase the meat to one full pound of Italian Sausage, or even a pound and a half. I was trying to keep it a little bit on the lighter side which is why I went with 1/2 pound.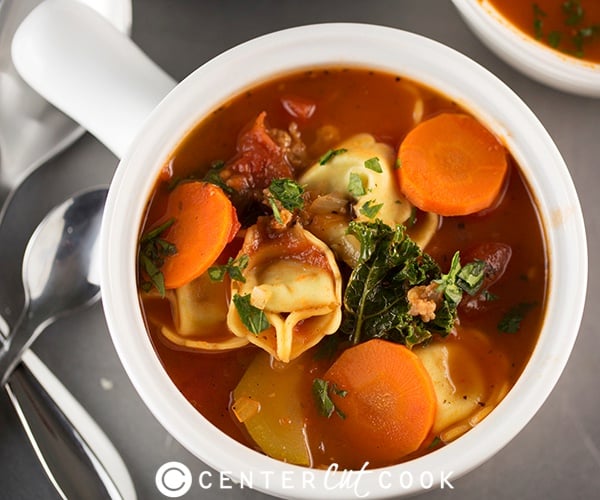 From start to finish, this soup will be on the table in under an hour with very little hands-on time. Once you get the veggies prepped and the soup simmering, you can walk away for a bit to work on something else.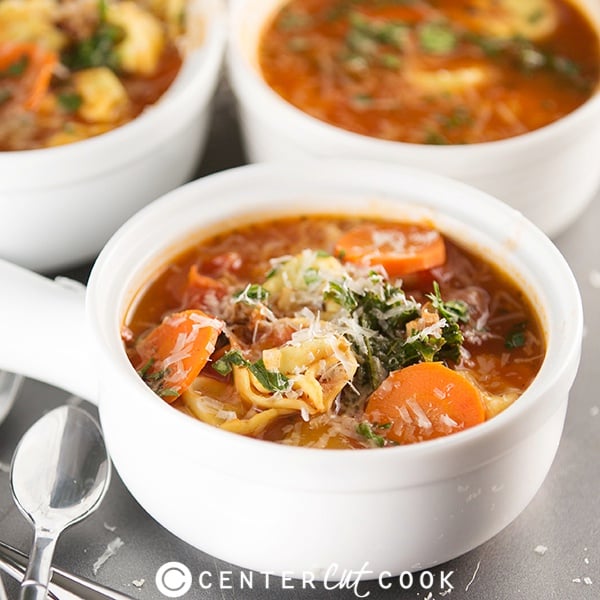 My favorite part, because I love cheese, is the sprinkle of parmesan cheese that you'll add at the very end. I used my Microplane Grater to get the parmesan cheese nice and fine, because it melts much better. There's nothing I love more than melty parmesan cheese on Tortellini Soup!
This recipe feeds a crowd, about 6 to 8 people, and it's an easy recipe the whole family will love! Enjoy, and stay warm!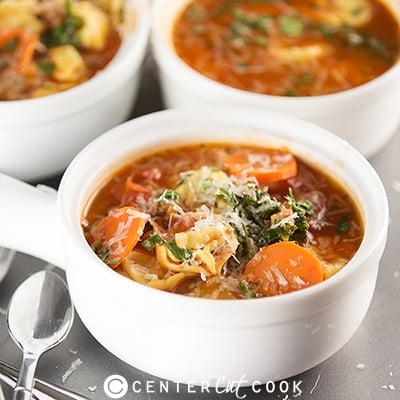 INGREDIENTS
1/2 pound ground Italian Sausage (sub Italian Sausage links if you wish, just remove the casings first)
1 tablespoon olive oil
1 medium yellow onion, finely diced
3 cloves garlic, minced
6 cups low sodium chicken broth
28 ounces fire roasted diced tomatoes (canned)
8 ounce can tomato sauce
2 cups sliced zucchini (about 2 average zucchini) – cut into thin rounds
1 cup carrots, thinly sliced
1 teaspoon dried oregano
1 teaspoon dried basil
1 teaspoon black pepper
Salt to taste
10 ounces fresh tortellini (I used spinach stuffed tortellini)
2 handfuls fresh spinach *optional
1 handful fresh kale *optional
Parmesan cheese for garnish
DIRECTIONS
In a large stock pot, brown Italian Sausage. When cooked, remove the sausage from the pan, draining any excess drippings. Wipe the pan clean.
Heat 1 tablespoon olive oil over medium heat. Add in onion and sauté until translucent. Add in garlic and cook for a minute longer, until fragrant.
Pour six cups chicken broth into the pot along with 2- 14 ounce cans fire roasted diced tomatoes and 1- 8 ounce can tomato sauce. Add in zucchini, carrots, oregano, black pepper and basil. Bring to a boil, then reduce the heat and simmer for about 30 minutes, uncovered.
Add in 10 ounces fresh tortellini along with 2 handfuls fresh spinach and 1 handful chopped fresh kale (you can omit these if you'd like). Stir cooked sausage back into the pot. Simmer for 10-15 minutes. Season to taste with salt.
Just before serving, use a Microplane grater to grate parmesan cheese over each bowl of soup.
Recipe from
CenterCutCook