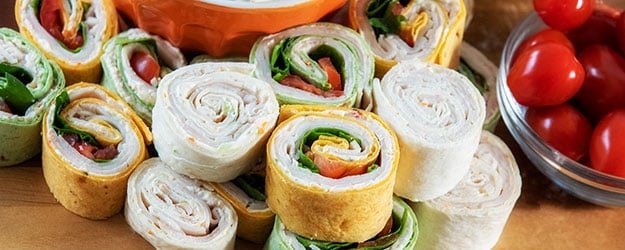 Say hello to these Turkey Pinwheels with homemade garden vegetable cream cheese spread that will forever be making an appearance at your future parties and events, or even packed in your lunches. You, my friends, seem to love Pinwheels, especially these Ham and Cheese Pinwheels and these Chicken Bacon Ranch Pinwheels. Month after month these pinwheel recipes are some of the most favorited recipes here on CenterCutCook. When I started getting messages asking for a Turkey Pinwheel recipe, I knew I had to make it happen.
One of the key elements to any pinwheel recipe is the sauce or dressing, and for this recipe, you'll have the option of making homemade veggie cream cheese. Philadelphia Garden Vegetable Cream Cheese is the inspiration for this homemade variation. It's loaded with fresh veggies and tastes incredible. But more on that in a minute…. let's talk about the ingredients that you'll need.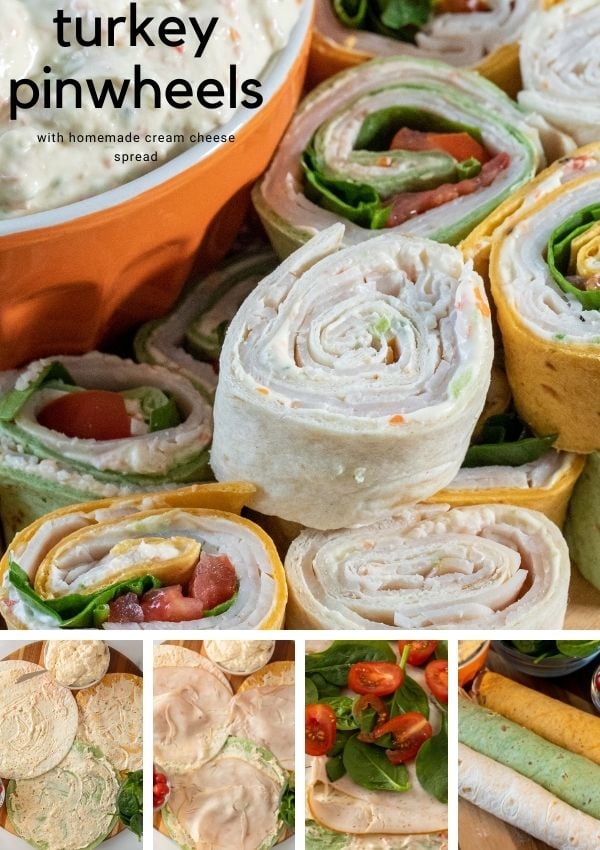 Turkey Pinwheel Ingredient Notes:
Deli Turkey: My go-to tends to be Sara Lee Oven Roasted Turkey Breast but use whatever deli turkey breast is your favorite. This would also be a great recipe to make with leftover turkey from Thanksgiving.
Cream Cheese: Fat-free cream cheese is not recommended. Make sure to allow the cream cheese to come to room temperature. It'll be easier to stir in the veggies with softened cream cheese, and also easier to spread on the tortillas.
Veggies for Cream Cheese: You can use whatever ingredients you have on hand. Whenever I'm making this cream cheese, I use whatever veggies I've bought and prepped for snacking for the week. I generally use chopped carrots, green bell pepper, cucumber, and red bell pepper. You only need about 2 tablespoons of each vegetable and it is entirely up to you how large or small you what the veggies pieces. If you'd like a chunkier cream cheese spread, go ahead and chop the veggies a little bit larger.
Tortillas: You can use whatever sized tortillas that you have on hand, however, whenever I am making pinwheels I tend to use the larger 12 inch burrito size. Corn-based tortillas will not hold up, therefore are not recommended for this recipe. Use a flour-based tortilla and feel free to use any variety that you'd like – sun-dried tomato tortillas are delicious, as are garden-veggie tortillas. You can't go wrong with a plain flour tortilla either.
Mlik: You'll need about 1-2 tablespoons of milk to thin out the cream cheese spread
Certainly you could forego making homemade vegetable cream cheese and use pre-made from the grocery store, however, the homemade cream cheese is delicious.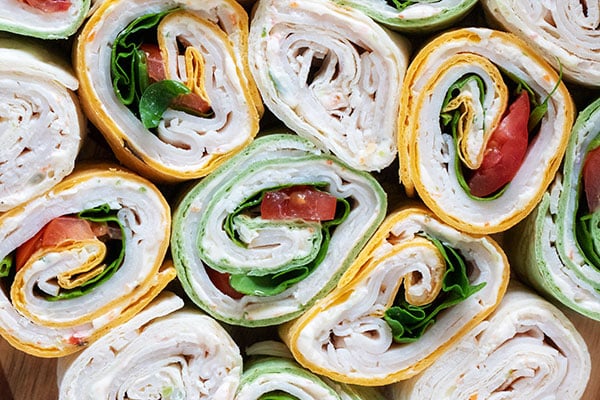 Easy Instructions
You'll start by prepping the homemade vegetable cream cheese. If you'd like to simplify the process, go ahead and use a blender, or a food processor, however neither of those kitchen appliances are necessary. You can use a good ole' wooden spoon to stir all of the ingredients together. Mix well.
Arrange all of the tortillas on your work surface.
Spread a layer of homemade vegetable cream cheese on the tortillas, making sure to cover the entire surface of each tortilla.
Arrange turkey on top
Add any veggies that you'd like including spinach and/or tomatoes or leave them plain with just turkey and cream cheese spread
Roll-up tightly. Cover and place in the refrigerator for 20-30 minutes
Trim off the ends and discard, then cut into pinwheels about 1.5-2 inches thick
Pro Tips and Tricks
Can Pinhweels be made ahead of time? Yes, these Pinwheels can be made 24 hours ahed of time. They are perfect for serving at parties, or for packing in lunches.
Recipe FAQs
How should you store leftovers? If you have leftovers, store them in an air-tight container for a day or two. They can start to get soggy so it's best to eat them within a day or so.
What other ingredients can I add? Get creative and add whatever veggies you'd like! Sliced avocado would be delicious on these Turkey Pinwheels. You could also add bacon for more of a turkey club pinwheel.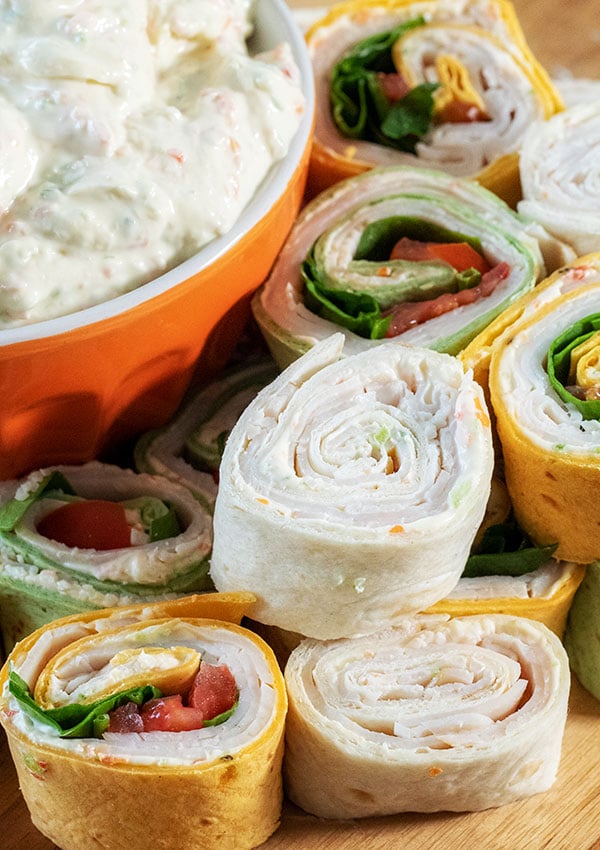 These Turkey Pinwheels with homemade garden veggie cream cheese are so easy, so delicious, and so perfect for parties and picnics! A tray of pinwheels at Costco is quite pricey considering how simple and easy they are to make at home. And with that homemade veggie cream cheese? *Perfection!* Enjoy!
PS: If you haven't tried these Rainbow Rice Krispie Pinwheels, you're missing out! It's a fun, sweet pinwheel variation!
CREAM CHEESE INGREDIENTS
1 – 8 ounce package cream cheese, softened to room temperature
1 tablespoon milk to thin out the cream cheese
2 tablespoons finely chopped carrots
2 tablespoons finely chopped green bell pepper
2 tablespoons finely chopped cucumber (squeeze excess liquid)
2 tablespoons red bell pepper
Pinch of salt
Pinch of black pepper
PINWHEEL INGREDIENTS
Deli turkey slices
12 inch flour tortillas of choice (burrito size)
Spinach, sliced tomatoes, any veggies you would like to add
Homemade vegetable cream cheese (or store-bought if preferred)
CREAM CHEESE DIRECTIONS
Combine all cream cheese ingredients in a large bowl.
Use a mixer or stir to combine.
If you prefer finer veggies in your cream cheese, pulse the cream cheese mixture in your food processor (or blender) until you've reached your desired consistency. Just a few pulses are all that's needed.
PINWHEEL DIRECTIONS
Spread a layer of cream cheese on each tortilla.
Arrange turkey slices across the center of each tortilla.
Add any veggies you wish like spinach and tomatoes.
Roll-up tightly
Refrigerate for 20-30 minutes to allow the cream cheese to firm up
Slice into 1.5-2 inch thick slices, discarding the ends of the tortillas.