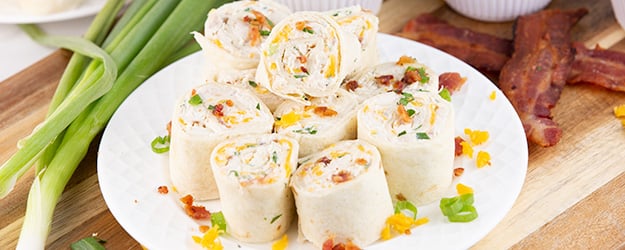 One of the most popular recipes on my website is my recipe for Ham and Cheese Pinwheels. It's a simple recipe, yet versatile with a delicious sauce that people go crazy for. Throughout the years I have heard from readers who tell me that they make this recipe over and over again for parties and special events, but also for lunches for their kiddos because they are kid friendly too.
Knowing that readers LOVE pinwheels, I decided to make another pinwheel variation, this time with the classic trio of ingredients: chicken, bacon, ranch. I think the first time I was introduced to that combination was probably a good 20 years ago when Subway put a Chicken, Bacon, Ranch sub on their menu and it was quickly a favorite.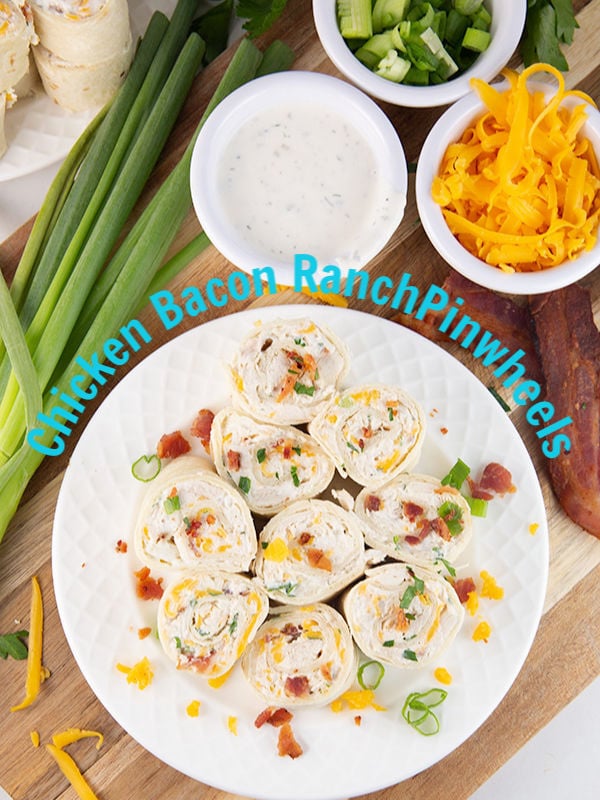 Since then, I have used that combination for this recipe for Chicken Bacon Ranch Pizza, and this Chicken Bacon Ranch Grilled Cheese. Other popular favorites include some of the ingredients include this recipe for Baked Ranch Chicken, and this recipe for Slow Cooker Cheddar Bacon Ranch Potatoes (yum!).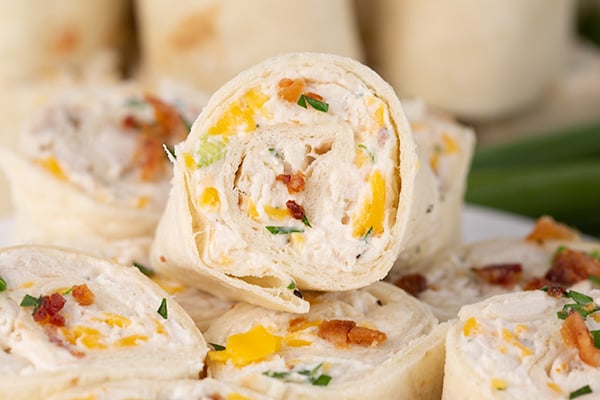 Anyhow, back to these pinwheels. This is a super simple, easy recipe that can be made quickly before parties or for school lunches. I like to use a rotisserie chicken from the grocery store to make things even easier, but you could also make some shredded chicken in the slow cooker. (Note: I have found that a typical grocery store rotisserie chicken yields about 2 cups of chopped chicken which is how much this recipe calls for. It is not a big deal if you have a bit less than 2 cups of chopped chicken).
Whenever a recipe calls for bacon, I like to bake my bacon in the oven.Baking bacon is a hands-off, simple way to make perfect bacon every time. You'll need about six slices of bacon for this recipe.
I used small, fajita-sized tortillas for this recipe but you can use whatever sized tortillas that you have on hand. Just be aware that the number of tortillas needed will vary based upon the size of the tortilla that you have. Using small tortillas, I was able to get 10 rollups made which I then cut into 4 pieces giving me about 40 pinwheels.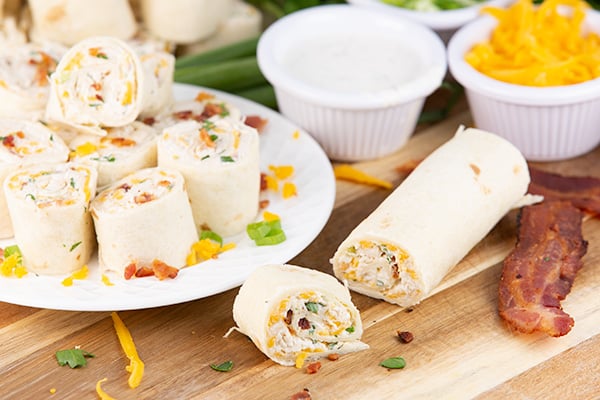 To make the filling for these cute little pinwheels, you'll start by combining softened cream cheese with ranch dressing. Homemade ranch dressing is my favorite and here's my recipe but you can use whatever bottled ranch dressing you like. Make sure the cream cheese is softened so that it combines well with the ranch dressing. Once the ranch and cream cheese are well combined, stir in the chopped cooked chicken, shredded cheese, bacon, and green onion. When all of the ingredients are combined well, you'll begin making the roll-ups!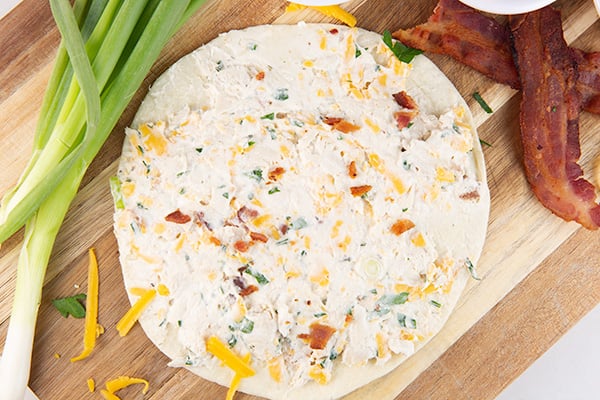 Tip: I used about 1/4 of filling for each tortilla. Be sure the spread the filling evenly on the tortilla making sure the entire tortilla is covered with the chicken, bacon, ranch filling. Then roll up tightly. I like to cut the ends off and discard so that what remains are nice, even slices. Each roll-up is roughly an inch to an inch and a half thick but you can cut them as large or as small as you'd like.
Make ahead: You can make the filling several days in advanced. My recommendation is to wait to make the pinwheels until the morning of so that the tortillas don't get too soggy and fall apart.
Perfect for school lunches, parties, picnics, you name it, these Chicken Bacon Ranch Pinwheels are sure to be a hit. Enjoy!
INGREDIENTS
1/2 cup ranch dressing
8 ounces cream cheese, softened
2 cups chopped rotisserie chicken
6 slices bacon, cooked and chopped into small pieces
8 ounces cheddar cheese, shredded
2 green onions, chopped
2 tablespoons chopped fresh parsley
10 small tortillas (I used fajita size)
DIRECTIONS
In a large bowl combine ranch dressing and softened cream cheese until well combined.
Stir in chopped chicken, bacon, shredded cheddar cheese, chopped green onions and chopped fresh parsley. Stir well until everything is combined.
Spoon 1/4 cup of the mixture onto a tortilla. Spread the mixture evenly so the entire tortilla is covered with filling. Add more filling if necessary to cover the entire tortilla.
Roll-up the tortilla tightly.
Cut off the uneven ends of the tortilla and discard then slice the rolled tortilla into 4 even sized pieces.
Repeat until all of the filling is used.
*Note: If you use larger tortillas, the amount of filling and tortillas you need will vary.