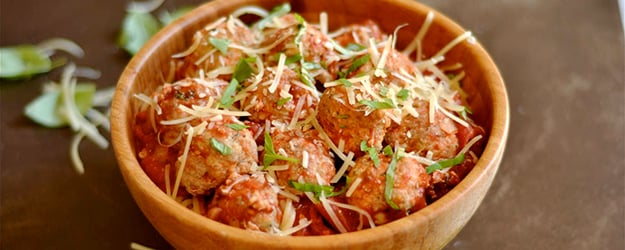 Today we are making ground turkey meatballs in sauce that pair perfectly with spaghetti squash and traditional spaghetti noodles. Spaghetti and meatballs anyone? It's such a classic dinner that everyone loves.
The ingredient list for these turkey meatballs include pantry staples and items you likely already have on hand. Made with parmesan cheese and herbs, these meatballs are so flavorful.
We love cooking with turkey whether it's ground turkey in these Grilled Chipotle Cilantro Turkey Burgers or leftover turkey from a whole roasted turkey in this Cheesy Turkey Noodle Casserole. Let's not forget about how amazing sliced turkey is in this recipe for Mediterranean Turkey Paninis.
What you'll love about these turkey meatballs is that they are made in the oven. Some recipes have you heating oil and pan-frying them and while pan-fried meatballs are delicious, these brown up nicely in the oven without the mess of oil and frying pans and offers a more hands-off dinner option for those busy weeknights.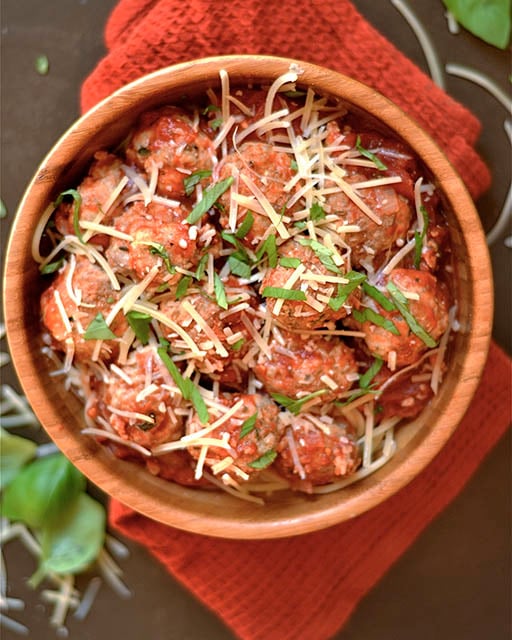 Turkey Meatball Ingredient Notes:
Let's talk about the ingredients that you'll need to make these meatballs.
Ground Turkey – you will need about 2 pounds of ground turkey.
Bread Crumbs- if you prefer to make homemade bread crumbs, you will need about 3 slices of bread. Use your food processor to pulse the bread into crumbs. Alternatively, you can use bread crumbs from the grocery store – either plain or Italian seasoned is just fine. You'll need about 1 cup of bread crumbs.
Seasonings and Herbs – this recipe calls for dried oregano, dried basil or fresh basil, salt, garlic powder, and black pepper. If you don't have fresh basil on hand, no worries. Feel free to omit the fresh basil, although it does add incredible flavor to these turkey meatballs.
Parmesan Cheese – this is possibly the best ingredient in this recipe. The salty parmesan cheese adds tons of flavor! For the best result, use a microplane grater to finely grate parmesan cheese. If you don't have any fresh parm. on hand, you can use pre-grated cheese from the grocery store (yes, even the stuff in the green jar).
Egg – this is what binds the meatballs together and is a necessary ingredient
Sauce Ingredient Notes:
These turkey meatballs are delicious alone but even better in sauce. You're going to make a simple tomato sauce to go along with them. If you're short on time, use whatever sauce your family enjoys from the grocery store. Rao's is always a favorite. Alternatively, I have a fantastic recipe for Slow Cooker Spaghetti Sauce that would work great for this recipe and help save you time.
2 – 28 ounce cans whole tomatoes. San Marzano is our go-to but use whatever you have.
Red Wine Vinegar – you could substitute with balsamic vinegar, or even apple cider vinegar if you don't have red wine vinegar on hand.
Sugar – you'll need about 1 tablespoon of sugar. The purpose of sugar in tomato sauce is to cut the acidity from the tomatoes
Olive oil, Worcestershire sauce, yellow onion, dried oregano, salt
How to make Ground Turkey Meatballs in the Oven
Ground Turkey Meatballs are easy to make and BONUS – they are a great recipe for kids to help with because you'll be using (clean) hands to mix up the ground turkey mixture to form meatballs. If your kiddo loves getting their hands messy, they will love helping you with this recipe.
Get out a large bowl and to it, add in ground turkey, bread crumbs, finely grated parmesan cheese, dried oregano, dried or fresh basil, salt, black pepper, and fresh minced garlic or garlic powder. Then, add in an egg. Use those hands to mix it all together until all ingredients are well combined.
Once the meat mixture is well combined, you'll use your hands to form the meatballs into 1-2 inch meatballs. They don't need to be perfect. Once they are formed, you'll place them in a greased or parchment paper lined 9 x 13 inch casserole dish and bake them for about 25-30 minutes.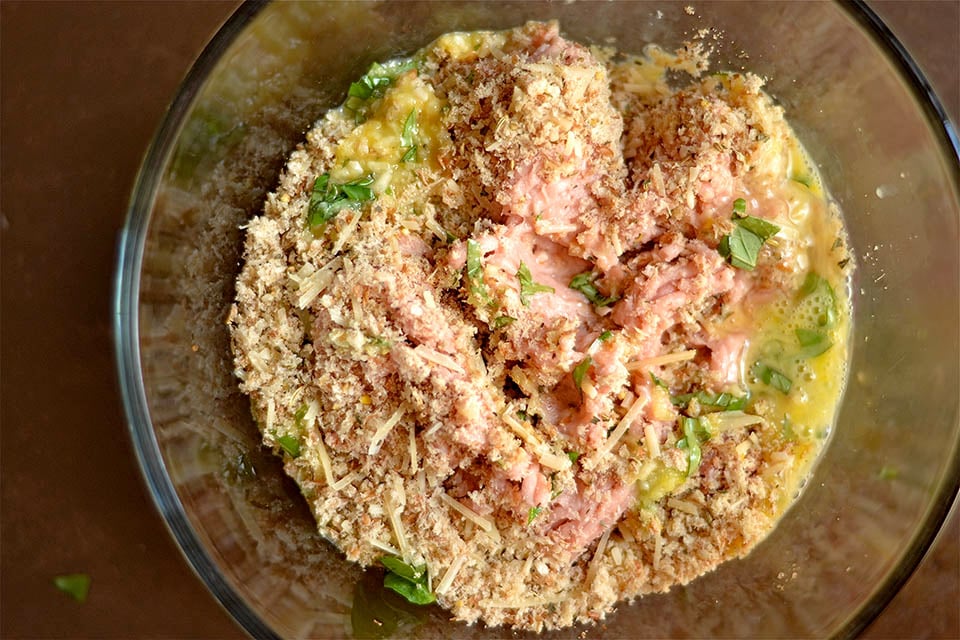 How to make Sauce for Turkey Meatballs
To make homemade sauce, you'll want to heat a large skillet over medium heat and add about 1 tablespoon of olive oil. Add in the onion and sauté until translucent, then add in fresh garlic, stir, and cook for 30 seconds – 1 minute, just until the garlic is fragrant.

Next, add in the tomatoes, red wine vinegar, oregano, and salt (add more to taste), sugar, and Worcestershire sauce. Bring to a boil, then reduce heat and simmer for 30 minutes-1 hour. As the sauce cooks, the whole tomatoes will break down. The longer you simmer, the more flavorful the sauce will be.

When the meatballs are done cooking, add them to the sauce and simmer together for about 10-15 minutes.

There you have it, Turkey Meatballs in Sauce – so delicious, especially with the parmesan cheese and herbs added to the meatballs!
What goes well with turkey meatballs?
Fantastic – now you have a delicious recipe for turkey meatballs in sauce but what should you serve with it? Serve these meatballs over spaghetti squash, or with traditional spaghetti noodles or whatever pasta your family likes.

This Restaurant-Style Ceasar Salad pairs perfectly with these meatballs, along with our copycat recipe for Pizza Hut Breadsticks.

We hope you enjoy this recipe for Baked Ground Turkey Meatballs in Sauce!
More Turkey Meatball Recipes
Looking for more Turkey Meatball Recipes? I've got you covered! Try this Slow Cooker Turkey Meatballsvariation, or this recipe for Ricotta Meatballs – they are incredible!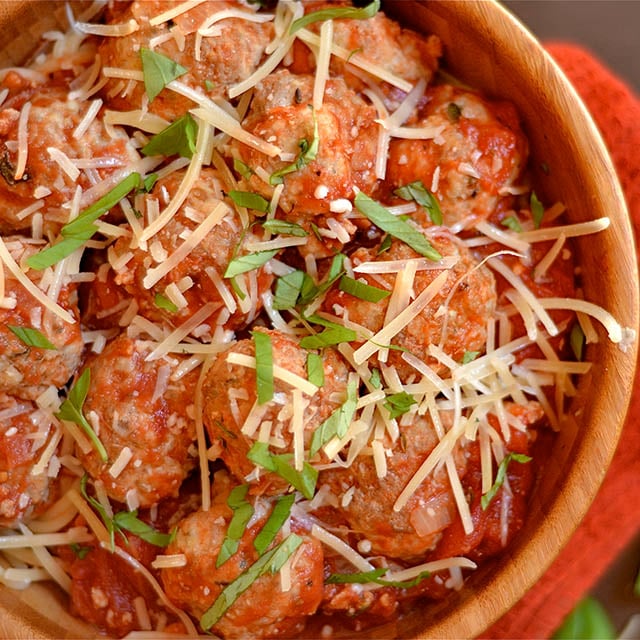 Prep Time: 15 min

Cook Time: 1 hr

Total Time: 1 hr 15 min
MEATBALL INGREDIENTS
2 lbs Lean Ground Turkey
1 cup bread crumbs (Italian Seasoned if available)
1/2 cup finely grated fresh parmesan
1 tsp dried oregano
1 tsp dried basil or 2 tablespoons fresh basil
1 tsp salt
1/2 tsp ground pepper
1 tsp garlic powder or 3 cloves fresh garlic, minced
1 egg
SAUCE INGREDIENTS
1 tbsp olive oil
1 small yellow onion, chopped
2 cloves garlic
2 28 oz cans whole tomatoes (San Marzano works best)
1 tbsp Worcestershire sauce
2 tbsp red wine vinegar
1 tbsp dried oregano
2 tsp salt (+ more to taste if needed)
1 tbsp granulated sugar
DIRECTIONS
Begin by preheating the oven to 375.
In a large bowl, combine ground turkey, breadcrumbs, parmesan cheese, dried oregano, basil, salt, pepper, garlic and egg. Mix until well combined.
Form into 1-2 inch balls. Place inside a greased 9×13 casserole dish. Bake for 25-30 minutes and remove from oven to cool.
Meanwhile, make the sauce. Heat a large pot or skillet and coat with oil. Add chopped onion and cook for 5 minutes or until onion is translucent.
Stir in garlic and cook for 30 seconds – 1 minute, just until fragrant.
Add tomatoes, vinegar, oregano, salt, Worcestershire sauce and granulated sugar. Bring to a boil, then reduce heat and simmer for 30 minutes to 1 hour. Add the cooked meatballs to the sauce for 10 minutes before serving.
Serve over spaghetti or spaghetti squash. Top with extra parmesan and fresh basil.
Servings: 8-10