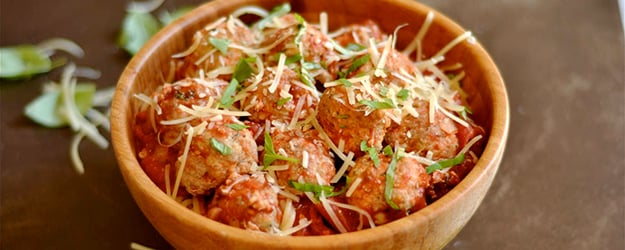 Classic meatballs get a tasty twist using ground turkey, parmesan, and plenty of spices! An easy dinner the whole family will enjoy.
Spaghetti and meatballs anyone? Spaghetti is just the classic dinner that reminds us all of our childhood, and one that I love to feed my family. Especially during the busy back to school time! This variation includes ground turkey from Butterball for a lightened up version with all the same flavor. Parmesan cheese, fresh basil, and homemade breadcrumbs flavor up the ground turkey for the PERFECT meatball!!
Now that we are back to school and fall is almost here, I am looking for hearty meals that I can use for leftovers. This makes my life so much easier during our busy weeknights. And let me just tell you, my little Turketarians also requested meatballs for their lunchbox this morning. Totally winning!
To start these meatballs, be sure to defrost your frozen ground turkey. These simple ingredients for the meatballs are probably sitting in your pantry or fridge right now.
I made a homemade blend of breadcrumbs by mixing together parmesan cheese, 3 pieces of bread, and spices. If you wish to use a store bought version of breadcrumbs, feel free to combine 1 cup of breadcrumbs with 1/2 cup shredded parmesan.
Mix together the breadcrumbs, eggs, garlic, and fresh basil. Form into balls and bake.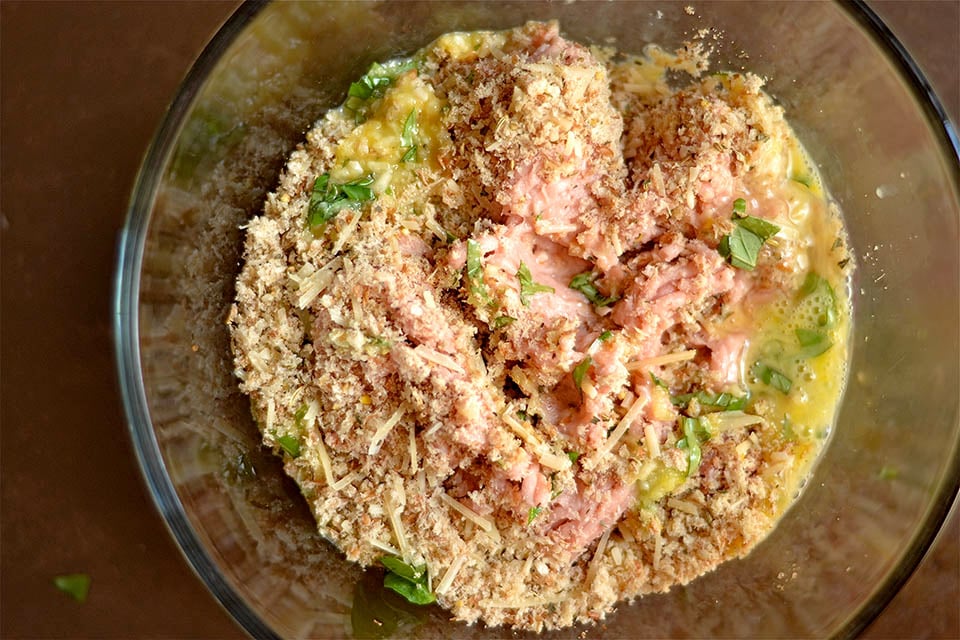 While the meatballs are cooking, prepare your sauce. Just a few simple ingredients here with canned tomatoes, onion, oregano, basil, red wine vinegar, and salt. Once the meatballs are finished, add to the sauce to let the flavors meld. Serve over spaghetti or my personal favorite: spaghetti squash!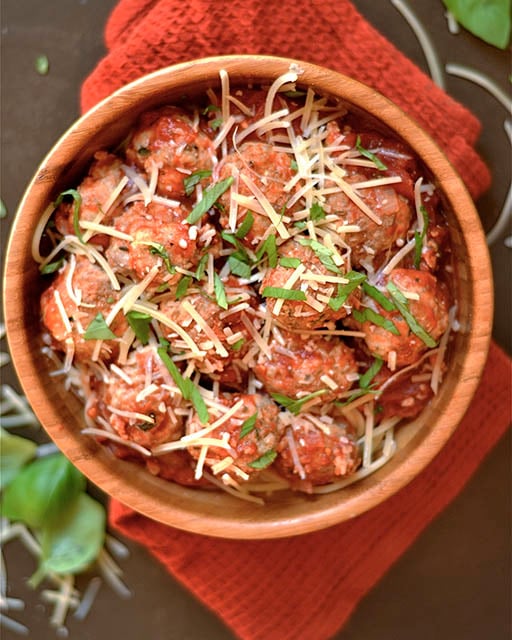 This is a sponsored conversation written by me on behalf of Butterball. The opinions and text are all mine.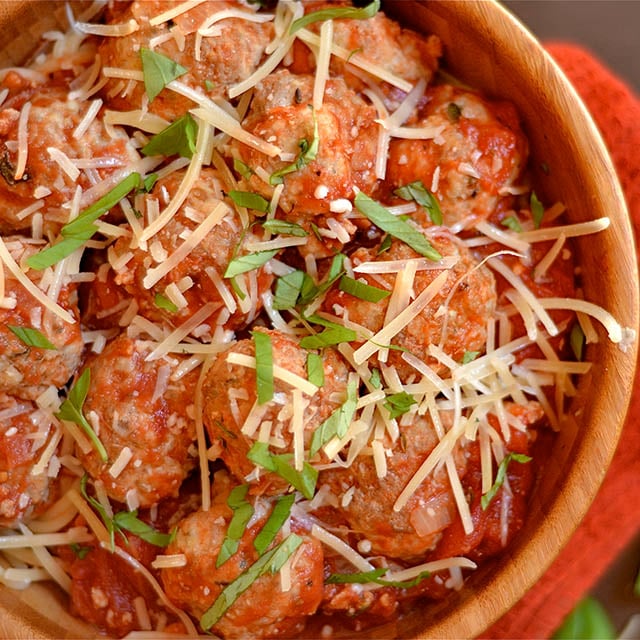 MEATBALL INGREDIENTS
2 lbs frozen Butterball Lean Ground Turkey
3 slices of bread (your choice)
1/2 cup shredded parmesan
1 tsp dried oregano
1 tsp dried basil
1 tsp salt
1/2 tsp ground pepper
1/2 tsp garlic powder
1 egg
3 cloves garlic
2 tbsp fresh basil
SAUCE INGREDIENTS
1 tbsp olive oil
1 small yellow onion, chopped
2 cloves garlic
2 28 oz cans whole tomatoes (San Marzano works best)
2 tbsp red wine vinegar
1 tbsp dried oregano
2 tsp salt (+ more to taste if needed)
DIRECTIONS
Begin by preheating the oven to 375. Be sure the ground turkey is defrosted.
In a food processor, combine bread, parmesan cheese, and spices. Pulse until the mixture forms crumbs.
In a small bowl, combine egg, garlic, and fresh basil and whisk.
In a large bowl, combine turkey, breadcrumbs, and egg mixture. Mix until well combined. Form into 1-2 inch meatballs. Place inside a greased 9×13 casserole dish. Bake for 25-30 minutes and remove from oven to cool.
Meanwhile, make the sauce. Heat a large pot or skillet and coat with oil. Add chopped onion, and crushed garlic. Cook for 5 minutes or until onion is translucent.
Add tomatoes, vinegar, oregano, and salt. Keep on medium heat for 15-20 minutes. Add meatballs when ready. Let sauce and meatballs simmer for 30 minutes – 1 hour.
Serve over spaghetti or spaghetti squash. Top with extra parmesan and fresh basil.
Servings: 8-10