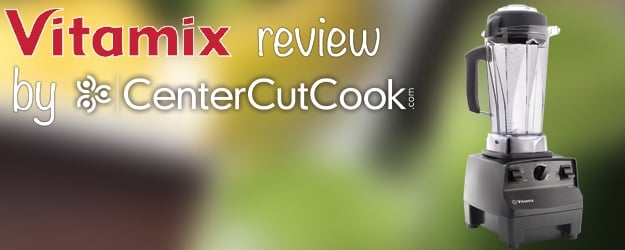 You've all heard of the Vitamix Blender, right? It seems to be the one kitchen appliance that everyone has on their wish list, and for good reason — it is the most powerful, well-made blender on the market! For years, I'd stop and listen to the Vitamix demo at Costco and walk away thinking "that's so cool, I want one, but there's no way I am spending $400!."Eventually, I purchased my very own Vitamix in December 2011, right before I underwent major jaw surgery. It turned out to be one of the best investments I have ever made. I know, it may seem a little strange that I wax poetic about a blender, but buy one, and you'll quickly understand what I am talking about.
When I originally purchased the blender, I knew it would get used post jaw surgery during the two and a half weeks I was wired shut and had to eat with a syringe, and during the three months following where I was on a strict no-chew diet. What I didn't realize was that after all was said and done, and I was able to chew normally, I'd still end up using my Vitamix frequently. Over a year and a half after I originally purchased my Vitamix, I still find myself using it every.single.day. It is a versatile, powerful, multi-purpose appliance that has made it SO much easier for me to incorporate fruits and vegetables into my diet. It can serve as a blender, a juicer, a food processor and more.
Today I am going to be giving you my review of the Vitamix Blender, specifically, the Vitamix 5200 which I own. I'm also SO excited to tell you that I was able to partner with Vitamix to giveaway a Vitamix 5200 to one lucky winner! You can enter the giveaway here! For those of you that don't want to read my entire review, let me answer the one burning question you're probably wanting to ask, "Is a Vitamix blender worth it?" The simple but honest answer is yes, yes, YES!
THE BASICS
Meet the Vitamix 5200. Pictured below is my very own Vitamix. It comes with a 62 ounce BPA free container that is the perfect size for anything you'd ever want to make, from smoothies and dips to soups and marinades. The lid tightly snaps on the container so you never have to worry about spills, and it has a plug that you can remove if you want to add ingredients while the machine is running. It includes a tamper (what you see pictured to the left of the Vitamix) so that you can push ingredients into the blade while it's running which is a super convenient little tool to have, especially when you're blending anything that's frozen, or large objects like an apple. It comes with a beautiful cookbook with all kinds of recipes to help get your started, along with a helpful DVD .
The fact this is the most powerful blender on the market is due to the 2-peak HP motor. I'm really not a technical person, so if you're not either, all you need to know is that there is not a job that the Vitamix can't handle! Want to make ice cream? No problem! Peanut butter, almond, or other nut butters? Easy peasy! The options are endless…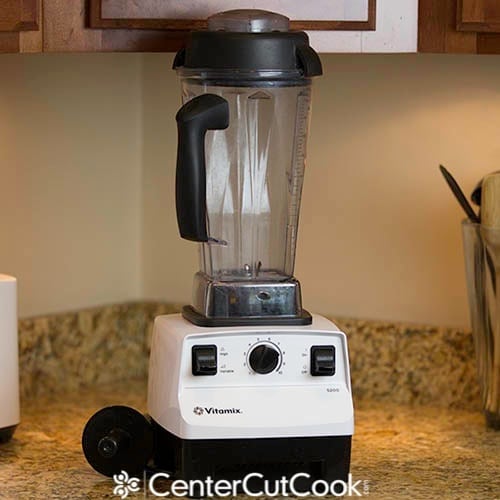 Size/Dimensions:
With the 64-ounce container in place, it stands 20.5 inches tall, 8.75 inches deep, 7.25 inches wide, and weights 10 pounds 9 ounces. The power cord measures 6 feet in length. If you don't need all 6 feet of cord, you can easily wrap the cord underneath the base, and leave out only what you need. There are little clips that hold the unused portion underneath. I like to keep my kitchen clean and tidy, so I love this little feature.
You may have noticed in the image above that the Vitamix is a little too tall to fit underneath the cabinet in my kitchen. If I had to think of something that I wasn't crazy about, the height of the blender might be it. BUT, the great news is that if I pop off the lid, it easily fits underneath my cabinet. This is how I store my Vitamix, with the lid to one side, and the tamper on the other. They also sell smaller containers, which is another solution. I've found though, that I prefer the larger container and do not mind storing the lid to the side of the machine.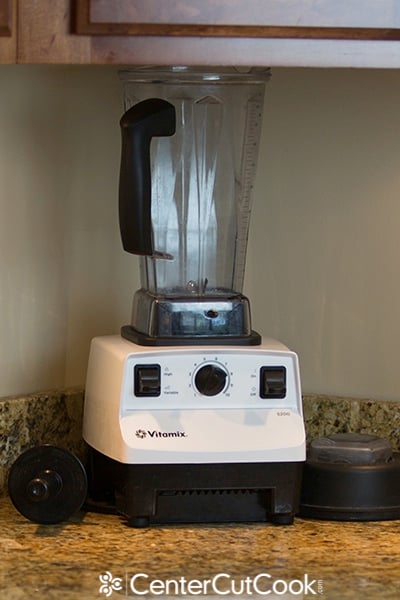 A LOOK AT THE CONTROL PANEL:
The Vitamix is super simple to use. Generally, for most recipes, you start with the machine set to Variable, then turn it on and slowly increase the speed anywhere from one to ten, depending on the recipe. If the recipe requires it, you'll flip from Variable to High. High is the fastest speed option, and I tend to use it for just about every recipe I'm making. This is where the magic happens! An ordinary, clumpy smoothie with your old blender now becomes a smooth, delicious, perfect smoothie with the Vitamix. You never want to turn it off if you're blending on high. Instead, you will want to flip it to variable first, then decrease the speed from 10 down to 1 before turning it off. The benefit of the variable speed control is that it gives you quite a bit of flexibility and allows you to control whatever it is you're blending.
AND THE BEST PART IS…..
You would think that the best part about a powerful blender like the Vitamix is the ease of use, or the yummy recipes you can make with it. While I love both of these aspects, my absolute favorite thing about the Vitamix is how easy it is to clean it! When I was standing in Costco watching a demo of the Vitamix before I purchased it, I was 100% sold when I learned how simple and effortless it is to clean.
Step 1: Fill the container 1/2 full with warm water.
Step 2: Add a couple drop of dish soap.
Step 3: Attach the lid (make sure it snaps on, and that the plug is locked in place.
Step 4: Run the machine for 30-60 seconds
Step 5: Rinse the container, lid and plug with warm water and you're done!
How cool is that? The Vitamix essentially becomes its own dishwasher. I can't tell you how much I love this. Below is a picture of what the machine looks like during the cleaning process. All of the white that you see is the warm soapy water swirling around and around really fast, pulling up any bits of fruits and veggies that might be stuck to the sides. I always clean the machine immediately after I am done blending something, because it makes the clean-up much easier. If you wait and let stuff harden to the sides, the clean-up will take a little more effort.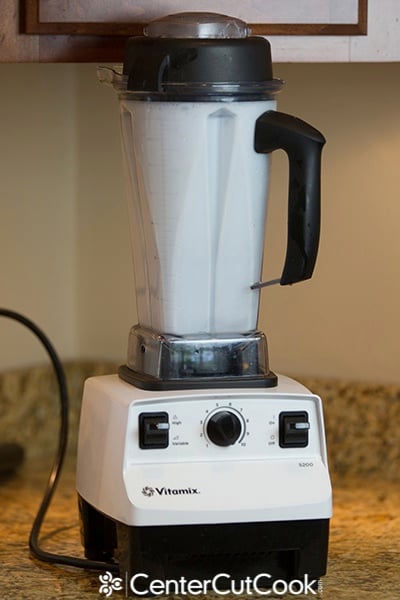 Purchasing a Vitamix is a big decision, no doubt. However, this is one of those instances where you get what you pay for. It comes with a 7 year warranty and if by chance you need it serviced, I've only heard great things about the Vitamix customer service. My smoothies are MUCH smoother with the Vitamix, when compared to the smoothies I used to make with my $50 blender. It's powerful, sturdy, and the ease of use is unbeatable. If you're looking to easily incorporate fruits and veggies into your diet, I can't think of a better way to do it!
Take a look at just a few of the Vitamix recipes I've already made so far:
Don't forget to enter our Vitamix Giveaway (click here!)!