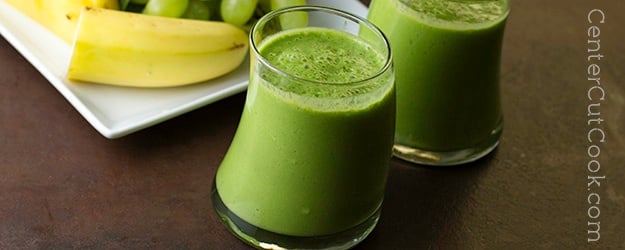 Ever since I bought my Vitamix blender just about a year ago, I've turned into a smoothie fanatic! Having a high-powdered blender like a Vitamix has simplified the process of making smoothies which means I tend to make them much more often than when I had a standard cheap-o blender. Rest assured, however, because you don't need a fancy pants blender like a Vitamix to make fantastic smoothies! All you need is a great combo of fruits AND even veggies!
I've tried some green smoothies in my day that were down-right disgusting! Even though the color is beautiful, and the thought of consuming more veggies is appealing, when I was handed this particular recipe for Green Smoothies, I was hesitant! Thankfully my result with this smoothie was different than all of the other recipes of I've sampled. It actually tasted GOOD! A tasty Green Smoothie chock full of fruits and 2 cups of spinach is never a bad thing!
Some green smoothies have veggies like kale, cucumber, and celery. This particular recipe, though, is all about the spinach! Take a look at my canister right before I blended it: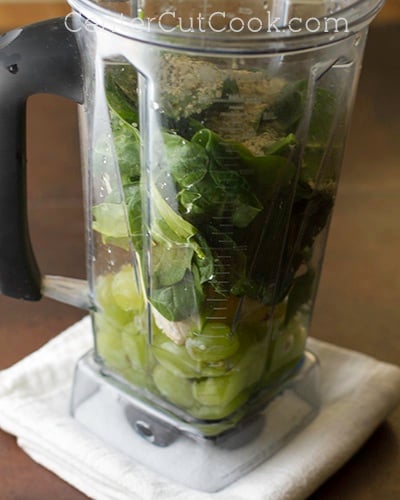 I started out with green grapes, about a cup! Then I added in half a banana, about 1/2 cup of pineapple, and two full cups of spinach! Make sure you wash your fruits and veggies well before using them.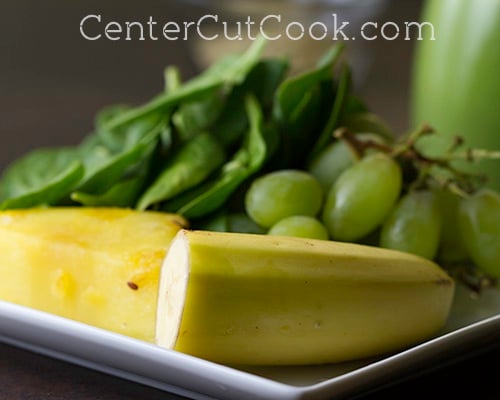 To add a little sweetness, I squeezed in a little honey, about a teaspoon. And to add a little more nutrients, I sprinkled in some hemp seeds. If you haven't seen hemp seeds before, this is what they look like: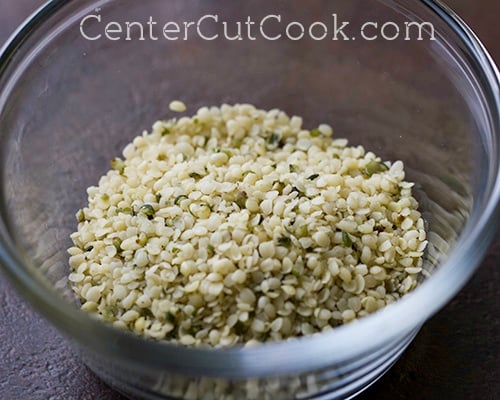 Hemp seeds pack a lot of nutrients into a super small package, and with a powerful blender like the Vitamix that blends everything really well, you can't even tell there are seeds in your smoothie! I blended everything really well, and ended up with a fantastic healthy smoothie full of fruits and veggies, that actually tasted great! Score!
In case you're looking for other smoothie ideas, I've got some suggestions!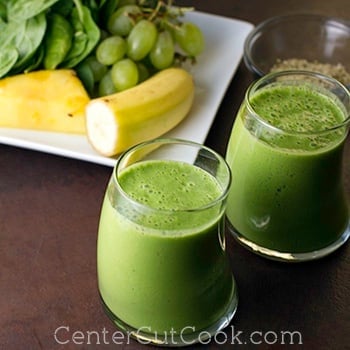 INGREDIENTS
1 cup green grapes
1/2 banana
1/2 cup pineapple (fresh or frozen)
2 cups fresh spinach
Squeeze of honey, about a teaspoon or two
3 tablespoons hemp seeds – optional
1/2 cup water
3-4 ice cubes
DIRECTIONS
Place all ingredients in the blender in the order listed and blend on high until smooth. If you're using a Vitamix, turn on to Variable 1, then increase to 10, and then to high and blend for about 1 minute.
Recipe from
CenterCutCook