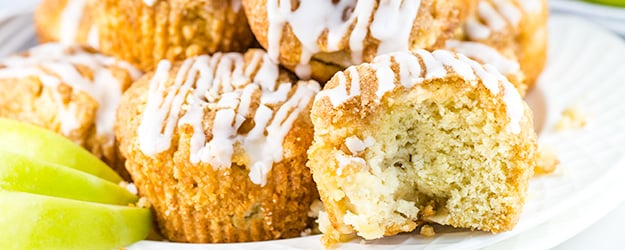 If you are wondering what you can do with lots of apples after a trip to the apple orchard, wonder no more because these Apple Cinnamon Streusel Muffins are soft, moist, bursting with juicy apple flavor, and SO delicious. Did I mention they're topped with streusel and drizzled with a glaze? They are SO good.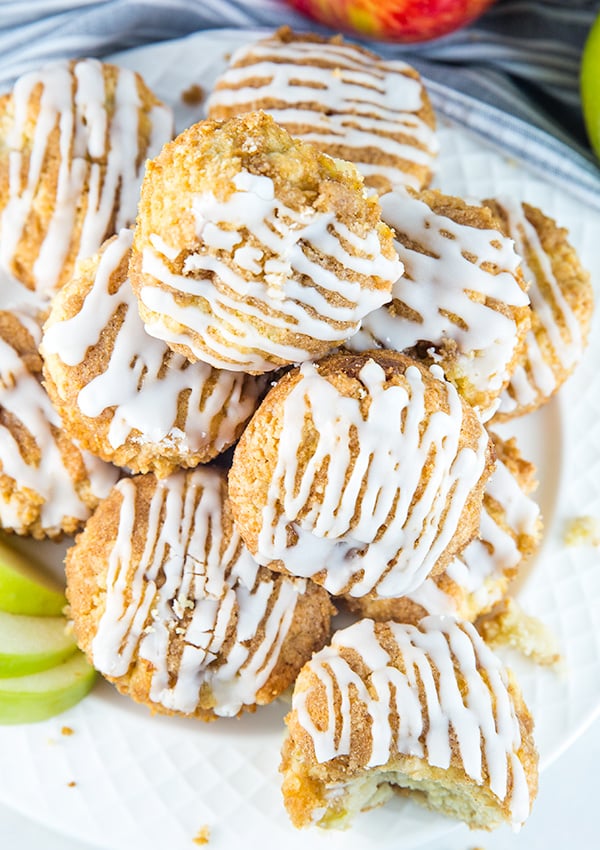 Fall is the BEST time to make a variety of apple recipes after a visit to the Apple Orchard.
This recipe for cinnamon streusel muffins is a favorite in our house with these Baked Apple Cider Donut Holes coming in a close second.
Apple Cinnamon Streusel Muffins are soft and delicious, but the best part about them is the streusel topping made with brown sugar, cinnamon, butter, and a little bit of flour.
On top of the cinnamon streusel topping is a glaze that is also to die for!
What are the best apples to use for baking muffins?
When you are planning your trip to the apple orchard to get apples for baking, make sure that you are keeping in mind that tart apples work best – this goes for everything from these muffins to Mini Apple Pies, and Instant Pot Apple Crisp.Look for apples like Granny Smith, Golden Delicious, Braeburn, or Pink Lady's just to name a few.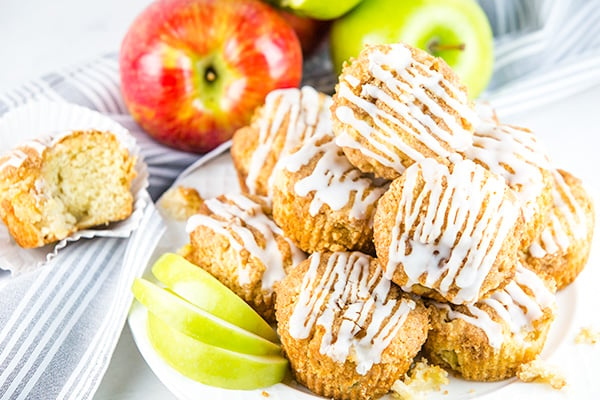 Can You Freeze Muffins with Streusel?
Often times we get questions regarding freezing muffins with a streusel topping and if it's possible. The answer is yes. Individually wrap each muffin in plastic wrap, then place in a large freezer bag.
Please note, if you plan to freeze these muffins, we recommend that you do not drizzle them with the glaze.
Muffins thaw quickly. Just take them out of the freezer before you go to bed and you have a quick, yummy breakfast in the morning!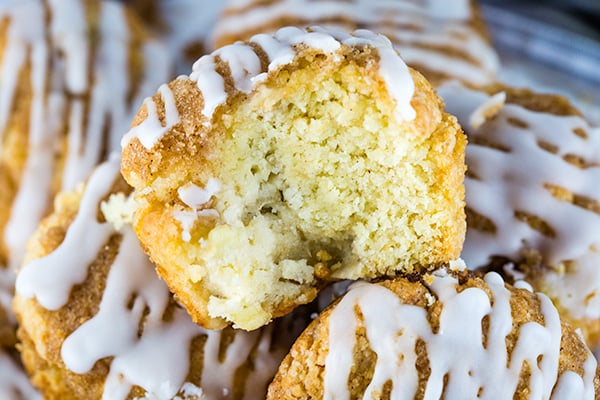 When you are planning your trip to the apple orchard, be sure to stock up on tart apples for all of your fall baking and make sure these Apple Cinnamon Streusel Muffins are on your list of must-have fall recipes.
Enjoy!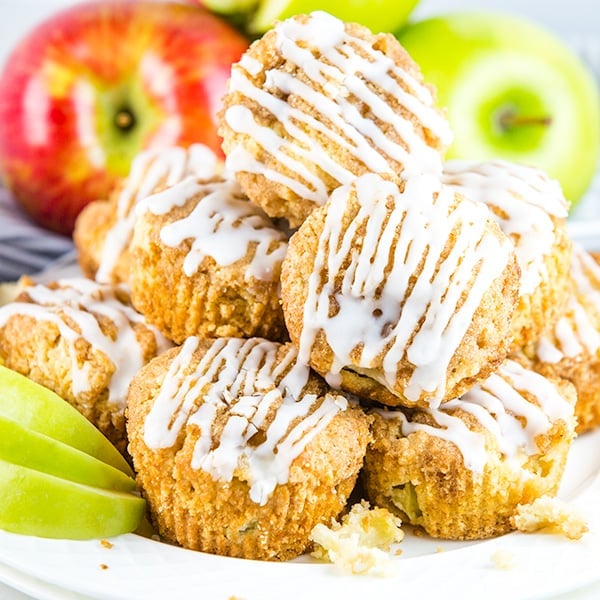 MUFFIN INGREDIENTS
STREUSEL INGREDIENTS
1/3 cup packed light brown sugar
1 tablespoon all-purpose flour
1/8 teaspoon ground cinnamon
1 tablespoon cold butter
GLAZE INGREDIENTS
3/4 cups powdered sugar
2-3 teaspoons 2% milk or heavy whipping cream
1 teaspoon unsalted butter, melted
1/8 teaspoon vanilla extract
Pinch of salt
MUFFIN DIRECTIONS
Preheat oven to 375 degrees. Place liners in muffin tin or grease muffin tin well.
In a large bowl, whisk together the first five dry ingredients (flour, sugar, baking soda, salt, baking powder).
In a medium bowl, whisk together all wet ingredients (eggs, melted butter, and vanilla extract).
Add the wet ingredients to the flour mixture, stirring just until combined (the batter will be stiff).
Fold in the peeled/chopped apples.
Spoon the muffin batter into the prepared muffin tin, filling each cup 3/4's of the way full.
STREUSEL DIRECTIONS
Mix together brown sugar, flour, and ground cinnamon. Using a fork or pastry cutter, cut in the butter until it gets crumbly. Sprinkle the streusal topping over the muffin batter.
Bake 15-20 minutes or until a toothpick inserted in the center of the muffin comes out clean. Cool about 5 minutes in muffin tin then the muffins to a wire cooling rack to finish cooling.
GLAZE DIRECTIONS
Mix all glaze ingredients together. Drizzle over each muffin.
Servings: 12
Recipe credit
Brittany Jenkins