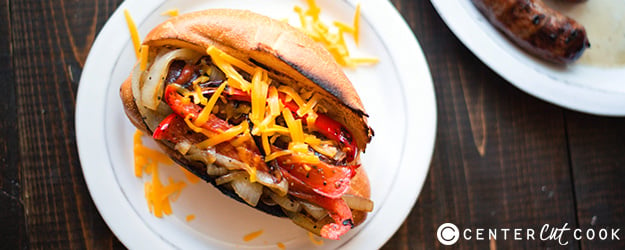 Brats are a summer tradition for us in our home. If there's a barbecue or a get-together, we're grilling brats. If there's a football game, we're grilling brats. If there's a baby shower, we're grilling brats.
So, this grilling brats thing…gets old, right? Yup.
So, I decided to try a NEW way to prepare brats that did't involve grilling them. I know, this may be a sacrilege to many. But, wait, and it gets better…
I use beer to cook them on the stove. Told ya it got better! The beer helps steam and boil the brats to get them nice and cooked through and also provides a lot of flavor. Then, once the beer cooks down, the brats get nicely browned on all sides.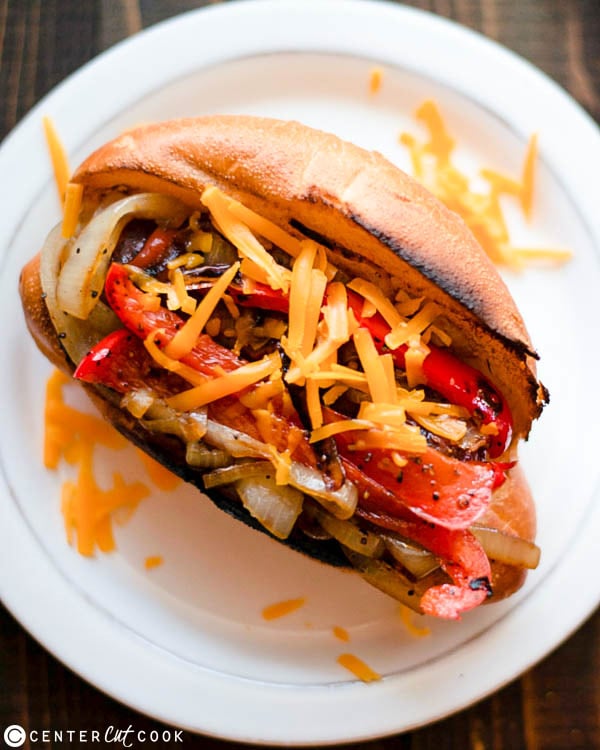 Our favorite way to enjoy brats is in a big fat hoagie roll and eat them like a hot dog. Alas: the bratwurst hot dog. And, since you're already making the brats, take the few extra minutes to add some delicious toppings, like the sautéed onion and red pepper (the best!) and grated cheddar cheese.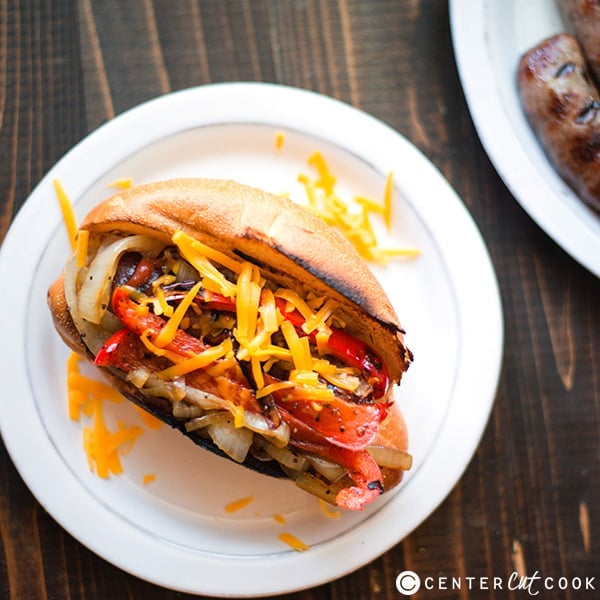 INGREDIENTS
2 tbsp. olive oil, divided
1 pack (contains about 6 brats, I recommend Johnsonville original) brats (bratwurst)
6 hoagie rolls (can substitute hot dog buns)
1 red bell pepper, thinly sliced
1 yellow onion, thinly sliced
1 tsp. kosher salt
1 tsp. ground black pepper
2 cups beer (can also use water)
Ketchup, for topping
Yellow mustard, for topping
DIRECTIONS
Heat a skillet over medium-high heat and add 1 tbsp. olive oil.
Place the brats in a skillet.
Add the beer to the pan until the brats are half-covered.
Bring the liquid in the pan to a simmer, but not to a full boil. Cook the brats uncovered until the liquid evaporates completely.
Cook the brats until the outside of the brats are nicely browned. Add additional oil if it appears too dry and the brats start to stick to the bottom of the pan.
While the brats are cooking, heat the remaining olive oil in a separate fry pan and add the onions and red pepper. Season with salt and pepper. Cook, uncovered, over medium-heat until tender.
To serve, place the brat into the roll (bun) and then top with the onion and pepper mixture, followed by the grated cheese. You can also add ketchup and mustard, if desired.
Servings: 6