If you're looking for a restaurant quality meal that you can make at home, look no further than this recipe for Cajun Chicken Pasta. It is loaded with flavor, and really, so easy to make.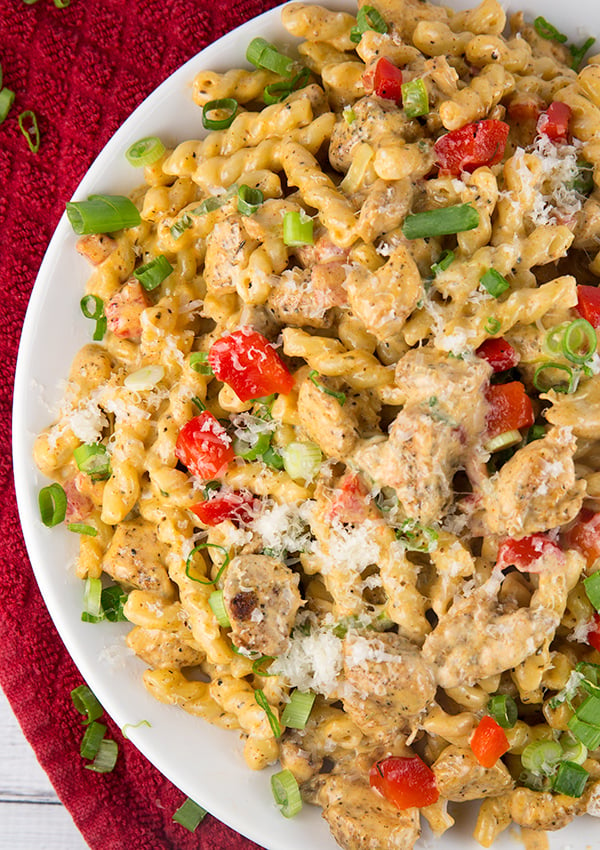 I used chicken in this recipe but it would also be just as delicious with cajun shrimp or cajun sausage. When using chicken, I like to buy chicken breast tenders and cut them into small bite sized pieces. Half of the chopping work is already done for you versus buying chicken breasts.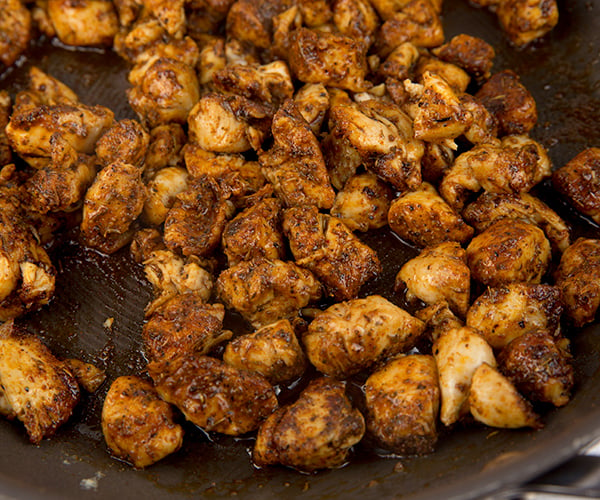 One of the most essential elements of Cajun Chicken Pasta is the sauce. The sauce is always the best part! This Cajun Chicken Pasta has a sauce that is creamy, cheesy and delicious.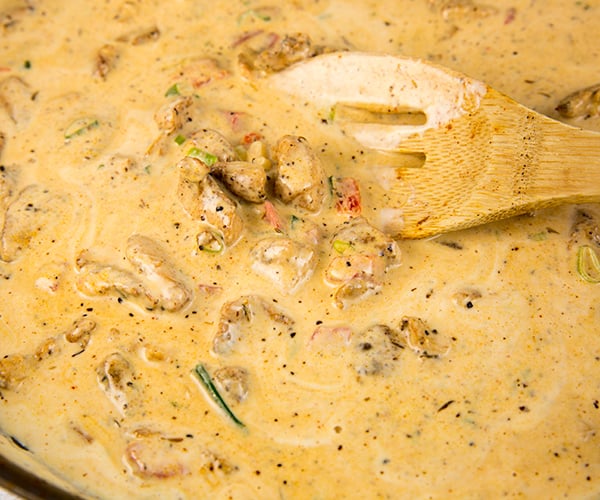 It comes together so quickly consisting of butter, heavy cream, and freshly grated parmesan cheese.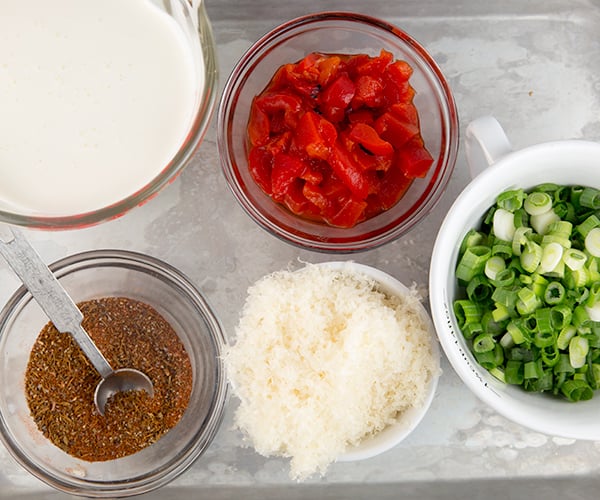 Whenever I am making a sauce with parmesan cheese, I use a Microplane grater to grate it super fine. Parmesan cheese will incorporate into the sauce effortlessly when it's finely grated.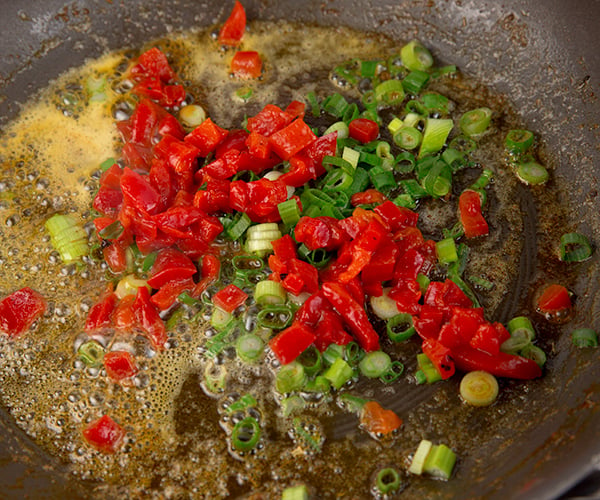 Depth of flavor in this recipe comes from chopped green onion and roasted red peppers. I like to buy jarred roasted red peppers but you could certainly roast your own.
Feel free to add any of your personal favorite ingredients. Mushrooms would be delicious in this recipe, as would bacon or even spinach.
Chili's serves a cajun chicken pasta garnished with fresh tomatoes which is another great option that would add freshness and depth of flavor.
I used Gemelli pasta this time around but I have made this Cajun Pasta with penne and rotini. Use whatever pasta you have on hand or whatever is your favorite.
This recipe for cajun chicken pasta is melt in your mouth delicious with a sauce you'll want to use for everything! It's a staple in our house, and a meal I can come back to over and over again.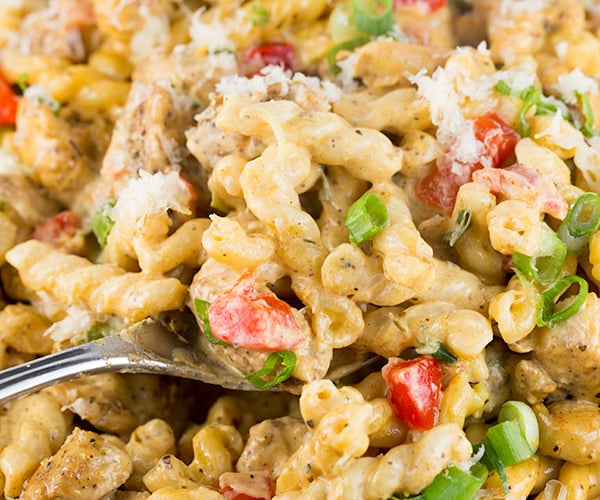 Serve with Garlic Bread and salad and you have a perfect meal that's restaurant quality, made right at home and in under 30 minutes.
Enjoy!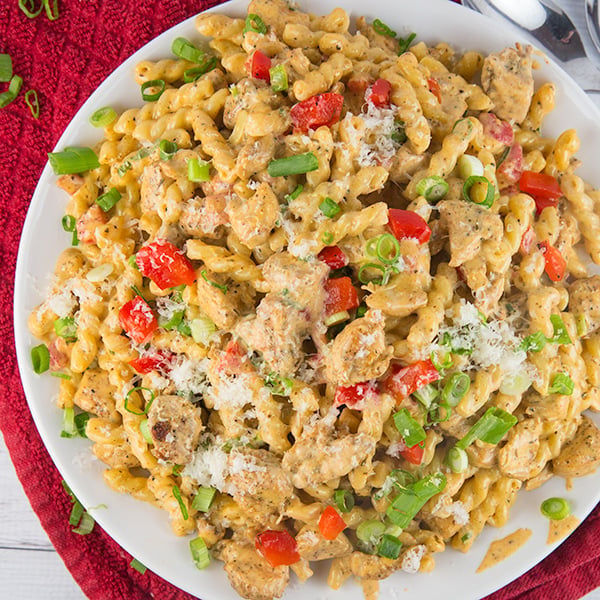 INGREDIENTS
1 pound boneless skinless chicken breasts cut into 1-2 inch chunks
1 lb Penne pasta cooked according to directions on box (You could also use Gemelli, Rotini or any other pasta of choice)
3 teaspoons cajun seasoning
1 teaspoon paprika
1/2 teaspoon black pepper
1/2 teaspoon salt
2 tablespoons butter
2-3 green onions sliced thin
2-3 tablespoons chopped roasted red peppers
2 cups heavy whipping cream
2/3 cup shredded parmesan cheese + additional for garnish
1/2 teaspoon salt
1/2 teaspoon black pepper
DIRECTIONS
Melt two tablespoons butter in a large skillet over medium high heat.
While butter is melting, combine cajun seasoning, paprika, salt and pepper in a ziplock bag or a bowl. Coat the chicken with the seasonings.
Add chicken to the skillet and cook over medium high heat until the chicken is cooked through which should take around 7-8 minutes. Use a meat thermometer if needed to check for doneness. Chicken should be cooked to 165 degrees.
Remove chicken from pan and set aside.
To the pan add sliced green onions and roasted red peppers. Sauté veggies for 2-3 minutes.
Reduce heat to medium low.
Add in heavy whipping cream, salt, and pepper.
Simmer until whipping cream reduces by about half.
Mix the chicken back in to the cream/onion and roasted red pepper mixture.
Once cream has reduced, add in a heaping 2/3 cup of finely grated parmesan cheese and stir until it has melted.
Stir in the pasta and top with extra parmesan cheese and green onion for garnish.
Servings: 4-6