Creamy Cajun Shrimp Pasta is the pasta recipe of your dreams! It is so creamy, so cheesy, so delicious, and the quality is what you'd expect from a restaurant except you can make it at home.
One of the first recipes I shared on CenterCutCook nearly 7 years ago was this recipe for Cajun Chicken Pasta. It has been a reader favorite ever since. And while I love me some cajun chicken pasta, I thought it'd be so delicious to make a shrimp variation.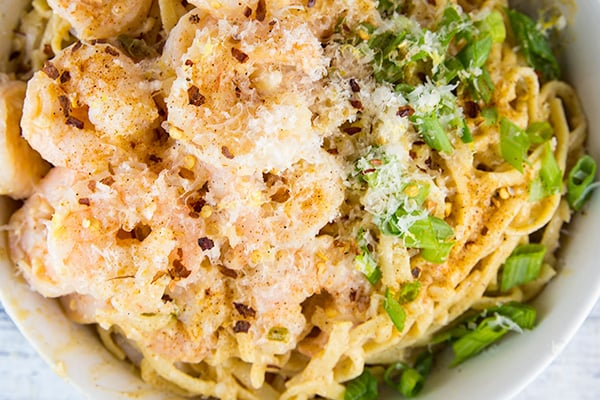 How to make Creamy Alfredo Sauce
I don't know about you but I always find it hard to resist a creamy spicy alfredo sauce paired with shrimp. The creamy alfredo sauce in this recipe is made with dry white wine, heavy cream, and lots of finely grated parmesan cheese. It is important to finely grate the parmesan cheese because it'll melt better and form a more creamy, cohesive sauce. I like to use a Microplane grater for this task.
My Microplane grater is one of the most used utensils in my kitchen. Every home cook needs one so if you don't have one, get one here!
What kind of pasta should I use?
While I used linguini in this recipe, please feel free to use whatever pasta you have on hand or enjoy. If I don't use linguini in this recipe, I'm probably using penne because I generally have that on hand too but really, just about any pasta is going to be delicious covered in creamy spicy alfredo sauce!
So many popular restaurants serve Cajun Shrimp Pasta, but I am certain with this recipe you can give Appleby's, Chili's and TGI Friday's a run for their money. :)
Now, a word of caution. The creole seasoning that I used is salty so before you add any salt to this recipe, taste it first! I felt like it was already salty enough with the creole seasoning and the salty parmesan cheese that I did not add any additional salt. I did add lots of fresh cracked pepper but no additional salt was needed for my taste.
Add ins:
While I really enjoy this recipe as-is, and I love the simplicity of just shrimp and scallions, you could add just about any ingredient to this pasta. You could stir in some spinach if you'd like, and that would be delicious. Steamed broccoli would also be good. Or, another fun option would be to stir in some cooked smoked sausage. There's something about that combination of smoked sausage (I have shrimp boil on the brain!) and shrimp that is so good.
A note about the shrimp: I used 31-40 count shrimp. All this means is that there's 31-40 shrimp per pound. If you like lots of shrimp, feel free to increase the amount to a full pound. My favorite place to buy shrimp is Costco because they sell bags of shrimp that have already been peeled and deveined. It is super convenient!
Serve this Cajun Shrimp Pasta with my Perfect Cheesy Garlic Bread and a salad and you've got a tasty meal that will definitely impress.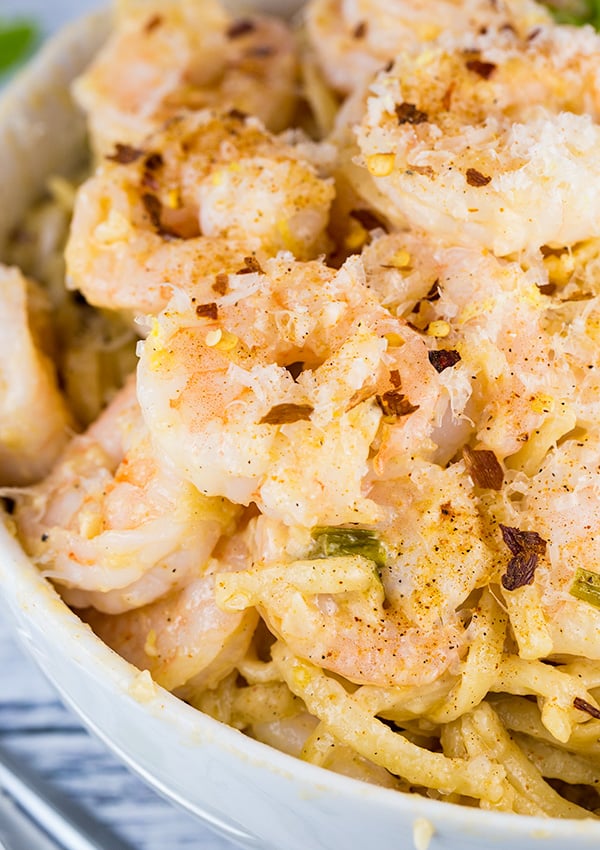 Enjoy!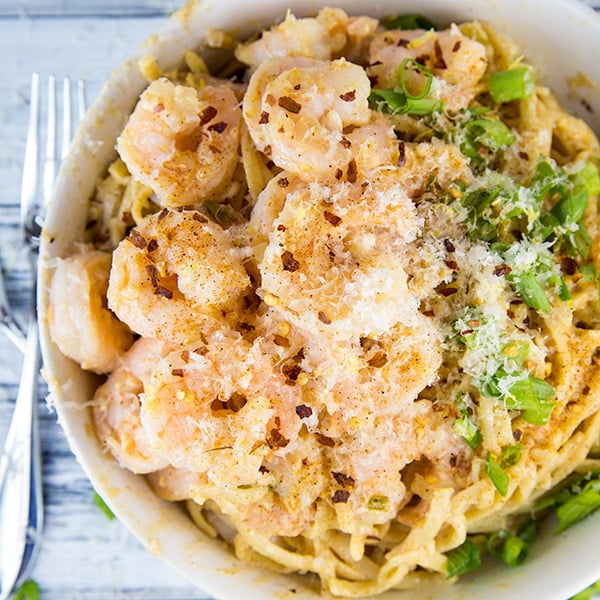 INGREDIENTS
8 ounces linguini
1/2 pound shrimp peeled, deveined, tails removed (see note above about shrimp)
2 tablespoons butter
6 cloves garlic, minced
3/4 T creole seasoning (more or less to taste)
1/2 teaspoon red pepper flake
Pepper to taste
2/3 cup dry white wine (I used chardonnay)
3/4 cup heavy cream
1/4 cup chopped scallions
5 ounce block parmesan cheese finely grated
1 teaspoon red pepper flakes and additional scallions for garnish
DIRECTIONS
Prepare linguini according to package directions.
In a large skillet melt 2 tablespoons butter.
Add shrimp. Cook for just a few minutes, until the shrimp are cooked through and turn pink. Remove from pan and set aside.
Stir in garlic and chopped scallions and sauté for about a minute. Add in 3/4 tablespoon creole seasoning (more or less to taste), and red pepper flake.
Add in white wine. Bring this mixture to a boil, then reduce heat and cook until the wine reduces down to about half.
Stir in heavy cream and finely grated parmesan cheese. Bring to a low boil and simmer until thickened, stirring often.
Season to taste with black pepper ( I did not add any additional salt but feel free to add to taste).
Stir the shrimp back in.
Combine the sauce with the cooked pasta. Garnish with chopped scallions and additional red pepper flake.
Servings: 4