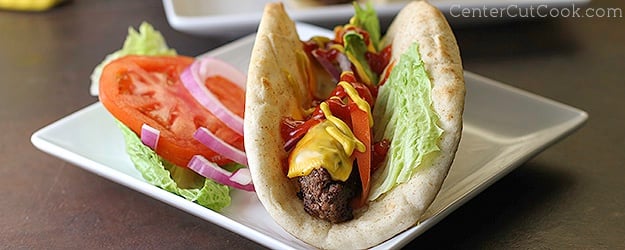 About once a month or so, we get the craving for a good burger. We've realized that while there are a couple of stand-out burger places around (namely Kuma's Corner in Chicago… ), we typically end up making burgers at home. Sometimes we grill 'em up outside when the weather is nice, other times we use the grill pan on the stovetop or even a skillet!
In case you're wondering, here are some of our favorite ways to prep a burger:
And for those of you that aren't quite sure how to grill your own burger at home, I put together a "
How to Grill Burgers
" guide!
Because burgers are SO versatile, I usually try to come up with a way to change things up, and add a little excitement! This time around, I was inspired to make these Cheeseburger Flatbreads after a trip to Costco when I saw Cheeseburger Pitas in the freezer section. I have flatbread on hand quite often when I make these tasty little
BLT Flatbreads
, and sometimes I even make my own
Simple Flat Bread
!
The method is simple, you will cook burgers as you normally would whether it be on the grill or in a grill pan. Then, you'll cut the burger in half and arrange the meat on the flatbread, top it with cheese, and bake it in the oven until the cheese is melted and the flatbread is warm. Top with your favorite condiments and you've got a new, tasty way to serve burgers!
We really loved the soft flat bread and thought it paired perfectly with these burgers!
Note: We made the burgers a little bit bigger than usual so that it fit the flatbread better. Remember, you will be cutting each burger in half to arrange it on the flatbread.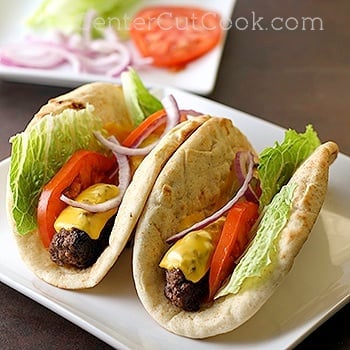 INGREDIENTS
1 1/2 pounds ground chuck
Salt and pepper for seasoning
Cheese of choice – 4 slices
4 Flatbreads
Condiments of choice – onion, lettuce, tomato, ketchup, mustard, mayo, etc.
DIRECTIONS
Pre-heat your oven to 350 degrees.
Divide meat mixture evenly into 4 patties. Gently form the meat into patties.
Drizzle a small amount of olive oil on each burger and season liberally with salt and pepper.
Heat your grill pan or grill to medium heat. When hot, add burgers and cook for about 4-5 minutes. Then flip and cook for about 3-5 minutes longer.
When the burger is cooked to your preference, remove from the grill or grill pan.
Arrange flatbreads on a baking sheet.
Cut the burgers in half and arrange the burger on a flatbread. Top with cheese and place in the oven for 5-10 minutes or until the cheese is melted and the flatbread is heated through.
Add your favorite condiments and enjoy!
Recipe from
CenterCutCook