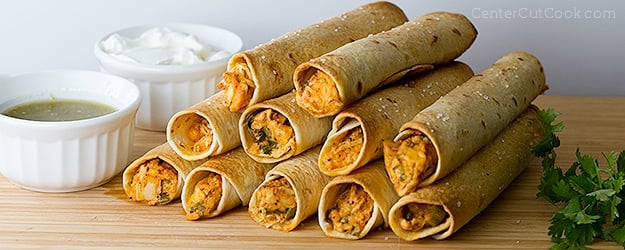 These Skinny Creamy Taquitos are baked, not fried! And instead of cream cheese, the creaminess comes from greek yogurt. Stuffed with chicken, cheese, cilantro, and onion, this is a recipe you will love!
There has been a recipe for Creamy Chicken Taquitos ALL over the blogosphere and Pinterest lately. It looked phenomenal, but I wanted to try and find a way to "healthify" it a bit and change it up so that it was worth it for me to share the variation with you! Taquitos are typically crispy, thanks to a bath in a deep fat fryer, and while the recipe I've seen is baked, it included cream cheese which I wanted to try and eliminate.
I played around with the recipe, and put my own twist on it. The result? Better than I had ever expected! In fact, after Ryan tried these he said something like "this is one of my favorite recipes." I was waiting for him to add "… that you've made lately" like he normally does, but he stopped with "this is one of my favorite recipes!" Once it registered, I asked "like ever? This is one of your favorite recipes ever??? Like up there with Sweet and Sour Chicken and Garlic Bread Meatball Subs? " He confirmed that this is in fact one of his favorite recipes I've EVER made!
So with that, let me share my version of Skinny Creamy Taquitos!
You'll start by chopping up some fresh cilantro, and a couple of green onions. Then, you'll shred some cheese ( I used cheddar, but so many other options would work here), and cut a lime in half to prepare it for juicing. To season these tasty little taquitos, all you need is a couple teaspoons of your favorite taco seasoning. I used my Homemade Taco Seasoning here!
Instead of cream cheese like so many other recipes call for, you'll use plain non-fat greek yogurt. If you don't like greek yogurt, please don't just dismiss this recipe. Ryan despises greek yogurt, but you could never tell that it's included in this recipe! It adds the perfect level of creaminess to this recipe and is SO much healthier than cream cheese!
Along with the yogurt you'll need small fajita sized tortillas (corn or flour, your preference), green salsa (typically made of tomatillos), and 2 cups of shredded cooked chicken. I bought a rotisserie chicken from the store to help speed the process along.
You'll combine all of the ingredients for these Skinny Creamy Taquitos, and then begin assembling them! Start by measuring about 1/4 cup of filling and placing it on the bottom portion of the tortilla. Make sure to leave a little space at each end. Then, you'll roll up the tortillas as tightly as you can and arrange them seam side down on a baking sheet lined with foil and sprayed with cooking spray.
Spray each Skinny Creamy Taquito with cooking spray, and sprinkle them with a little sea salt! Into the oven they'll go for about 25 minutes or until they're nice and crispy, and starting to turn golden brown. Just like this:
Finally, you'll get out all of your favorite toppings – salsa, guacamole, etc., and eat 'em up! Let me warn you, they are ADDICTING!!!
Addicting! Seriously, so delicious and as it turns out, it's one of my favorite recipes too!
I was able to get about 11 Taquitos out of the mixture which is what you can expect to get. These guys are best eaten fresh! Whether you eat them as a meal for dinner, or serve them as an appetizer, they will be a hit!
INGREDIENTS
12 small flour or corn tortillas
2 cups chicken shredded cooked chicken, I used a rotisserie chicken
1/3 cup plain non-fat greek yogurt (I prefer Chobani)
1/3 cup green salsa
Juice from 1 lime
2 1/2 teaspoons taco seasoning
3 tablespoons fresh chopped cilantro
2 green onions, chopped
1 cup reduced fat shredded cheese of choice, I used sharp cheddar
Guacamole and additional salsa for serving
DIRECTIONS
Pre-heat your oven to 425 degrees.
Line a rimmed baking sheet with foil, and spray with non-stick cooking spray.
In a large bowl combine greek yogurt, salsa, lime juice, and taco seasoning. Whisk to combine.
Stir in cilantro, green onions, chicken and cheese.
Begin making the taquitos by scooping 1/4 cup mixture on each tortilla. Place the mixture towards the bottom of the tortilla, then roll it up tightly.
Place each taquito seam side down on the prepared baking sheet. Spray the tops of each taquito with cooking spray, then sprinkle each with a bit of sea salt. Bake for 15-20 minutes.
Yields 11-12 Skinny Creamy Taquitos