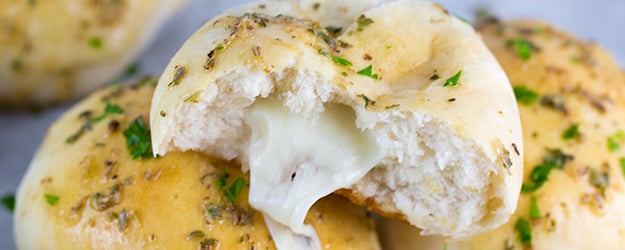 Any time I make this Italian Chicken Sausage Pasta , my little guy is always asking about the garlic bread. Because garlic bread is his favorite.
I have to agree. Warm garlic bread with that garlic-y buttery goodness is hard to beat.
While I love garlic bread from scratch, there's something to be said about a garlic bread recipe that's both easy and quick.
Meet these Cheesy Garlic Bread Bombs.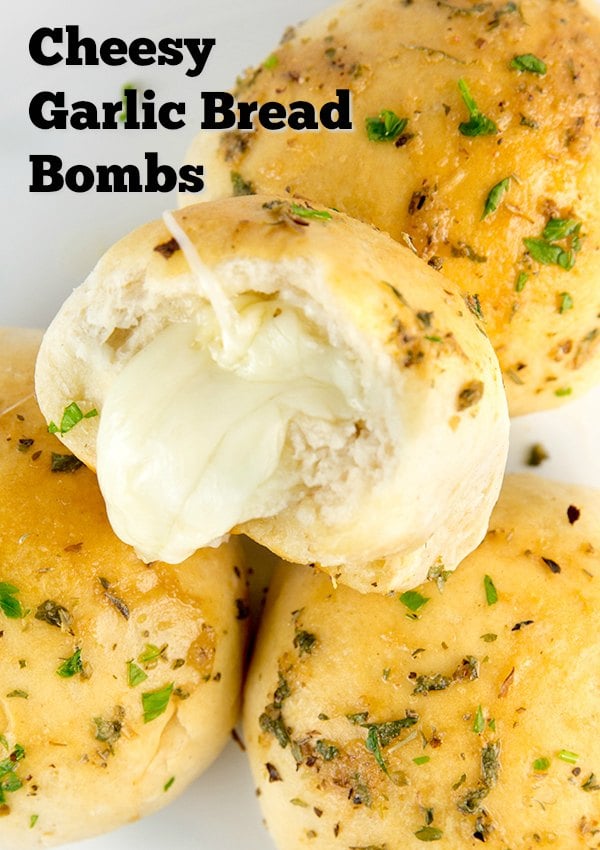 They are… the bomb.
Just look at all of that cheesy goodness oozing out of the bread. If you prefer garlic bread made from scratch, this recipe is not for you.
But if you are looking for a quick and easy option, look no further.
The beauty of this recipe is that it is made with refrigerated biscuits in the can. I used Pillsbury Grands Homestyle Biscuits but you could use any of the varieties that your grocery store has.
I like to use mozzarella sticks to stuff inside of the biscuit, but you could also get a block of mozzarella cheese and cut it into chunks.
Cheesy Garlic Bread Bombs are delicious little garlic bread bites slathered with lots of garlic-buttery goodness.
To make the buttery spread, you'll start by melting about 4 tablespoons butter in the microwave. I like to use Kerry Gold butter, but use whatever you have and like.
Typically I will cut the butter into 4 pieces, place it in a coffee mug and melt it for about 30 seconds, perhaps a little longer if needed. Then you'll stir in the garlic powder, Italian seasoning, and dried parsley.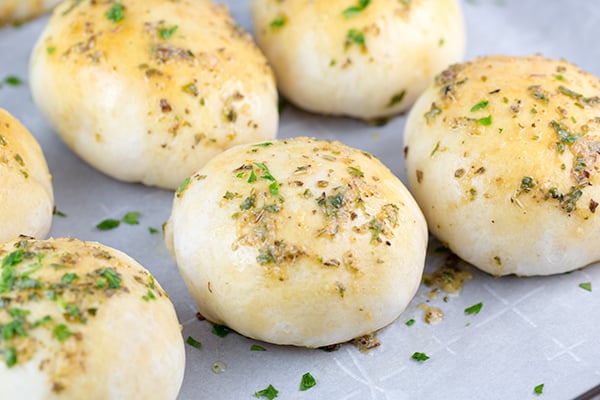 Bake the biscuits until they're golden brown and delicious, then spread each of the 8 biscuits with the garlic butter spread.
These little guys are best served immediately, when they are right out of the oven and nice and warm.
If you are looking for an easy garlic bread recipe that comes together super quick, but also looks impressive, add these Cheesy Garlic Bread Bombs to your menu this week!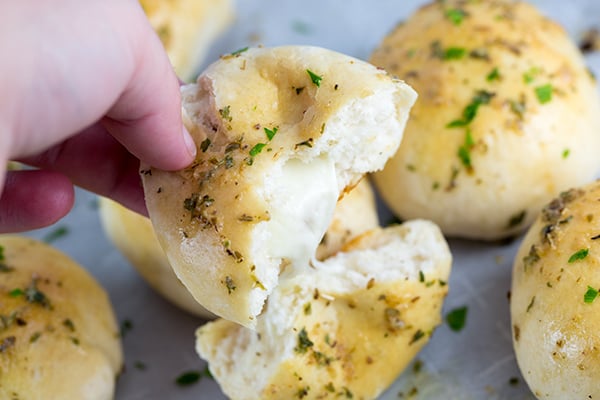 Serve them alongside my Parmesan Crusted Chicken Alfredo and a salad and dinner is ready.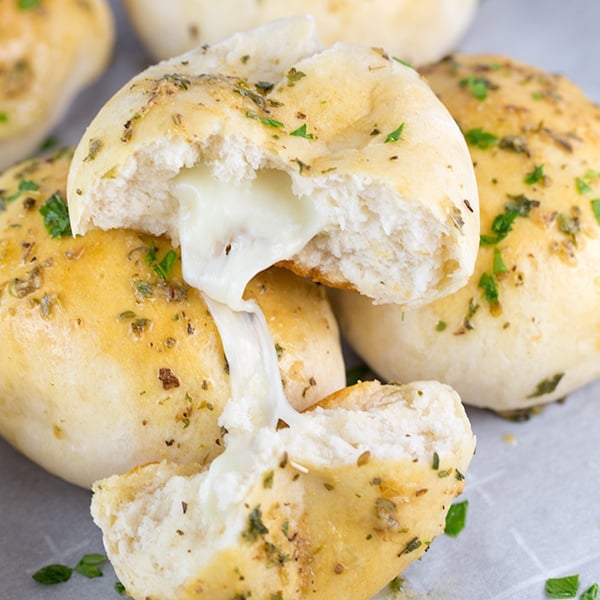 INGREDIENTS
1 tube refrigerated biscuit dough (I used Grands Homestyle Biscuits)
2 mozzarella string cheese sticks cut into 1/4s for a total of 8 pieces OR 4 ounces mozzarella cheese cut into 8 square pieces. If you want it extra cheesy use slightly larger pieces of Mozzarella
4 tablespoons unsalted butter, melted
3/4 teaspoon Italian seasoning
1/2 teaspoon garlic powder
1 teaspoon dried parsley
Finely chopped fresh parsley for garnish if desired
DIRECTIONS
Preheat oven to 350 degrees F
Line a baking sheet with parchment paper or spay with non-stick cooking spray
Separate biscuits
Place one cheese cube in the center of the biscuit.
Wrap the dough around the cheese and use your fingers to seal the dough.
Place on the baking sheet with the seam side down.
Repeat for all 8 biscuits
Bake 12-16 minutes or until golden brown.
While the biscuits bake, melt 4 tablespoons of butter in the microwave (I usually put the butter in a mug and melt for about 30 seconds)
When the butter is melted, stir in Italian seasoning, garlic powder, and dried parsley.
When the biscuits are golden brown, remove from the oven and immediately spoon some of the garlic butter mixture over each biscuit.
Sprinkle with chopped fresh parsley if desired.
Enjoy immediately. Best served fresh from the oven.
Servings: 8