To all of the brownie lovers of the world, here is a recipe for you: The best brownies… made from scratch… with chocolate frosting on top. Need I say more? Probably not but let me carry on… I also include instructions to make these brownies with peanut butter frosting in place of chocolate frosting. Either way, these brownies are easy to make and are so good whether you choose to make your brownies with chocolate frosting or peanut butter frosting.
Now, I know, I know… brownies in a box are honestly not bad at all. In fact, brownies made from a boxed mix are pretty dang satisfying. But… these homemade brownies are absolutely worth trying, especially if you're craving brownies and don't have a boxed brownie mix on hand. The ingredients that you'll need to make these easy brownies from scratch are pantry staples. The combination of the soft brownie topped with a fudge frosting is what makes these brownies so good! Let's talk ingredients…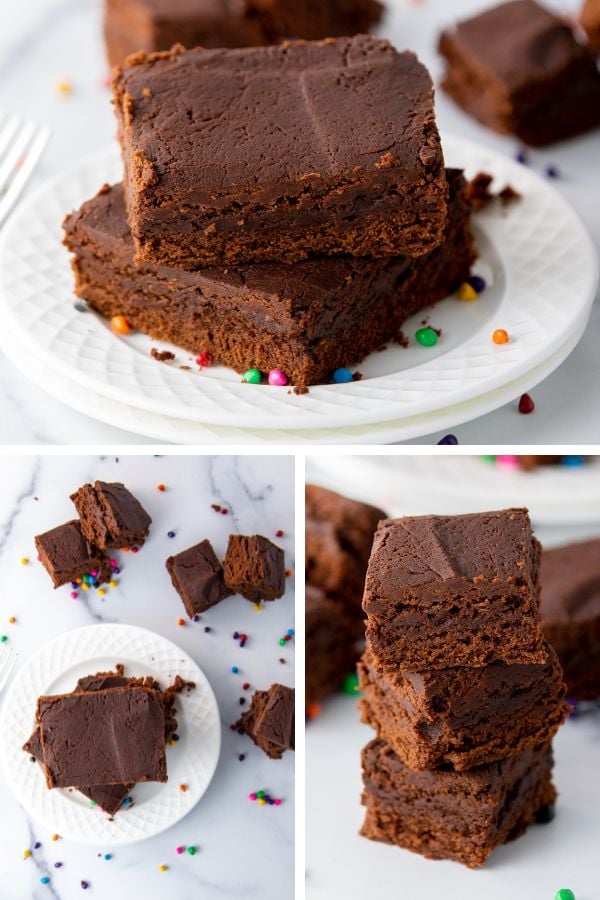 Ingredients for Brownies made from scratch:
The base of these brownies consists of a few pantry staples including butter, sugar, eggs, vanilla extract, cocoa powder, flour, salt and baking powder.
For the chocolate frosting you'll need butter, cocoa powder, honey, and confectioners sugar. It's truly a simple ingredient list.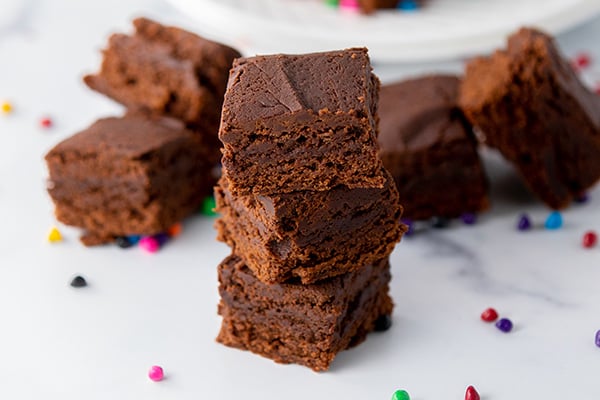 Brownies with Peanut Butter frosting:
While I love the simplicity of the chocolate frosting/glaze, I know there are peanut butter lovers out there that would much prefer peanut butter frosting on their brownies. If that's you, I've got you covered!
For peanut butter frosting you'll need 5 ounces cream cheese (room temp), 4 tablespoons unsalted butter (room temp), 2.5 cups confectioners sugar along with 1/3 cup creamy peanut butter.
When were brownies invented?
I grew up in the Chicago area and have lived in the area for most of my life, excluding when I went to college. I was so intrigued to learn that brownies were invented in the kitchen at the Palmer House Hotel in the Chicago Loop in 1893! The Palmer House Hotel is still there, by the way. If you like memorizing fun and unusual facts, here's your fun fact of the day!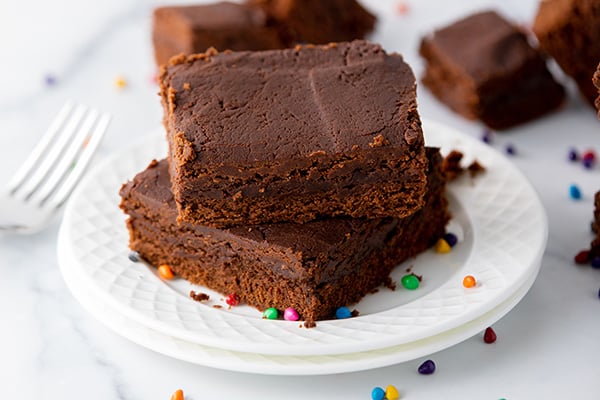 How do you store brownies?
It is best to store these brownies in an air-tight container. Eventually, brownies will go bad but I don't think you'll have to worry about that. These brownies are so good, they'll be gone before you even have to worry about old, stale brownies.
Should you want to freeze them, you can. Just wrap the brownies in foil or plastic wrap and place them in a freezer bag. You can freeze these brownies for up to three months.
If you're looking for other fun brownie variations, you must try our Easy Nutella Brownies or our Double Chocolate Brownie Cake is also outstanding and is a cross between cake and brownies.
Homemade brownies made from scratch with chocolate frosting are one of those simple pleasures in life that make everything better whether it's a road trip, after school snack, or a night sitting on the couch watching your favorite shows. This recipe is made in a 9×9 or 8×8 square baking dish which will yield about 6-9 servings depending on how large you like to cut your brownies.
We hope you enjoy this recipe for The Best Brownies made from scratch with chocolate frosting. It's an easy recipe that you'll find yourself coming back to over and over. Today is a great day to try these brownies! Enjoy!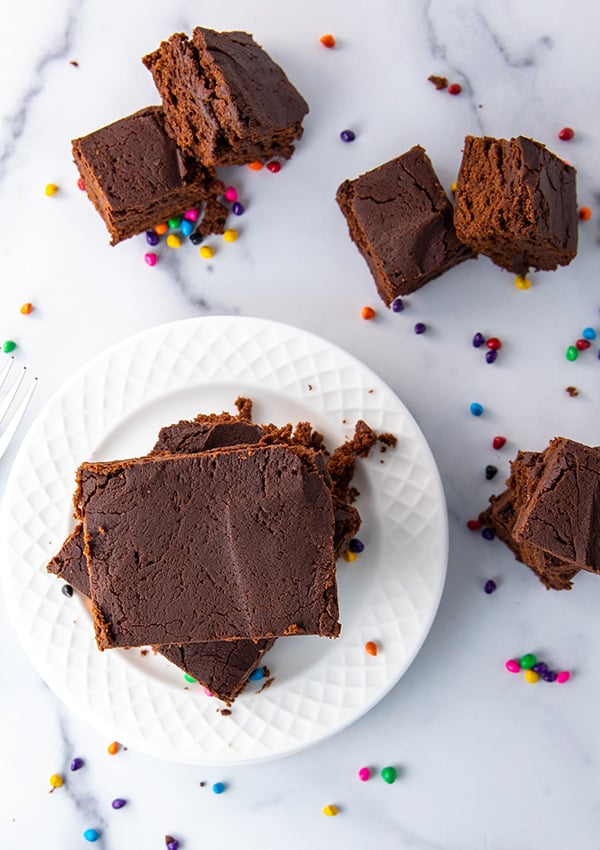 BROWNIE INGREDIENTS
CHOCOLATE FROSTING INGREDIENTS
4 tablespoons unsalted butter – softened
3 tablespoons unsweetened cocoa powder
1 tablespoon honey
1 cup confectioners sugar
PEANUT BUTTER FROSTING INGREDIENTS
5 ounces cream cheese (room temperature)
4 tablespoons unsalted butter (room temperature)
2.5 cups confectioners sugar
1/3 cup creamy peanut butter
BROWNIE DIRECTIONS
Pre-heat oven to 350 degrees F.
Grease and flour an 8×8 or 9×9 pan.
In a saucepan or in the microwave, melt 1/2 cup butter. If you melt the butter in the microwave, it usually takes about a minute.
In a large bowl, pour in the melted butter, stir in sugar, eggs, and vanilla.
Add in cocoa powder, flour, salt, and baking powder. Mix well.
Pour into greased and floured pan and bake for about 25 to 30 minutes.
While brownies are baking, make the frosting.
CHOCOLATE FROSTING DIRECTIONS
In a bowl combine butter, cocoa powder and honey. Use a mixer to combine.
Add in confectioners sugar. Beat for a few minutes, or until the mixture is the consistency of frosting.
Allow the brownies to cool for 10 minutes before frosting.
If needed, microwave the frosting for about 15 seconds so that it is easily spreadable.
PEANUT BUTTER FROSTING DIRECTIONS
With your mixer, combine cream cheese and butter until light and fluffy.
Add in powdered sugar, one cup at a time.
When all of the powdered sugar has been added and the frosting is light and fluffy, add in creamy peanut butter and mix to combine.
Allow the brownies to cool completely before frosting.
Servings: 6-9