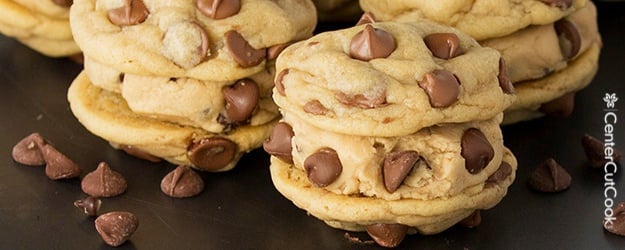 This week it is all about the chocolate chip cookie! We started the week with these delectable Perfect Chocolate Chip Cookies. Super thick, ultra soft, so yum!
Then… we moved on to Edible Egg-less Chocolate Chip Cookie Dough. You absolutely positively need this recipe in your repertoire! It is safe to eat, right out of the bowl and it's rich and gooey!
Today, we're going to combine the most Perfect Chocolate Chip Cookies with the most delicious Edible Egg-less Chocolate Chip Cookie Dough to create the Chocolate Chip Cookie Dough Sandwich. Really, it's more like a Double Chocolate Chip Cookie Dough Sandwich! Double chocolate = double delicious!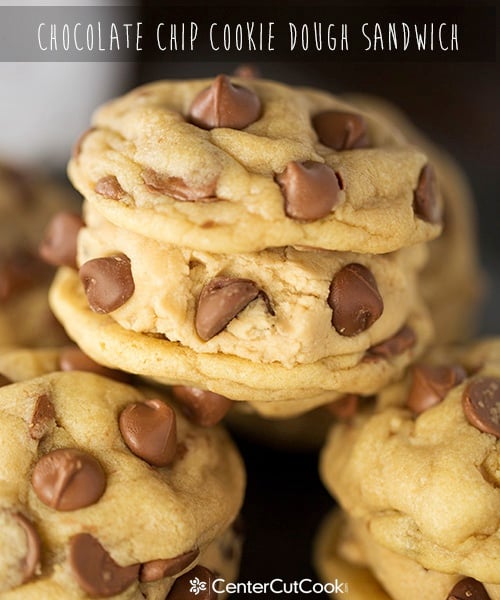 Just look at this beauty! Can you think of anything better than cookie dough you can feel safe (although it's certainly not guilt-free!) eating, sandwiched between two of the most perfect chocolate chip cookies ever?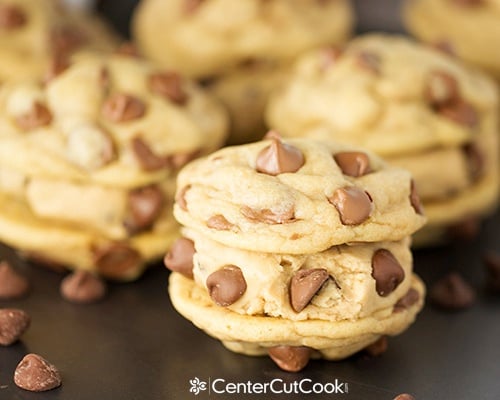 Like the cookie dough, this recipe is inspired by a cute little shop in Naperville, Illinois called Cookie Dough Creations. I've been there numerous times, and it wasn't until I was there just last week that I noticed they actually have this very creation on the menu. The light bulb went on and I knew I had to share it with you.
These Chocolate Chip Cookie Dough Sandwiches should come with a warning like: Consume at your own risk because they are rich, and yummy, and just plain awesome!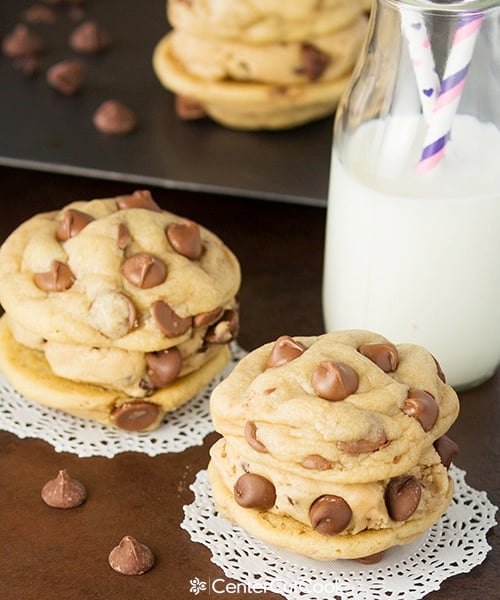 I was able to get about 8 sandwiches from one batch of cookies and one batch of cookie dough. While I strongly recommend you make these Perfect Chocolate Chip Cookies because they are thick and perfectly suited for this recipe, you may choose to use any chocolate chip cookies you'd like. Enjoy!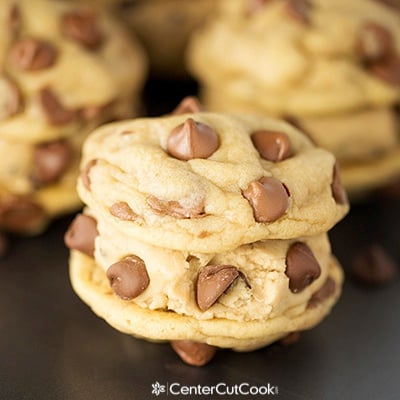 INGREDIENTS
DIRECTIONS
Scoop about 1/4 cup cookie dough on the flat side of one cookie.
Place another cookie on top, flat side facing the cookie dough to create a sandwich.
Press additional chocolate chips on the cookie dough for garnish.
Enjoy!
Recipe from
CenterCutCook