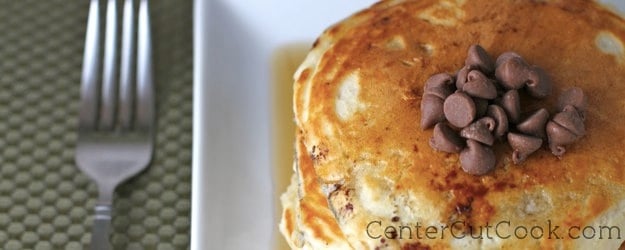 I don't know about you, but every once in a while I get a craving for some good pancakes. I've found that my craving can only be satisfied after whipping up these fast and easy chocolate chip pancakes. With only 8 ingredients and about a 5 minute prep time, breakfast is on the table in no time! These pancakes can be easily modified to suit your tastes. Don't like chocolate chips? Omit them (but why would you?!)! Instead of chocolate chips, you could easily try fresh fruit like blueberries or diced apples.
We like to get a little bit wild and crazy when serving these pancakes, and slather them with some peanut butter or nutella, and fresh maple syrup. Move over Mrs. Butterworth, nothing tastes quite like fresh maple syrup. I know, it's pricey, but try it once and you'll never go back. I especially like real maple syrup because I know that I'm not ingesting high fructose corn syrup and other artificial ingredients that I can't pronounce.
*Tip: If you have a membership to a discount warehouse like Costco or Sam's Club, check there for real Maple Syrup. I purchase mine at Costco and save quite a bit of money taking this route.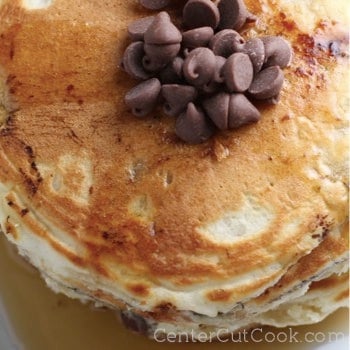 INGREDIENTS
1 1/2 cups all-purpose flour
3 1/2 teaspoons baking powder
1 teaspoon salt
1 tablespoon white sugar
1 1/4 cups milk
1 egg
3 tablespoons butter, melted (about 60 seconds in the microwave will do the trick)
Chocolate chips
DIRECTIONS
In a large bowl, sift together the flour, baking powder, salt and sugar. Make a well in the center and pour in the milk, egg and melted butter; mix until smooth.
Heat a lightly greased griddle or frying pan over medium high heat. Pour the batter onto the griddle, using about 1/4 cup for each pancake.
After pouring the batter, sprinkle chocolate chips on each pancakes (only one side gets chocolate chips).
Brown on both sides and serve.
Recipe adapted from All Recipes