Is there anything better than a perfectly soft and sweet, old-fashioned cinnamon roll made from scratch? You guys know I love my Fast and Easy Cinnamon Rolls that require no yeast, but sometimes I still love a more traditional homestyle Cinnamon Roll made from scratch with a yeasty dough that gives the rolls that beautiful fluffiness. And of course, what is a cinnamon roll without cream cheese frosting? If you are looking for a traditional Cinnamon Roll with irresistible frosting, look no further! These Cinnamon Rolls are utterly delicious, it will be hard to eat just one.
Okay, so let's talk about the dough. If you haven't made a yeast dough before, don't let that keep you from making this recipe. It's really a pretty basic dough recipe. This is the recipe that my mom used to make all kinds of yeasty recipes including dinner rolls. Make sure you are using active dry yeast versus rapid rise yeast.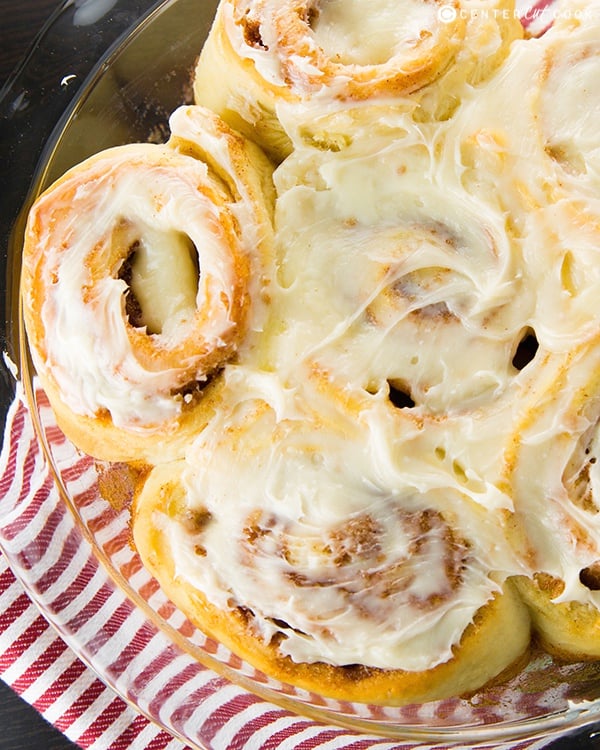 The cream cheese frosting is pretty basic and compliments these cinnamon rolls just perfectly. If you like a lot of frosting, you may want to double the recipe. Also, make sure that you use softened cream cheese, otherwise you may end up with a lumpy frosting, and who likes lumpy cream cheese frosting?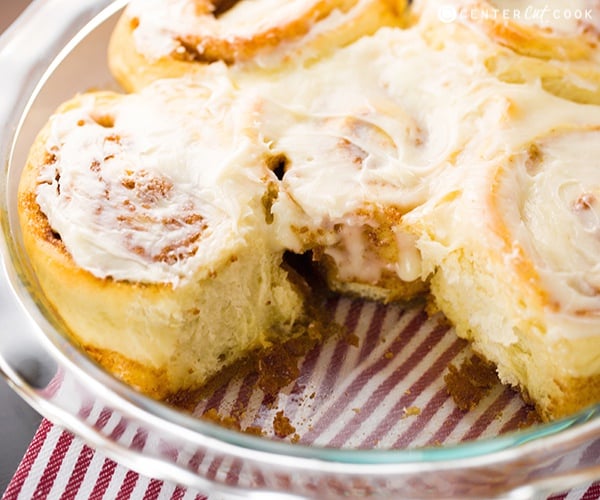 You can either use a 9 x 13 inch casserole dish to arrange the rolls or two 8-9 inch pie dishes. Either will work just fine! While making dough from scratch might seem like a lot of work, it really only takes about 30 minutes of hands-on time for this recipe. Be sure to plan ahead so that the dough has enough time to rise, which is one of the most important steps to this recipe.
Once these guys are in the oven baking, you are going to just l-o-v-e the smell of fresh baked cinnamon rolls throughout your house. Enjoy!
DOUGH INGREDIENTS
2 packages active dry yeast
1/2 cup warm water
1 tablespoons sugar
1 cup scalded milk (heat just before milk boils)
1/3 cup melted shortening (let it cool a bit)
1/3 cup sugar
2 teaspoons salt
2 beaten eggs
5 cups flour (give or take)
FILLING INGREDIENTS
FROSTING INGREDIENTS
DIRECTIONS
With your mixer, use a dough hook to mix yeast, water & 1 tablespoon sugar. Scald milk ,when cool add in shortening, rest of sugar and salt.
Then add beaten eggs, yeast, and flour, 1 cup at a time until the dough starts to pull away from the edge of the mixing bowl. I needed about 5 cups flour but you could need anywhere from 4 and 1/2 cups to 5 and 1/2 cups. The dough will be sticky!
Cover the bowl and let rise until it doubles in size, about one to two hours.
Punch down the dough, knead it well and use a rolling pin to roll it into a 16" x 22" rectangle.
Spread 6- 8 tablespoons of butter on the dough, leaving a 1/2 inch border around the edge.
In a bowl combine 1and 1/2 cups brown sugar with 2 and 1/2 tablespoons ground cinnamon and 2 teaspoons cornstarch. Sprinkle the mixture over the dough and gently press it into the dough. Roll up the dough starting with the long side and cut into 12 rolls about 2 inches thick.
Grease a 9 x 13 inch baking dish and arrange the rolls in the pan. You can also use two pie dishes. Cover with a clean kitchen towel and allow the rolls to rise for another 60 minutes.
Preheat your oven to 350F.
Bake for 21-23 minutes, or until the rolls are a light golden brown.
Recipe from
CenterCutCook